MobiPicker presents an auspicious niche of Games like Terraria for all the Sandbox, Exploration, Action, and Adventure games enthusiasts. You'll find games in the list that are rich in content and are ranked as the best possible alternatives to Terraria.
Terraria is a Single and Multiplayer Action-Adventure and Sandbox Survival video game. It's built around the idea of Exploration, Crafting, Building, and Combat. It offers a procedurally generated game world filled with all kinds of different environments and visual wonders. With a fairly standard gameplay, Terraria offers 2D graphics and 16-bit tile sprites and lets you have a fantastic Side-scrolling experience. You'll find it quite similar to games like Minecraft and Metroid. As one of the most popular titles in this particular genre, Terraria is popular worldwide. For all those who have played this brilliant Sandbox game and are in search of some really good alternatives to Terraria, the following list would absolutely be helpful. Let's have a look at some of the best games like Terraria.
Games Like Terraria
1. Minecraft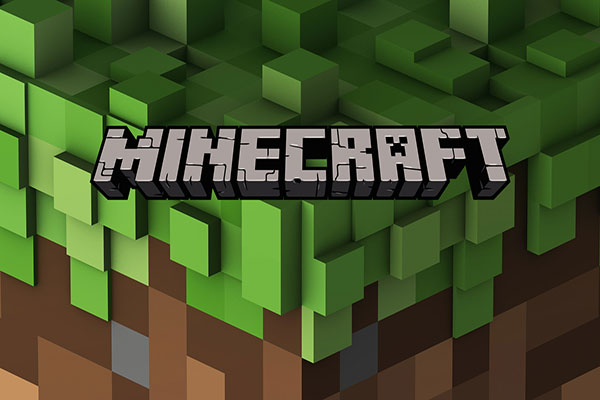 The first entrant on our list of best games like Terraria is Minecraft. Minecraft is an Adventure, Sandbox and Survival video game by Mojang. It supports both Single and Multiplayer modes. This beautiful game focuses on elements such as Crafting, Building, Exploration, Resource collection, and Combat. With a Procedurally generated game world, Minecraft lets you enjoy 3D graphics and a very rewarding gameplay. The inclusion of Survival and Creative mode, a huge game world based on both default and custom maps, and the Adventure mode are some of the most notable things in the game. With no specific goals, Minecraft offers plenty of room for the gameplay.
Minecraft supports both First and third-person perspectives and allows the players to build or break structures by placing the blocks. There are a number of different types of blocks available in the game based on their material types. These materials are Dirt, Ores, Stone, Water, Lava and wood. Players are able to roam freely in the game world and enjoy a beautiful Blocky adventure. Minecraft is available to play on PC, Mac OSX, PS3, PS4, Xbox One, Xbox 360, Android, iOS, and Windows Phone.
Check Also: Games Like Monument Valley
2. Magicite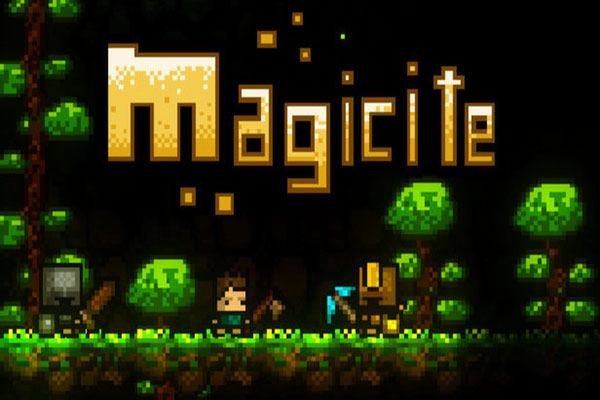 Magicite combines Adventure, Crafting, Exploration, Platform, and Sandbox elements in a beautiful manner. It offers rogue-like 2D graphics and allows you to enjoy exploring a beautiful game world. The game is set in a randomly generated world. The world is filled with loads of Dungeons and tasks the players to explore and collect resources. There are a lot of different types of resources such as Trees, Ores, enemy installations, etc. Players must collect the resources, craft tools, and equipment to build structures. For a players' character, Magicite offers fourteen different races of characters. Players are free to select anyone of them according to their strengths and abilities. Once over this step, players can start their adventure from a Biome located in a forest.
This biome is a home to the enemies and offers a very unforgiving environment and challenges. Players' task is to enter the Biome, combat against the enemies, defeat them and loot their resources. With a very similar gameplay to the popular Spelunky and Terraria, Magicite offers a variety in the gameplay. The resources in the game can be sold, bought or used to build biomes. Magicite offers a very simple and random gameplay, beautiful 2D graphics, and innovative game mechanics. This makes it one of the best Sandbox games like Terraria. Do try it out and enjoy the ultimate Sandbox fun. You can play Magicite on PC and Mac OS X.
Check Also: Games Like The Sims
3. Starbound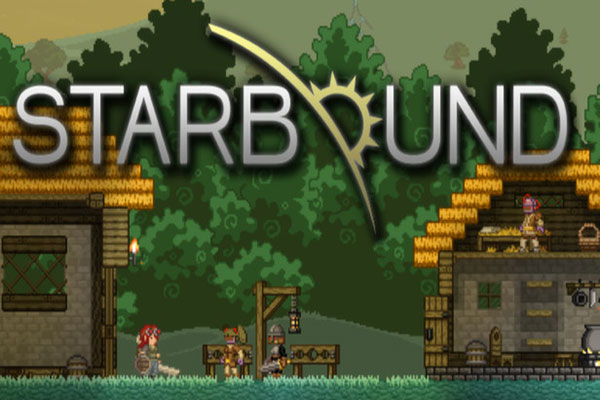 Starbound is another great Sci-Fi, Side-scrolling Sandbox and Adventure title worthy of a mention on our list of games like Terraria. This remarkable game focuses on Exploration, Crafting, building and combat elements. It allows you to explore the game world while space traveling in a Spaceship. With a beautiful procedurally generated game world, Starbound features sic different races for characters. Players are to select anyone of these classes (Apex, Florans, The Glitch, Avians, Hytolts, and Hyltolts) and embark on an epic adventure. Like other Sandbox and Adventure games like Terraria, Exploration is the core element in Starbound. The game world of Starbound is divided into a number of different planets. Each one of the planets is unique to the others. Every planet is a separate world in the game and holds numerous wonders of its own.
There are different creatures, different building materials, objectives and types of resources in Starbound. Some of the creatures on the planets are friendly and some are menacing enough to attack you. The combat element lets you use a variety of weapons and techniques to defeat these creatures. This is why the Survival in Starbound is quite challenging and engaging at the same time. Collecting resources to survive is the key to progress in the game. With a wonderful narrative, an inspiring gameplay, and fantastic visual approach, Starbound takes this genre to a whole new level of excitement. You can play Starbound on multiple platforms such as PC, Mac OS X, and Linux.
Check Also: Games like Animal Jam
4. Craft the World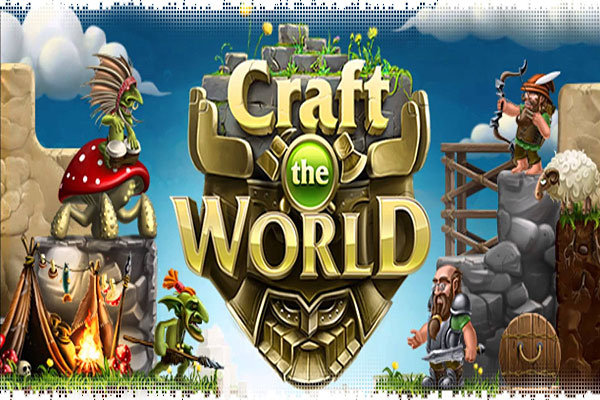 Craft the World lets the players enjoy a Sandbox game with Strategy elements. This extraordinary title draws heavy influence from Terraria and Dwarf Fortress and offers a variety in gameplay. With a fairly simple yet attractive gameplay, Craft the World lets the players be in charge of a Dwarf Colony. Their task is to help grow the colony from a single dwarf to a fully thriving city. This beautiful title makes Exploration game's core element. It lets the players explore a randomly generated world, collect resources, craft items, fight off the enemies, and develop new technologies. Craft the World offers many exciting game levels and encourages players to go through a number of challenging puzzles.
The survival element of the game has it's own importance as its parallel to Strategy and helps progress in the game. To survive in Craft the World, the players must collect resources such as food, building materials, and tools to craft items. This makes Craft the World one of the best games of the Sandbox genre. In addition, Craft the World offe
rs an innovative combat system that allows the players to fend off any enemy invasions on the colony. Players can use a number of different weapons, tools, and skills against the enemies. With a beautifully designed game world, incredible visuals, and an immersive gameplay Craft the World is no doubt one of the best games like Terraria to play. This incredible Sandbox game is available to play on PC, Mac OSX, and iOS.
Also Check: Games like Roblox
5. Growtopia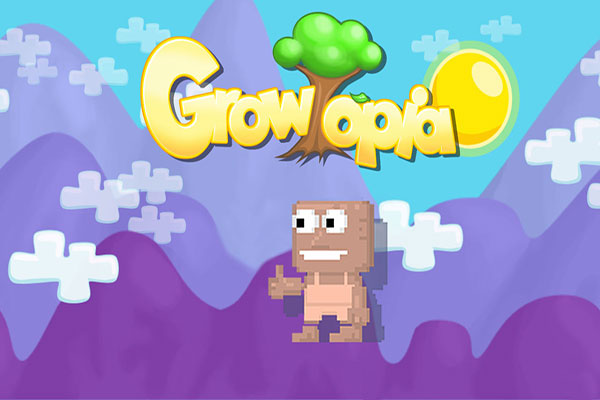 If you are a Creative Sandbox player and you love Multiplayer games, Growtopia is made just for you. The gameplay of Growtopia offers playability from a Side-scrolling perspective. It leaves you right in the middle of a world where you can create anything you want. The persistent nature of the game world allows players to enjoy a threaded connection between the worlds. You can either build structures yourself or enjoy the adventures with your friends. This game offers plenty of room for almost everything with freedom to explore and craft items. The crafting and building mechanism of Growtopia is somewhat a unique practice. It uses an innovative Splicing system that lets players plant seeds and watches them turn into various items of their likings.
Digging and gathering resources makes it even more interesting and helps build usable tools. The sack of features doesn't end here. The online chat feature lets players interact with each other while playing the game. This helps stay in touch with the players while on an adventure or exploring the game world. In simple words, Growtopia is a complete package of all the core elements that you want to see in a Sandbox game. For players who admire diversity and a different approach to Sandbox games, Growtopia will be a great source of entertainment for them. It's one of the best games like Terraria to play and enjoy. Growtopia can be played on PC, Mac, iOS and Android devices.
Also Check: Games like Cookie Clicker
6. Deepworld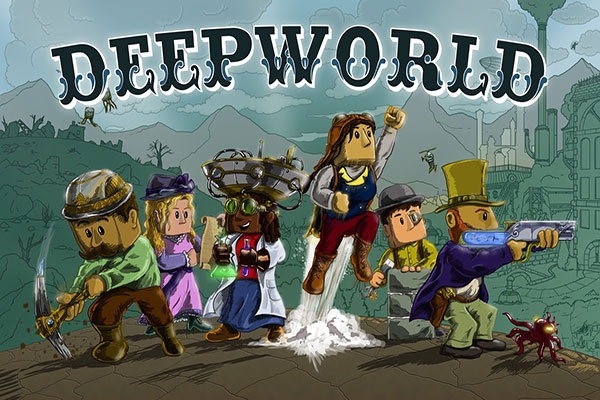 Deepworld is an impressive and an exclusive take on the Sandbox genre. This gleaming title focuses on Crafting aesthetics and offers a good amount of adventure gameplay. With a beautiful Steampunk feel and rewarding nature, Deepworld offers 2D graphics and a similar experience to Terraria and Starbound. As a multiplayer only title, Deepworld allows the players to interact with other online players while playing the game. This feature makes it a true source of Social and Sandbox entertainment. The cross-platform compatibility gathers all the players from different platforms and allows them to experience a community-based play.
Exploration, crafting, gathering resources, and fighting off all the dangers, are some of the most prominent attractions of Deepworld. Deepworld also includes the RPG element in the gameplay that enables the players to earn experience and skill points. The players can earn these points by completing a number of quests and objectives. Mining, Agility, Luck, and Stamina and loads of other skills are what helps players progress in the game. With a variety of different elements, a unique and nice feel, beautiful visuals, and an addictive gameplay, Deepworld ranks in top trends among games like Terraria. You can play Deepworld on PC and iOS platforms.
Also Check: Games Like Euro Truck Simulator
7. A Valley Without Wind 2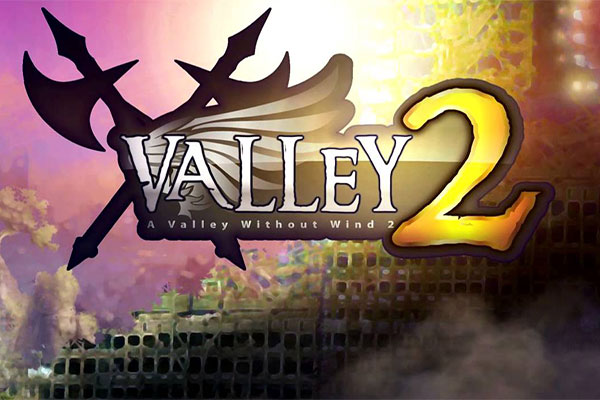 A Valley Without Wind 2 is the sequel to the popular A Valley Without Wind by Arcen games. The game offers Indie Action-Adventure and Sandbox as its core elements.  Players can act as a Mage in the game and their objective is to explore the world and infiltrate the ranks of Demonaica. The primary objectives of the game are divided into two parts. Players can enjoy completing both of the parts separately. One part of the objectives is the Strategic and turn-based play and the other focuses on Action, Adventure, and Exploration. The strategic element lets players control an army of rebels and assign them the job to find and fetch the resources.
These resources can then be used as a tool to create structures, free the survivors, and to hunt for more resources. The platform element allows players to reach down to enemy defenses and destroy their installations such as wind turbines and buildings. As skills of a Mage, A Valley Without Wind 2 lets the players have over two hundred unique spells, loads of items such as Weapons, tools and building blocks, etc. With the freedom of exploration, beautifully created visuals, and an immersive gameplay, A Valley Without Wind 2 is no doubt one of the best games like Terraria. Do give it a try. A Valley Without Wind 2 is playable on PC and Mac OS X via Steam.
Also Check: Games Like Age of Empires
8. Goliath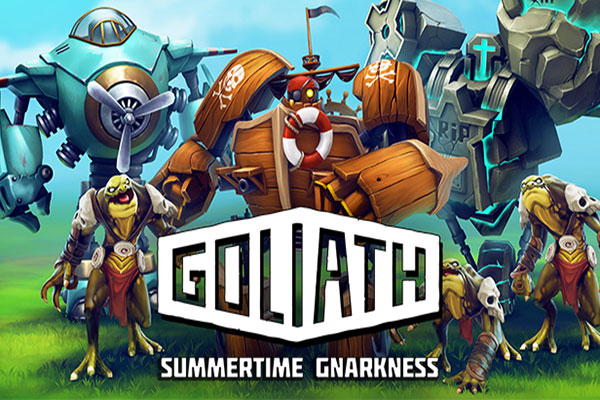 Goliath blends in Crafting, Sandbox, and Action and Adventure elements very nicely and offers an immersive Quest-driven gameplay. The game consists of a vast game world filled with all kinds of Robotic beings and lets you create your own fantastic adventures. The story kicks off with the players' character crash landing in an unknown world. This mechanical world poses a lot of threats. The players must explore the planet, collect resources, create giants, and craft items such as a hideout, weapons, and tools. Goliath offers a Combat focused fast-paced gameplay that requires top-notch Combat skills. So, to develop the skills, players must be ready to take on every challenge that the game word throws.
The giants in the game are referred to as "Goliaths". These giants are players' only hope of survival. Progress in the game can be achieved by collecting resources. These resources can be collected via scavenging or by looting the deceased enemies. With a quest-driven play, Goliath lets you complete various missions. These missions are a way to unlock more crafting abilities that help players advance to next levels of the game.  Goliath offers a fairly simple gameplay, a beautiful mechanical game world, and brilliant visuals. As one of the best games like Terraria, Goliath will definitely entertain you well. Do try it out. Goliath is available to play on PC only.
Check Also: Games Like Diablo
9. Steamworld Dig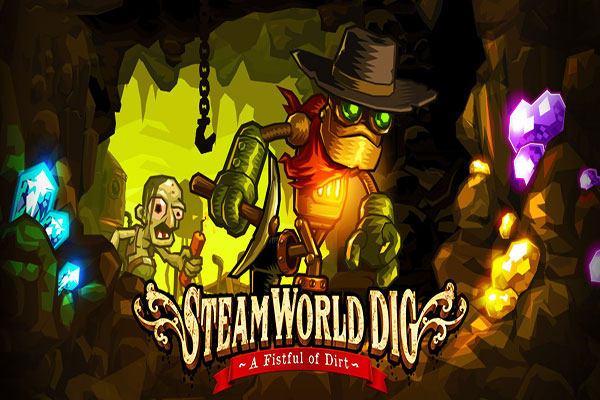 Steamworld Dig is a remarkable new addition to the Sandbox genre. It combines Digging, Action and Sandbox elements altogether and offers a beautiful experience on PC and Nintendo 3DS platforms. If you love Digging, Steamworld Dig will definitely interest you with all of its amazing environments and level of details. The game offers a standard digging play in which the players are to complete some treasure collecting objectives. With the immensely adoring visuals and all the digging routine, players will find this game quite satisfying. The number of enemies, while progressing in the game, makes Steamworld Dig a bit more interesting.
These enemies will try to block your way but with all the sophisticated weapons and tools, they are no match for your abilities. As a Rusty old Steambot, you'll have to dig deeper and deeper into the world and find some valuables that you can bring back to surface. You can sell your findings and earn some beautiful rewards. Players will have to start the game with a very minimal set of tools but as they progress, more tools can be unlocked. With a variety and freedom in the gameplay, Steamworld Dig is one of the best games like Terraria to play. You can have Steamworld Dig for PC, Mac, PS4, PS Vita, Xbox One, Nintendo Wii U, and Nintendo 3DS from the official game stores.
Check Also: Games like Clash Royale
10. Epic Inventor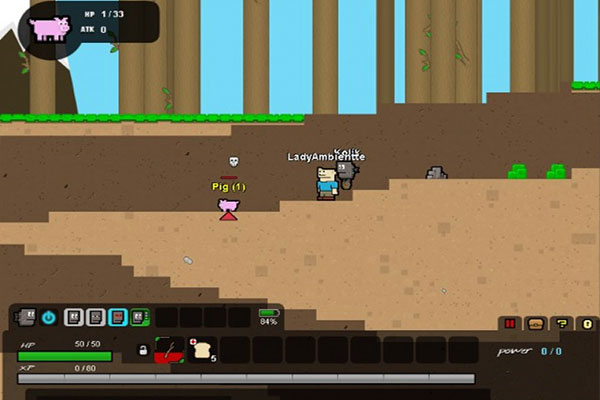 Epic Inventor offers a wonderful mix-up of both Minecraft and Terraria and offers a fantastic experience of Sandbox gaming. The game is developed by Pixel Prone Games and is available to play on PC, Mac OS X, and Linux systems. The inclusion of Side-scrolling, Action and RPG elements makes this game a bit more interesting. With loads of content, Epic Inventor is Free–to-play and offers Open Source Code specifics.  It supports both Single and Multiplayer play options and lets you explore a massive randomly generated game world. With beautiful 2D graphics, Epic Inventor allows you to explore, collect resources, build structures and craft items. This helps populate the world and lets it thrive.
The goal is to build a whole new city and enjoy a Strategy-ish play as you progress in the game. The combat element of Epic Inventor lets you traverse through various environments on the game map, fight off the foes with the help of you minion robots, loot their resources, build your defenses and enjoy an involving gameplay ever. Built around the ideas of games like Terraria and Minecraft, Epic Inventor offers a beautiful Sandbox experience for all those who love a non-traditional approach to the genre. Do give it ago, it's simple, addictive and rewarding at the same time.
Check Also: FPS games 
The above followup of games like Terraria offers a variety of different titles based on their respective play styles, mechanics, and plot. We tend to provide games like Terraria that offer uniqueness and are some of the best in this particular genre. Hopefully, you'll like our collection. If you think any of the titles are not relevant to Terraria or you know of some good ones, do let us know about them. We'll be happy to hear from you.