Age of Empires is built around the idea of a Standard RTS (Real-time Strategy) formula. The game lets you start off from scratch, build a small town with limited resources and a minimum number of workers. Collecting Resources, creating Units, building Structures, and developing new technologies via Research, and advancing the Civilization, are the most crucial parts of the game. Age of empires is basically a true depiction of events that take place in various eras of time. Each of these eras holds many secrets in terms of technology, building and leaping towards the modern times. With the freedom to explore and enormous strategic depth, Age of Empires is a remarkable RTS game to play. For all those hardcore fans of RTS genre, who love to play games like Age of Empires, the following titles would definitely be a great source of entertainment.
Games Like Age of Empires
Let's have a look at some of the best alternatives to the groundbreaking Age of Empires. Hopefully, they'll help satisfy your inner RTS fan and would entertain you well.
1. Rise of Nations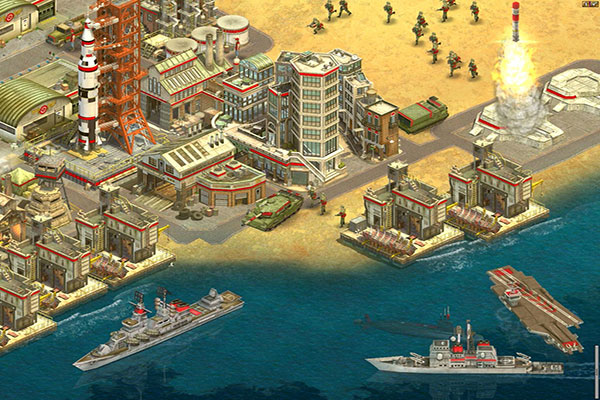 First best Real-time Strategy marvel on our list of games like Age of Empires is the popular Rise of Nations. Released back in 2003, Rise of Nations is one of the most played RTS titles worldwide. It offers a brilliant combination of Territorial and Attrition warfare and lets you enjoy the gameplay for hours. The Rise of Nations features 18 Payable Civilizations and lets you play through eight ages of the history of the world. With a remarkable Strategic depth, Rise of Nations offers loads of achievements and plenty of room for the gameplay. It lets you rule over a city, construct defensive buildings in various territories, and grow your city to further limits.
To maintain your economics and success, you must collect resources as well. There are six different types of resources that you must collect. To collect the resources you can use the automatic workers. You assign them the tasks and they keep on working until you stop them. This alone is the most fantastic feature of the game. With a variety of different civilizations to play with, a great single-player campaign, and loads of other unique features, Rise of Nations is one of the most adorable games like Age of Empire to play and enjoy.
2. Anno 2070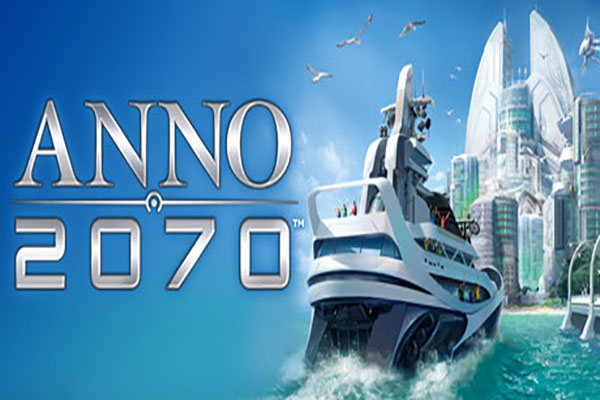 Anno 2070 combines City-building and Economic elements with Real-time Strategy and offers an extraordinary experience of gaming. The game is set in a futuristic era of 2070 where it tasks you to rebuild an advanced city from scratch. A massive rise in sea levels destroys countless cities and changes the land into a series of newly formed Islands. Anno 2070 offers three playable factions. These factions are named as The Global Trust, The Eden Initiative, and The S.A.A.T. Each of the faction is known with short names based on their level of expertise in the game. Global Trust is called "Tycoons", Eden Initiatives are called "Ecos", and the S.A.A.T is called "Techs". You can play with any of the factions in the game and perform various tasks.
With Ecos, you can build Sustainable Cities and control the environments. While playing with Tycoons, you can build large industrial complexes and create resources. The Techs help you research and develop new powerful technologies and keep on growing. The gameplay of Anno 2070 follows the standard formula of RTS genre. The Democratic and political system in the game is controlled by a central system. However, the economics are dependent on the innovation and the way you handle it. With loads of achievements and rewards, upgrades and other great features, Anno 2070 is a great creation of Ubisoft. You can play it as one of the best RTS games like Age of Empires and enjoy all the fun.
3. Warhammer 40000: Dawn of War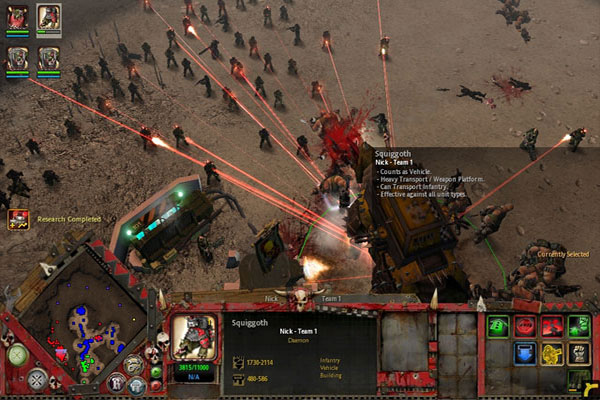 For all those who love RTS titles with the Militaristic approach, Warhammer 40000: Dawn of War will be a great entertainer. It includes the Sci-Fi element into gameplay nicely and offers a variety of great experiences. Warhammer 40K offers a pretty standard RTS gameplay. It allows you to capture various locations on the map and convert them into strategic points. After creating the strategic points, there comes the most crucial part. You must deploy the infantry squads on these points and generate resources to build additional units and buildings. These buildings rank from defensive to offensive, research to tech and more. If you want to win a battle against the enemies, you must capture more and more strategic points.
That is actually an essential thing to do in the game. Because if you have control over less strategic points and the enemy have more, you'll lose the battle.Attacking and destroying the enemy bases, control points, and buildings is the important secondary part. As Space Marines, your primary objective is to defeat the Orks, Eldars, and Chaos to keep the Human race safe. Use the troop units and their strategic abilities, build structures, control the resources, and maximize your controlled areas to expand the reign over planet Tatarus. With a brilliant depiction of events, enormous battles, Sci-Fi element, beautiful 3D visuals, and an amazingly addictive and immersive gameplay, Warhammer 40000: Dawn of War is a great RTS game to play and enjoy.
4. Command and Conquer: Red Alert 3
Command and Conquer: Red Alert 3 proves to be one of the best games like Age of Empires because of its unique and rewarding nature. The game follows the footsteps of its predecessors and offers a similar gameplay and mechanics. With a standard RTS recipe, Red Alert 3 takes you to the World War 2 era in an alternate History. It offers the same three playable factions as of the previous games. These factions are known as the Soviet Union, Empire of the Rising Sun and The Allies. All three factions are battling against each other to dominate the world. You can play with all of these three factions and control their special units and Strategies. Red Alert 3 offers three Single-player Campaigns. You can play any one of them and enjoy three different stories as well.
The game offers Cooperative play as well. In multiplayer mode, you can enjoy it with friends and stay in front of the console for hours. It offers all the standard objectives such as collecting resources, building structures and defeat the enemies using your military power and effective strategy building abilities. With a remarkable visual approach, great multiplayer play, air, sea and ground battles, loads of units and multiple single-player campaigns, Red Alert 3 is a complete package of games like Age of Empires. You should definitely try it out, it'll entertain you well.
5. Empire Earth 2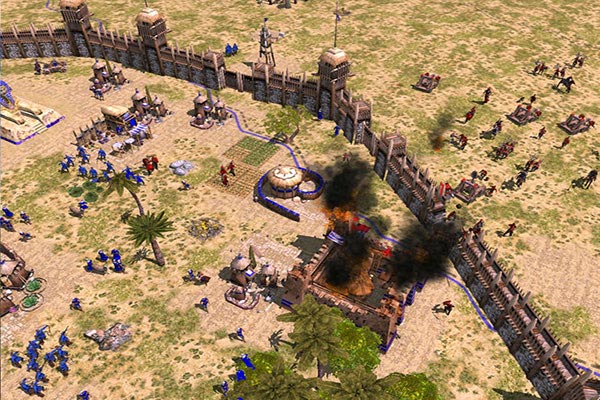 As one of the most rewarding and promising titles, Empire Earth 2 is one of the greatest among games like Age of Empires. This sequel to 2001's popular "Empire Earth" offers more depth in the gameplay. It includes 15 different Eras, fourteen playable Civilizations, three single-player campaigns and loads more to offer. Korean, American and German campaigns are the primary ones and it includes several Skirmishes as well. It lets you start off from the Stone Age and gradually port to the modern eras by development and innovation. One amazing feature of the game is the Epochs and their resources. You can use various types of resources but in their respective era. For example, the Iron can be used in the fourth and ninth epochs. But, you can use the standard resources in every era. These standard resources are Food, Wood, Stone, and Gold, etc.
The core gameplay of Empire Earth 2, focuses on strict strategic elements and offers plenty of room for the gameplay. Other great features include multiple game windows, default game settings for Diplomacy, trade, and economics. The gameplay is quite improved this time and that makes the game even more addictive. The new Crown System lets you make and use powerful strategies in various fields such as Economics, Military, and research. Keeping all the details in mind, Empire Earth 2 is a complete new Strategy title that never leaves you unsatisfied. Playing it will definitely cheer you up.
6. The Settlers 7: Paths to a Kingdom
The Settlers 7: Paths to a Kingdom is another great title on our list of games like Age of Empires that combines City-building with RTS nicely. This incredible game follows the lead of its predecessors and offers a resembling gameplay. It offers various types of games such as Campaign, Skirmish, Ranked game, and Multiplayer game. You can select any one of these modes and start the game. Based on three distinctive paths, it allows you to choose between Developments for Victory: Military, Trade, and Science. These paths have different objectives and they offer you the power to do what's best for the Civilization. The military path helps you create units and wage wars against the enemies. The science path lets you research and develop new technologies.
The Trade path lets you build economy system, build trade routes on the map and enjoy getting into ties with allies. The game's AI is more efficient, it now includes a multiplayer mode for cooperative play, and you can now create and share your own content in the game. Paths to Kingdom offers two main Single-player Campaigns. You can choose anyone of them and start off the game from a simple small village. Your main goal is to develop it and expand to create a whole new kingdom. With an incredibly addictive and immersive gameplay, The Settlers 7: Paths to a Kingdom is a brilliant RTS title among the other games like Age of Empires. Do give it a try.
7. American Conquest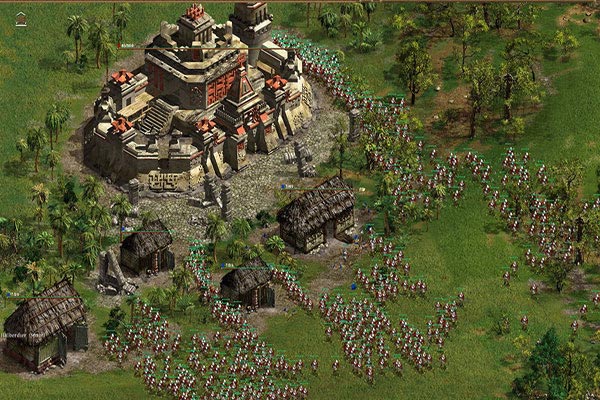 American Conquest takes you back to the History and leaves you right in the middle of 15th Century Colonial Era. It offers a standard Real-time Strategy experience and features a gameplay a lot similar to Cossack: European Wars. The primary objective of the game is to build a civilization, create bases, and control the flow of resources and economic and military aspects. As the primary focus on Military power, the game lets you create multiple troop units. These units can be built parallel to the Peasant workforce you have. So, you'll have to balance your resources and build the units according to what you have.
The military units are controllable with the help of Strategic and Morale system that helps deploy the troops on various points of interest on the map. American Conquest includes three single-player campaigns in the play. These campaigns are named as Spanish, English, and French Conquests. Another campaign named as Native Americans is also available on the advanced levels of the game. Multiplayer play, Skirmishes, and a number of other play types are also included in American Conquest. If you want to play more great games like Age of Empires that offer combinations of Historic and Militaristic elements, American Conquest should definitely be on your list too. It's fun playing.
8. Napoleon: Total War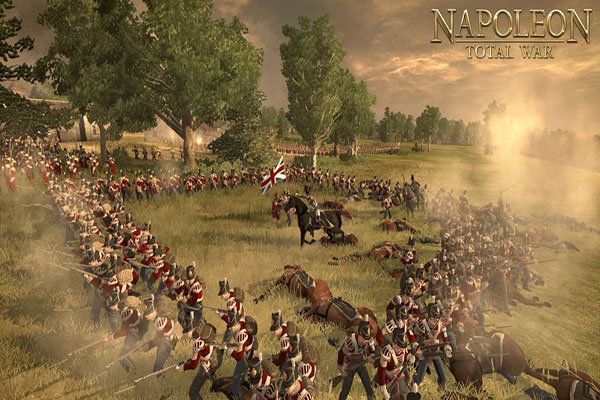 You've probably heard the name of great Napoleon Bonaparte. He was history's one of the most successful explorers and rulers. Napoleon: Total War features Napoleon Bonaparte and his battles in 18th and 19th centuries. You are tasked to be the Napoleon, follow the footsteps of the historic icon and enjoy a turn-based Strategy gameplay. Get into epic battles and take the struggle from Europe to the Middle East and North Africa. As Napoleon Bonaparte, you must complete campaigns, defeat your rivals and eventually lay the foundations of a new thriving civilization.
This remarkable title is the sixth main addition to the Total War series. It offers a gameplay similar to other games in the series. The gameplay focuses on core elements of Territorial Governance, Real-time turn-based battles, and expansion of the Kingdom. Constructing buildings, creating units, researching and developing new technologies and trading for resources are among the key features of the game. With a flexible and rewarding gameplay, Napoleon: Total War offers revamped mechanics, and improved AI. Unlike previous games, Napoleon: Total War is much innovative and bold. If you love history rides in RTS games, Napoleon: Total War should definitely be in your collection of games like Age of Empires.
9. Supreme Commander 2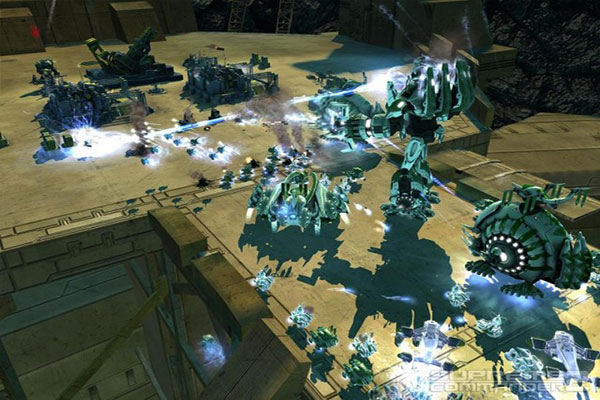 Supreme Commander 2 is another great title worthy of being on our list of games like Age of Empires. This extraordinary game is the direct sequel to top trending Supreme Commander. The game is set in a futuristic era where you are allowed to take part in various campaigns and skirmishes. Your primary task is to rule over all playable factions in three major campaigns United Earth Federation, Cybran, and Illuminate. Each campaign features a unique story, units, and exploration options. There are various objectives that you have to complete in the game. The primary objectives include managing a pre-built base, building more structures, and deploying the troops on various points of interests.
More units can be deployed in later stages of the game. Supreme Commander 2 lets you get into battles on various frontiers including Land, Air, and Sea. Multiplayer mode is also available in the game along with various Skirmishes and side missions. The gameplay of Supreme Commander 2 is more innovative than the previous game. It offers more units, construction options, and victory conditions and plenty of room for the gameplay. It's easy to learn, to act and to master because of more strategic depth and more perks added. With a non-complex straightforward play, focus on technology and militaristic approach, Supreme Commander 2 is no doubt one of the best games like Age of Empires to play and enjoy.
10. Stronghold Kingdoms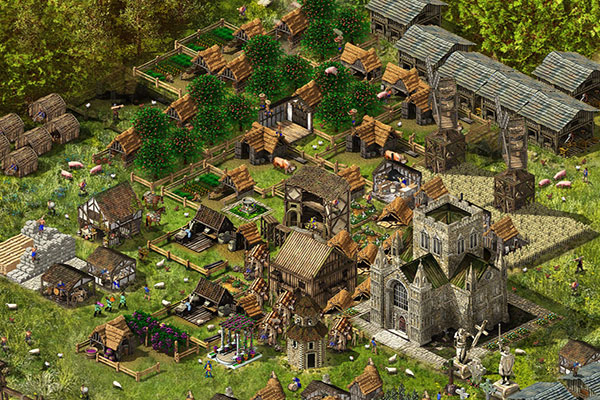 Last best title for our list of games like Age of Empires is the classic Stronghold Kingdoms. Stronghold Kingdoms focuses on MMORTS formula and offers a realistic and exciting experience of medieval era gameplay. The game takes place in historic Europe and lets you witness the great wars between the Medieval era Castles. It offers more depth than any other historic RTS game and combines it with strategic and exploration elements. With a focus on Economic, Military and Political aspects, Stronghold Kingdoms is a great MMORTS marvel. Building and expanding the kingdom is the primary objective in the game. It requires a bit more attention to how you plan your kingdom and how well you manage the resources.
The multiplayer mode allows you to make grand alliances with fellow nations and take over the world as one collective power. This way the game offers more depth and room for the strategic play. As the primary objective is to expand the kingdom, taking over enemy's castles, and the battles you fight, add a bit more spice to the gameplay. With many difficulty levels, technologies, strategies, and a huge game map, this remarkable game offers countless hours of pure entertainment. For an amazing RTS experience, Stronghold Kingdoms is the best choice among all the games like Age of Empires.
If you happen to know any other Games Like Age of Empires which are worth including in the list, comment below.