Many users are reporting the Chrome error code NET::ERR_CERT_AUTHORITY_INVALID along with message your connection is not private. If you are one of them who is facing this error and not able to access your favourite websites, you are reading the right tutorial. Here we will cover everything about this error including reasons and possible fixes. Let's start with a brief introduction.
Introduction
The Internet is one such thing which connects us with the world technically. Using the internet you can chat across continents, work on a project from anywhere, know what's going in the world, and much more. Using a computer or a smartphone connected to internet, you can learn, work and shop within seconds. But, it is also one such thing, which the hackers can use to get your information, which they can later use to steal from you. We all use anti viruses and online security software applications to secure our computer from any such attacks. Also, website owners secure their websites in their own way. But what if, you yourself access a vulnerable website? What if, your own connection to a site is not private, or secure?
Related Chrome Error: ERR_QUIC_PROTOCOL_ERROR
We all have come across such error at least once while browsing. Google Chrome usually shows this error when the website is not completely secure. But I have also seen Chrome showing the same error when it is the same website I accessed using the same browser last time which worked fine. Doesn't matter the platform. Windows, Android or Mac, getting an error like NET::ERR_CERT_AUTHORITY_INVALID can be very frustrating. Don't worry, in this guide, we will help you fix this error using some working methods, across all platforms. But first, let's see what this error is?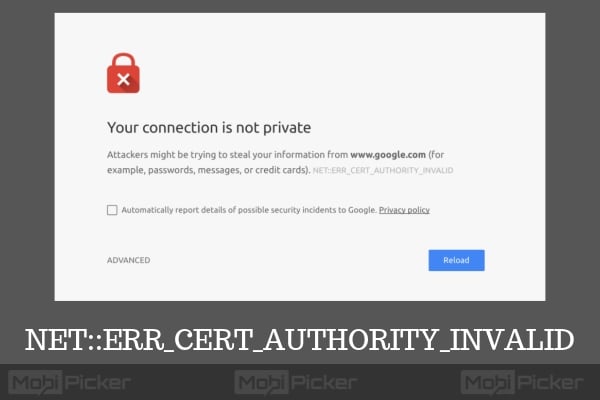 What is NET::ERR_CERT_AUTHORITY_INVALID?
The first thing to understand here is that it's not really an error. It is just a warning message from your browser when it encounters a possible security breach. Google Chrome gives us this warning when we try to access a website whose issued certificates are not trusted by your device's operating system. This happens when the server has generated its own certificates or credentials, which your browser can't relay. At this point, your browser gives you a warning and lets you decide whether you want to visit an unsecured website or not. When the certificates from website and Chrome do not match, it thinks this as an unauthorized access by hackers. Hence, to keep your device and your personal information safe, Chrome displays this warning. In short, this error/warning is shown due to these reasons:
No Certificate issued by the third party site.
The Certificate of third party site is not updated.
Your browser and third part site connection is not secure.
This warning is displayed on our browser in following two different interfaces (Don't worry, you can follow our methods in both interfaces).
Type one: This is normally seen in older versions of Chrome. Here you get the button "Proceed Anyway".
Type two: This can be seen in the latest versions of Chrome. Here you get the button "Advanced".
1. By Simply Proceeding
One of the easiest and quickest way to visit the website when this warning comes up, is by ignoring it. Simply proceed. (This method is only recommended if you are sure the website is secure.)
Step 1. In older versions click on the button Proceed Anyway. In latest version Chrome browser, click Advanced.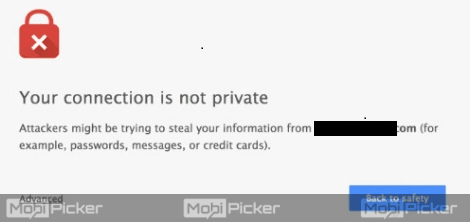 Step 2. In next step, the older versions will have the option to Add Exception, while the newer version browsers will show Proceed to site (unsafe) option. Select it, and your browser will proceed to that website.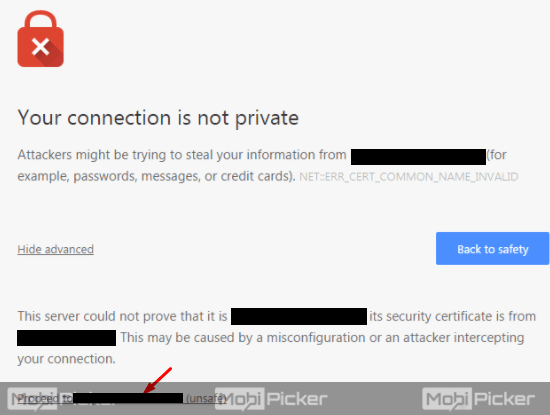 2. By Preventing the Warning
This method will prevent any future such warnings from occurring. This method disables the warning message. This method might not work on latest Chrome versions.
Step 1. Type chrome://flags in your Chrome's address bar and press Enter.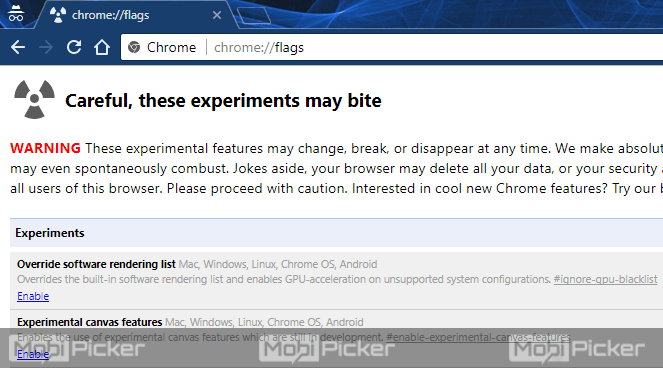 Step 2. A new page will open. In this page, you need to find the option Remember decisions to proceed through SSL errors for a specified length of time. Click on the drop down menu located just below it.

Step 3. Select the time period, for which you don't want to see the warning. Close the window after selecting the time period.
3. Check the Antivirus or Firewall 
Antivirus also prevents your browser from viewing suspected websites and shows NET::ERR_CERT_AUTHORITY_INVALID warning on your browser. Users across the world use different antivirus software. But the procedure is same across every antivirus. You just need to turn off the SSL Scan or HTTP protection or HTTPS protection from your antivirus' piracy settings, under settings.
Related Chrome Error: DNS_PROBE_FINISHED_BAD_CONFIG
4. Check Time and Date 
In most of the cases, the error could trigger due to wrong date and time. It prevents the Google Chrome browser from verifying the SSL certificates. Just update your date and time, and this will prevent from displaying the warning.
5. By Ignoring the SSL Certificates
Using this method, you can ignore the SSL connection error. This is not a permanent solution to your problem. But it will disappear the SSL errors from your chrome browser, until you choose to let them display again.
Step 1. Find the Google Chrome shortcut on your desktop, and right click on it. Select Properties.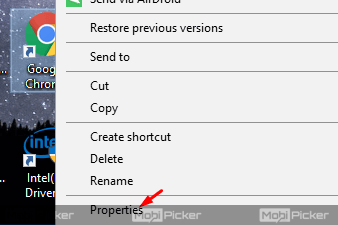 Step 2. Add the parameter as shown in the image below. And then click OK.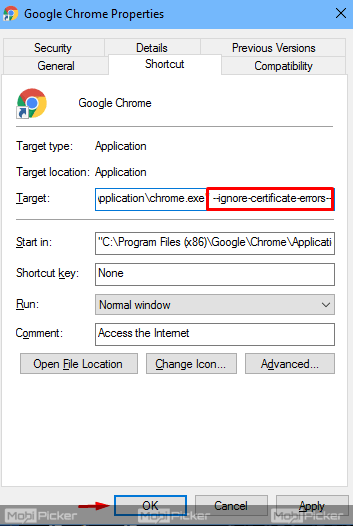 6. By Cleaning Google Chrome Browser
The reason behind the warning NET::ERR_CERT_AUTHORITY_INVALID can also be due to some unwanted extensions or similar files. Cleaning your Chrome might fix the issue.
Step 1. Go to Google Chrome Settings.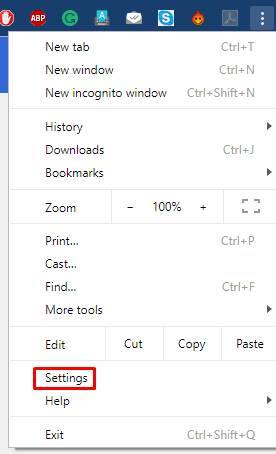 Step 2. Select Advanced settings at the bottom of the page.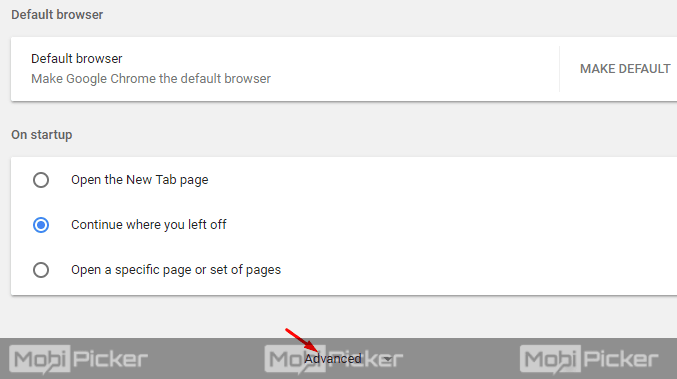 Step 3. Find the option Clear Browsing Data, and select it.

Step 4. After the last step, a pop up window will open up. Mark the details you want to clear and click Clear browsing data.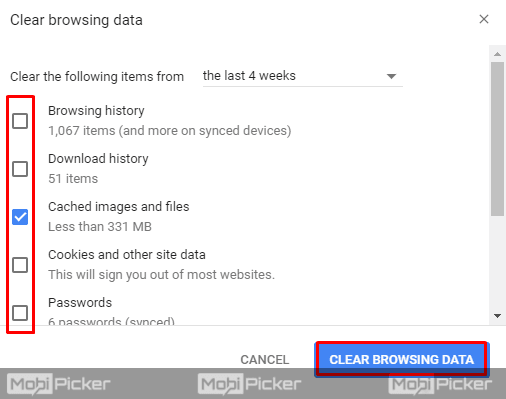 Conclusion
When visiting a website your browser says that the site can't provide a secure connection or your connection to this site is not private, then it can get very frustrating. Using the above-mentioned solutions, you can get rid of all such warnings including NET::ERR_CERT_AUTHORITY_INVALID. Let us know in the comments if you could not solve the problem with this tutorial.
Related Chrome Error: DNS_PROBE_FINISHED_NXDOMAIN