Google Chrome has been showing ERR_QUIC_PROTOCOL_ERROR for some time now. Since you are reading this tutorial, I assume that you are one of the many Chrome users experiencing this issue while visiting the popular sites like YouTube, Gmail, Google, etc. When many users faced this error initially, they thought there was something wrong with their connection or device. But the fact is, this error has nothing to do with the device. Let's check out in detail what is ERR_QUIC_PROTOCOL_ERROR error and why it blocks popular sites. 
Introduction
Google Chrome stands as the world's best browser for the past several years. But Google didn't achieve this feat in a day. They have worked very hard with every update since Chrome's release, to make it the way it is now. They have made it one the most secure browser. Google also allows you to add an unlimited number of Chrome extensions from their library. From Incognito browsing, user-friendly interface to integrating every other Google service, the search giant has worked their way up with Chrome. It is also the world's fastest browser. There are very few to none internet users, who don't use Chrome on their devices, which also makes it the most used browser in the world.
Google always keeps working in making their every service better, and Chrome is one of them. They remain busy in trying latest innovations to improve user experience and internet connectivity. But sometimes, in making the web faster for their users, their own services receives a setback. Users have reported getting a number of errors while trying to visit websites on Chrome.
One of the errors in Chrome is ERR_QUIC_PROTOCOL_ERROR. But there's something different with this error, which only a few users were able to notice. Of course, when this error comes up, it doesn't let you surf some websites. What's different is, most of the times, this error comes up when you try to visit websites like Google, Gmail, YouTube, and other Google related websites. But Why? And what exactly is this error? We have prepared this guide to answer all of your questions, along with the solution to this problem.
What is ERR_QUIC_PROTOCOL_ERROR?
Google keeps trying latest innovations with their services to improve Internet connectivity. One of their latest work is QUIC (Quick UDP Internet Connections) protocol. QUIC is used by Google to fasten the secured internet browsing, by bypassing hurdles on the route. Almost every Google website offers a connection through QUIC protocol. It is also used by Chrome browser, which we use on our devices. Since it was introduced in Chrome, it is causing an ERR_QUIC_PROTOCOL_ERROR for many Chrome users.
How to Fix ERR_QUIC_PROTOCOL_ERROR
The solutions to this problem are pretty simple. You can get rid of this error in a few seconds using the methods mentioned below.
Note: This error is caused by the Chrome browser, not the device. Hence, the solutions mentioned below will fix ERR QUIC PROTOCOL ERROR on all the devices including Windows 10, Windows 7, Mac, Android smartphones, iOS devices, or any other gadgets where you are using the Chrome.
Related Chrome Error: DNS_PROBE_FINISHED_BAD_CONFIG
1. Disable Experimental QUIC Protocol
One of the best methods to stop this error from happening is to disable the QUIC protocol. Here's how you can do it:
Step 1. Type chrome://flags in your Chrome's address bar and press Enter.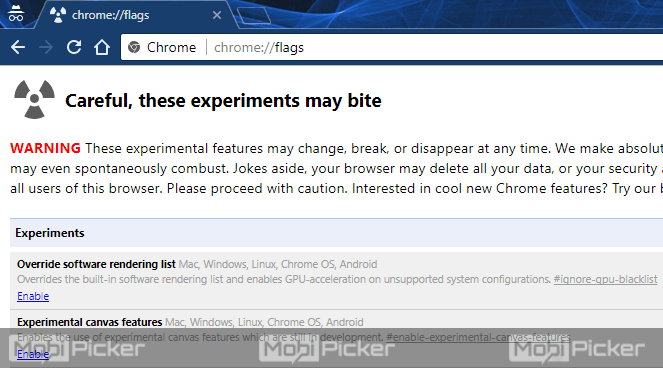 Step 2. Now you need to find Experimental QUIC Protocol on this page. To do it quickly, press Ctrl + F keys. A search bar will open on the top right corner. Type QUIC in that bar. It will show you where the word QUIC is used in the current page.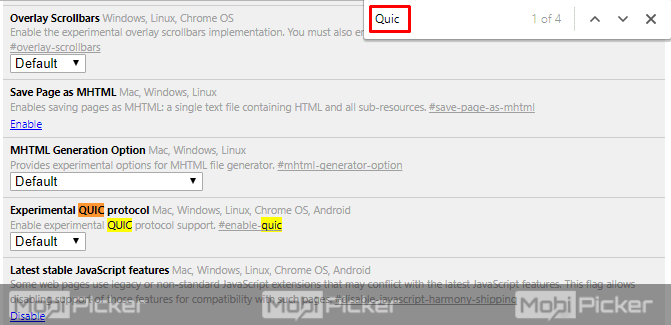 Step 3. Now that you have located the Experimental QUIC Protocol settings, click on the drop down box under it. Select the third option, Disable.

Step 4. After you are done with the last step, close your Chrome browser. Open it again. The error will not show up again. If it does, follow the next method.
2. Disable Browser Extensions
Sometimes, the third party extensions can cause ERR QUIC PROTOCOL ERROR error. If the last method didn't work for you, then you may need to disable the third party extensions on your Chrome as well. This is how to do it:
Step 1. To open Extensions, click on the three vertical dots at the top right corner. Now go to More Tools, and select Extensions.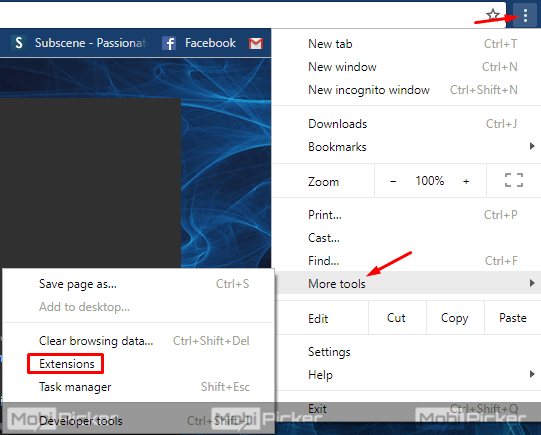 Step 2. On Extensions page, you will see all the extensions which are installed on your Chrome browser. Browse through them and look for the suspicious ones. If you find any, click on the trash bin icon in front of them. This will remove that extension.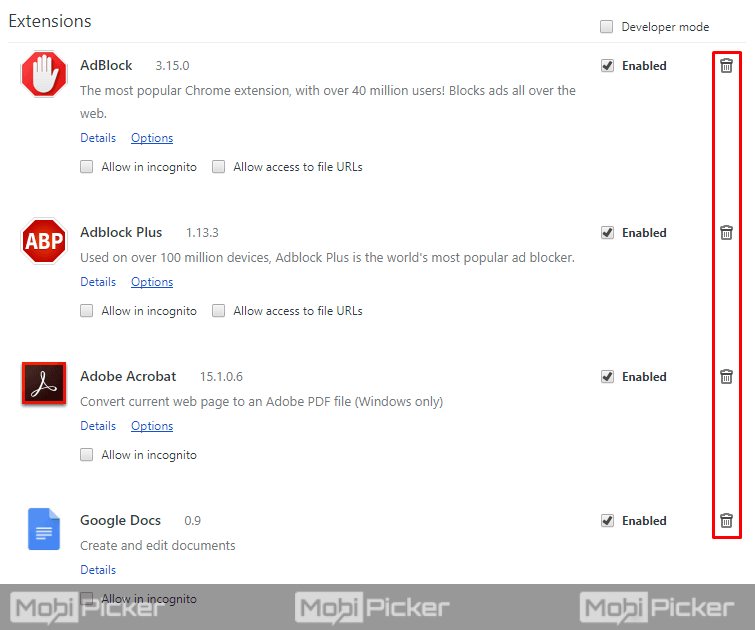 Step 3. Now restart your browser again, and check if the problem still persists. If you are still getting the subject error, then follow the next method.
Related Chrome Error: DNS_PROBE_FINISHED_NXDOMAIN
3. Check Firewall or Proxy Settings
One of the main cause of this error when something goes wrong during the transfer of data between your device and Google's server. If the error is not happening from Google's side, there is a possibility that it is happening from your end. In this step, you will have to check your firewall or proxy settings, to make sure everything's right. Follow these steps to do so:
Step 1. The first step is to go to your Control Panel. Right click on Start Menu, which is a Windows icon, and select Control Panel.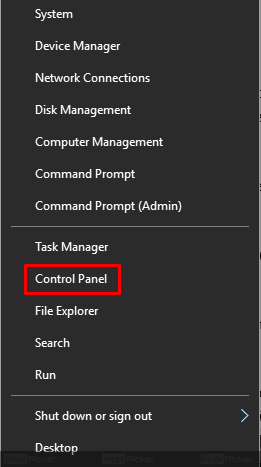 Step 2. Open Network and Internet from the Control Panel.
Step 3. Now, go to Internet Options.

Step 4. A new dialog box will open up. Go to Connections tab.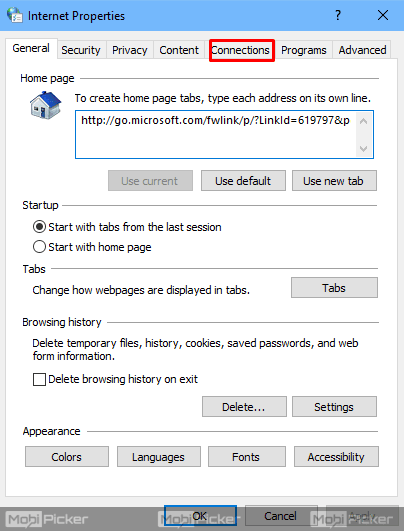 Step 5. At the bottom of the dialog box, you will see Local Area Network (LAN) settings section. Click on Lan Settings under this section.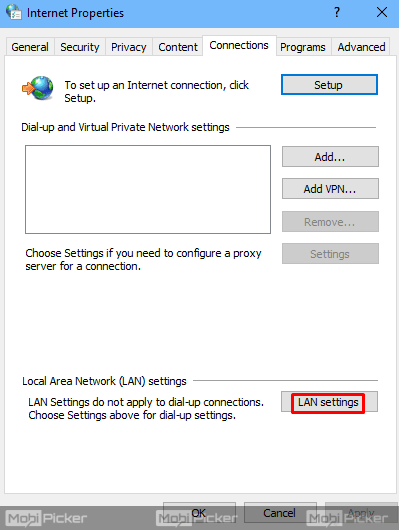 Step 6. Now on Local Area Network (LAN) Settings dialog box will open. Here, you will have to make sure that your "Firewall and Proxy settings" are right, and there is no problem in it. If there is, get it fixed first.
Conclusion
The error this Webpage is not available ERR_QUIC_PROTOCOL_ERROR can appear on your Chrome browser due to a problem in your connection. Even if you've faced this issue only once or twice, we recommend you to fix it for smooth internet experience. We hope the solutions as mentioned above have helped you to solve this error on your device.
Related Chrome Error: NET::ERR_CERT_AUTHORITY_INVALID