ZenFone 2 Smartphone has been launched in Malaysia with all its four variants which was slated to be released for April 21. ZE551ML is the top model which houses as Intel Atom Z5380 chipset with 2.3GHz quad-core processor. With 5.5-inch screen and 1920x1080display, the top variant is powered by 4GB of RAM is priced at RM1,299(US$362) with 64GB model and RM1,099(US$306) for 32GB model. ZE551ML has another variant featuring a slower Intel Atom SoC 1.8GHz processor and have only 2GB of RAM priced at RM899(US$250).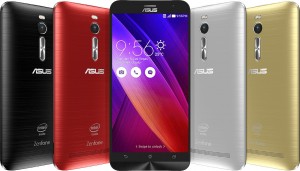 ZE550ML is third model with Intel 1.8Ghz procesor. With 5.5inch screen and resolution of 720p, it houses 2GB onboard storage expandable upto 16GB. This model is priced at RM749(US$209).
ZE500CL is the fourth and last variant with even slower 1.6Ghz processor. With 5inch screen and 720p display, it houses 2GB RAM with 8GB onboard storage priced at RM599($167).
The top three variants of ZenFone 2 sports a 13MP rear snapper with 5MP selfie shooter and are powered by 3,000mAh battery. The last variant of ZenFone2 features an 8MP rear camera with 2MP front camera and is powered by 2,500mAh battery. LTE is supported by all the four variants.