Yuri on Ice episode 7 was released a few days ago, meaning that fans are now eagerly waiting for the next one to arrive. The previous episode was a rather amazing one as surprisingly, Yuri didn't screw up in the second round of the Grand Prix. In fact, he managed to perform a lot better than expected. He was previously nervous because of the second round, but with the help of his friends, he was able to overcome his fear and got the second position. First was Phichit and third was Chris.
So without any further due, here is a short recap of Yuri on Ice episode 7 and spoilers of episode 8.
Yuri On Ice Episode 7 Recap
In Yuri on Ice episode 8, the second round of the Grand Prix competition started. As the performances are based on the standings, Guang Hong from China had to go first. He chose to go with the music "The Inferno" from "Shanghai Blade", which was based on a warrior dying. However, he was confident at the start, but was later seen nervous because of something and he then fall down. Christophe Giacometti then performed and manage to score 283.81 points by giving a perfect performance. Christophe is also a big fan of Viktor, and he's currently trying his best to impress him.
Phichit was next and he performed on "Terra Incognita" from "The King and the Skater II,". He performed very well and he managed to do all of his jumps perfectly. Even at the end, he did three consecutive jumps, which were perfect. Phichit managed to catch the interest of the audience instantly and scored a total of 285 .76 points. Leo then entered the rink, but his performance was cut off instantly as he wasn't doing a good job.
Georgi Popovich was then up next, who entered the rink confidently. He danced to "A Tale of the Sleeping Prince," which was based on his girlfriend leaving him. At first, he was skating perfectly. But after he saw his ex-girlfriend leaving the place with her current boyfriend, his heart stopped because of which he made a lot of mistakes. Next up was Yuri, who was currently having a hard time in gaining confidence.
Before Yuri entered the rink, some incidents happened. While Leo was about to perform, Yuri was nervous as his performance was close. Seeing Yuri in such a state, Viktor decided to take him to a quite place where he told Yuri to warm up in peace. However, Yuri could hear the commentators announcing the standings, which was making him worried. But Viktor was smart enough to cover the ears of Yuri and told him no to listen to it and focus on what he is doing now.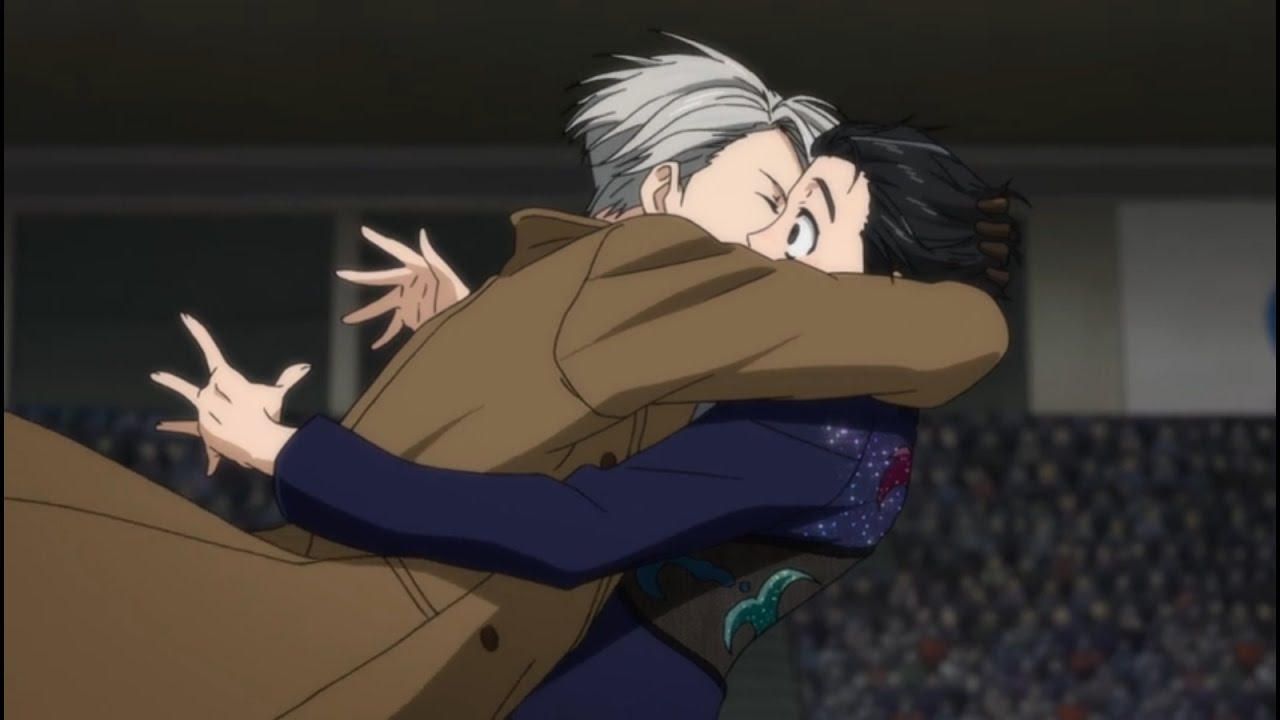 This didn't help Yuri at all and he was still nervous. Viktor then decided to play the bad guy and yelled at Yuri. He told him that he will resign as his coach if he messes up in the second round. Yuri then broke into tears and then asked Vitkor whether he was testing him or not, to which Viktor replied by saying that he wasn't serious. He then told Yuri that he doesn't know how to cheer him up, to which Yuri replied by saying that he just has to have faith in him, and stand besides him instead of saying anything. Yuri then entered the rink with a smile on his face.
Surprisingly, Yuri gave a really good performance. In fact, he did most of his jumps better than before and landed perfectly. He previously planned to do a quad toe loop at the end of his performance, but he did a flip. However, he didn't land perfectly, but the rotations were enough to win the hearts of everyone, including Viktor's. As the flip is Viktor's signature jump, he knows that it is hard to do it at the end of the performance, as all of the stamina is used before it. Yuri was thinking that Vitkor will get mad at him because he failed to land perfectly. However, he was sure in for a surprise as he saw Viktor running towards him, and he then ran towards him two. The two then gave each other a big hug.
Yuri To Go Against Yuri Plisetsky In Yuri On Ice Episode 8
Now, in Yuri on Ice episode 8, Yuri will travel to Russia to participate in the Rostelecom Cup. However, this will be one of the toughest competitions for him as he will face his old rival, Yuri Plisetsky there. Yes, it will be Yuri against Yuri. Yuri previously went against Yuri Plisetsky in episode 3 and managed to beat him. So now, it would be without any doubt, interesting to see how much he has improved since that time.
Yuri On Ice Episode 8 Release Date
Yuri on Ice episode 8 will be released on November 23, 2016. The episode will focus on the match between two Yuris.
Let us know if you're excited for Yuri on Ice episode 8 or not in the comments below.