Those who live in Spain and are interested in buying an Xbox One this month will be surprised and happy at the same time to know that they can get three Xbox One consoles at the price of only two. Yes, buy two get one free. This was first notice by a NeoGaf user and was then picked up by other sites.
A Spanish retailer who goes by the name, GAME, has started an offer where players can buy three Xbox One consoles at a price of only 500 EUR, which is equal to around $556 USD. The offer kind of reduces the price of each console from 379 Euro to 250 Euro which is a huge difference. The bundle offers three Xbox One 500 GB consoles along with a physical copy of the critically acclaimed football simulation title, FIFA 16.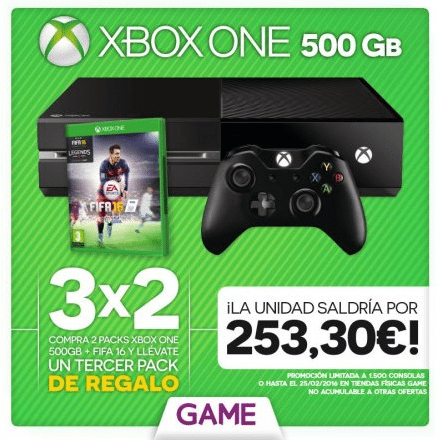 Sadly, as the retailer is based in Spain, this offer is limited to them. But as this offer is receiving a lot of attention throughout the world, other retailers based in other regions might start this offer or something similar like this too. Keep in mind that the retailer currently has only 1500 units available in this offer, so be sure to grab one if you want it now.
Xbox One was released on November 22, 2013. It is the rival of the popular console from Sony, the PlayStation 4. Xbox One recently received Backwards Compatibility feature through which players can play their favorite Xbox 360 titles on Xbox One.
Let us know if you'll get this bundle or got a chance to get it in the comments below.