Yota which has taken an unusual route of crowd-funding, first of its kind in mobile world, will launch the Yotaphone2 in China in a traditional way. Chinese company JieLan has established a partnership with Yota devices. JieLan will handle entire marketing and sales operations for the YotaPhone2 in the Chinese market. This will be a very brave attempt by Russian manufacturer to release a phone which is largely dominated by Asian and American companies.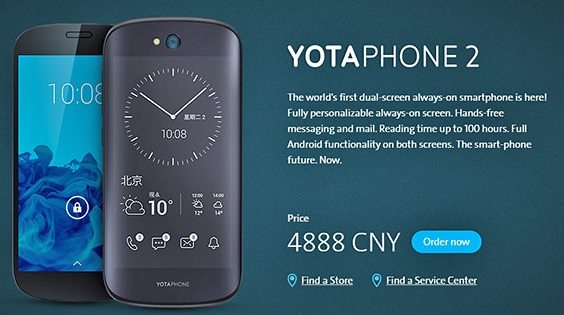 With a price tag of CNY4,888( approx US$ 788), it is available on the yota's website for pre-order. YotaPhone2 comes with an innovative e-paper back, which provided low-power always-on alert display and a better reading experience. This better reading experience is possible with iReader functionality through which books can be read on back display.
Yotaphone 2 comes with 5" AMOLED touchscreen with 1080p resolution and always on 4.7inch grayscale e-Ink display. Both the screens are protected with Corning Gorilla Glass 3. Running on Android OS v4.4.3 Kitkat it is powered by Quad-core Krait 400CPU clocked at 2.3GHz with 2 GB of RAM and Snapdragon 801 chipset. It features 8MPautofocus camera with LED flash and houses a 2,500mAh battery. For China, the phone is modified for Local LTE bands connectivity and comes pre-loaded with Weibo and WEChat (social network and messenger respectively).