Xiaomi released its new mid-tier model, Redmi 3s Prime just a couple of days ago and the first batch that came to India sold in just 8 minutes. Is worth the price difference, will it offer something genuinely new compared to Redmi 3s? Find out here.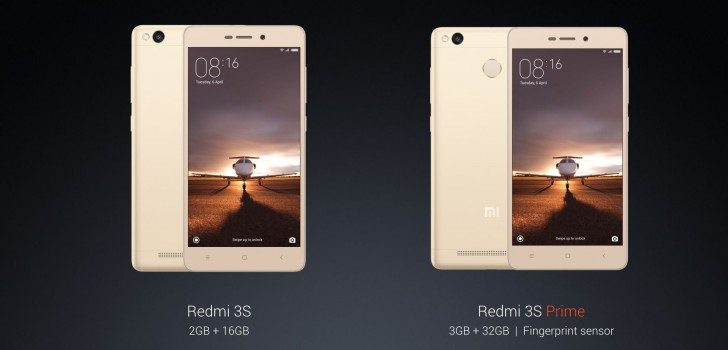 Design, Size
Two phones look almost identical, with Redmi 3s Prime sporting a fingerprint scanner at the back. And, that's basically the only difference, even their dimensions are the same, as well as weight (139.3 x 69.6 x 8.5 mm, 144 g).
Hardware, Display
No major differences in this compartment. Both models are equipped with Snapdragon 430 (Octa-core Cortex-A53[email protected] GHz and Adreno 505 GPU) coupled with 5-inch 720p IPS Led display with a solid density of 294ppi. Snapdragon scores around 42,000 points in Antutu, more than enough for 720p display resolution.
The biggest difference between two models is in RAM and internal storage size. Redmi 3s Prime comes with 3 gigs of RAM and 32 GB of internal storage, compared to 3s' 2GB of RAM and 16 gigabytes of storage. Both models come with dual-SIM capability, and if you want to expand storage, the second SIM slot can be used for an SD card (both models support SD cards of up to 128GB).
Camera
No difference here as well. Both phones come with 13MP, f/2.0 main snappers capable of recording [email protected] video. Selfie cameras are identical as well, having 5MP and being capable of recording 1080p video.
Battery, Additional Features, Price
Both models come with a huge 4100mAh battery, capable of powering the devices for more than two days. Battery capacity is really one of the things where Xiaomi shines, beating every other smartphone manufacturer.
Redmi 3s Prime is equipped with fingerprint scanner placed on the back of the device, one feature Redmi 3s doesn't offer.
Talking about price, Redmi 3s Prime comes with a price tag of 9000 INR ($135) while Redmi 3s can be bought for Rs. 7000 ($105). A $30 price difference can seem like being not too large, but you can buy Redmi 3s, get a large SD card, and still spend less than what you would pay for Redmi 3s Prime. 1GB RAM difference won't really matter since you'll notice no major change in speed with 3 gigs of RAM (if the phone had a 1080p display and, let's say, Snapdragon 650/651, then one additional gigabyte of RAM would matter).