We can reveal that Xiaomi has just launched a Made-In-India Redmi 2 Prime smartphone, an updated version of the existing Redmi 2, at the price of Rs. 6,999.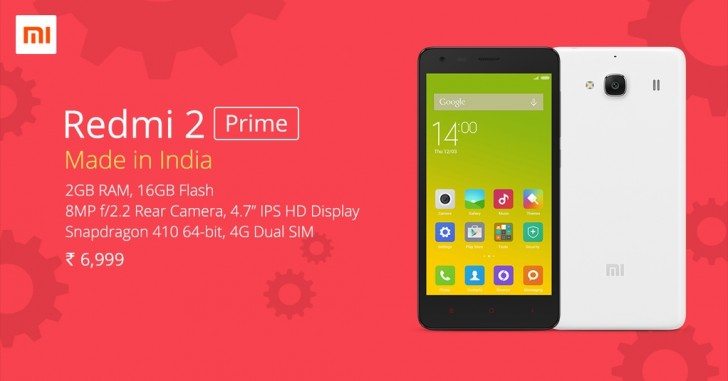 "Just the way we do it in China, the Redmi 2 Prime is a phone that has been 100 per cent assembled in our first Indian plant in Sricity, Andhra Pradesh," said a happy Hugo Barra, vice president of Xiaomi's international operations. The box of the Redmi 2 Prime would carry the "Made In India" sticker.
As expected ,The Redmi 2 Prime is also going to be Xiaomi's first phone to go on open sale at its introduction in India. There is no flash sale planned for the device for now and when it goes on sale at Xiaomi's multiple online partners – Flipkart and Amazon – it will be the company's first phone that consumers would be able to buy without going through a registration for the sale or without taking part in a online buying frenzy, this idea has been welcomed by many.
The truth is that Xiaomi's roll out into India has been a big success given the fact that it celebrated its initial first 12 Months in the country. The introduction of the Redmi 2 Prime at an extremely low price is seen by the analysist as way of saying "Thank you for you'r support" to their loyal customers.
In order to put to rest some negative social media coverage, gossip sites and the press coverage regarding the shortage of after-purchase care that Xiaomi buyers are said to suffer after buying their products, the company announced the introduction of a 'mobile clinic' where some customers in some parts of india can drop-off and pick-up their phones. However, customers will have to pay a small charges for each device. The service is priced at $ 1.55 in Delhi and $ 1.80 in Mumbai. Local taxes shall be added to these very small amounts.
The Xiaomi Redmi 2 Prime is equipped with a 4.7-inch screen carrying 720 x 1280 HD resolution. Complete with a Snapdragon 410 SoC which is under the hood, containing a quad-core CPU and the Adreno 306 GPU. Not forgetting to mention that a 2GB of RAM is inside along with 16GB of native storage. Unbelievable a 32GB capacity microSD slot is ready, willing, and able to help you expand the amount of storage available in your handset .Also, the rear-facing camera weighs in at 8MP while the front-facing snapper features a 2MP shooter. Keeping the pistons pumping is a 2,200mAh battery, and Android 4.4.4 is pre-installed with MIUI 6 running on top.The Redmi 2 Prime is special because it is the first phone that has been made in India.
For those are not aware, Xiaomi will also be selling its products in physical stores very soon in the country.