In October this year, Xiaomi launched two new smartphones – Xiaomi Mi Note 2 and the Xiaomi Mi Mix. The Mi Note 2 launch was expected to happen sometime before this year but nobody expected Xiaomi to launch the Mi Mix so early. The Mi Mix looks futuristic with a never-before-seen body-to-screen ratio of 90%. The bezels on Mi Mix are so thin that you will mistake the phone for a pure display device. There are no sensors or even the earpiece on the top. There's only a small chin at the bottom to house the front-facing camera.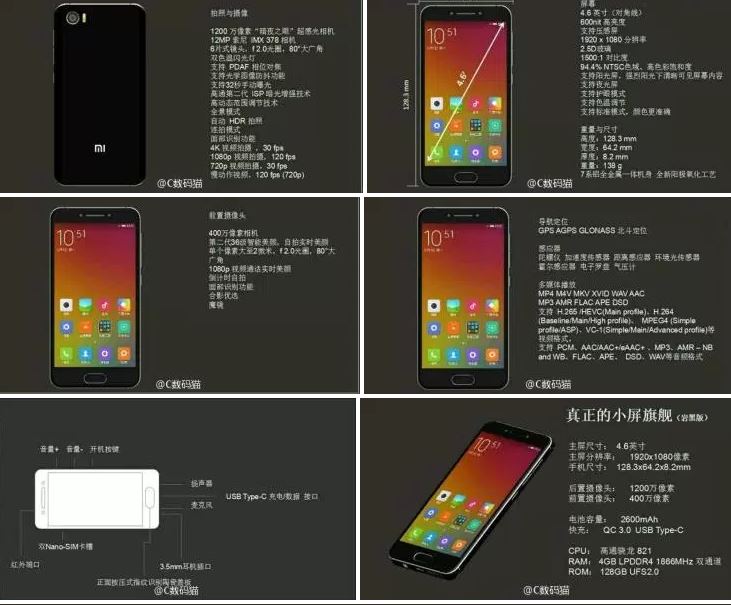 So far, the year 2016 has been great for Xiaomi. Just when we thought the company is probably going to work on the next smartphone only after Christmas vacation, it looks like the company is already working full time on its next flagship smartphone. A Chinese Weibo user has apparently posted images of the upcoming Xiaomi Mi S along with features. Xiaomi Mi S is likely to sport top-of-the-line Qualcomm Snapdragon 821 chipset with Adreno 530 graphics, 4GB RAM and 128GB internal storage. The Mi S is likely to be fueled by a 2,600mAh battery and is likely to come with a 12MP primary camera and a 4MP selfie camera.
From an initial glance, the Xiaomi Mi S looks similar to the Mi 5 series smartphones. The home button and primary camera are pretty much placed in similar positions. However, Xiaomi Mi S mainly differs in dimensions, measuring 128.3 x 64.2 x 8.2 mm as compared to the Mi 5, which measures 145.60 x 70.30 x 8.25 mm.
Xiaomi Mi S Release Date
Although no official announcement has been made by Xiaomi about the rumored Mi S specs and release date, it's highly likely that the company will announce the next flagship phone at the upcoming Consumer Electronics Show (CES), scheduled to start on January 5. Well, what next Xiaomi?