Xiaomi launched two of its phablets last week, Mi Note and Mi Note Pro. Now we learned that one more member of the Note series on the work named Mi Note Plus, as per the entry in Antutu's database.
Specifications revealed of alleged Mi Note Plus include a Snapdragon 810 chipset, an octa-core processor, Adreno 430 GPU. The device will sport a 13 Megapixels camera with 4160 x 3120 px image resolution.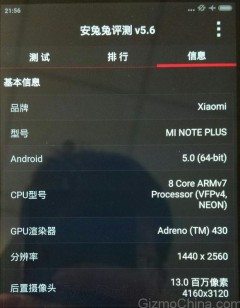 The size of display is unknown yet, however a 1440 x 2560 pixels display resolution disclosed on the entry.  The Note Plus phablet will run on  Android 5.0 lollipop.
Overall the amounts are similar to the recently announced Mi Note Pro, which presents the question whether the Mi Note Plus was not just a working title of the said apparatus. Instead, it could be a new tablet, although the 16:9 aspect ratio is a very rare for tablets, which usually go with 4:3 or 16:10 displays. Also, It could not be the rumored Xiaomi Arch version with dual edge screen, because it should have more horizontal pixels than the standard QHD.
It is pure supposition now, but in case a new apparatus is really on the go, more information will pop up soon.
Stay with us for more updates on Xiaomi Mi Note Plus.