Xiaomi is slowly becoming a major player in the smartphone market. Just a few weeks ago, the company announced its mobile payment service, Mi Pay. Xiaomi's other releases this year include Xiaomi Redmi Note 4, Redmi Pro, and Mi 5. We expect Xiaomi to launch the latest addition to the Mi series, the Mi Note 2, very soon.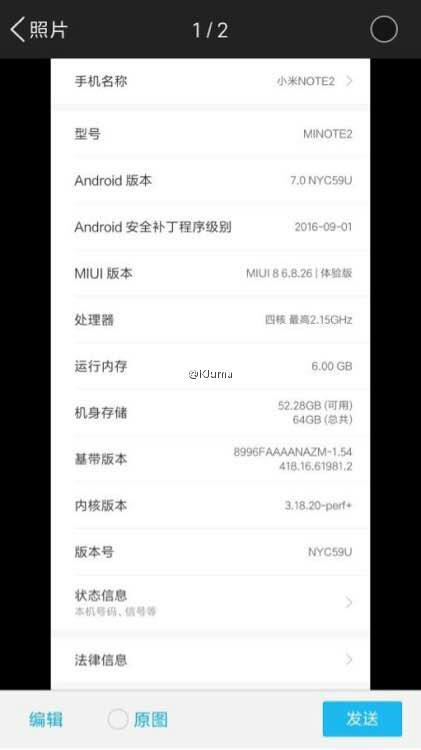 Thanks to a leaked screenshot, we are now more certain of the specs of the upcoming smartphone. From the image below, sorry it's in Chinese, it is clear that the device will run the latest Android iteration, Android 7.0 Nougat. The device will also run MIUI 8.6.8.26.
Previous rumors suggested the Snapdragon 821 would power the Mi Note 2. But from the screenshot, it appears Xiaomi settled for Snapdragon 820 clocked at 2.15GHz. The device will be the first smartphone by Xiaomi to run on 6GB of RAM. Users of the device will enjoy 64GB of internal storage. Rumors suggest the company will bring as a 128GB ROM variant.
Meanwhile, some other leaked renders confirm the design of the Mi Note 2. The device will sport a dual curved edge display, similar to Galaxy Note 7. The display size should be 5.7-inch like its predecessor, the Mi Note. The close resemblance to the Note 7 might stir design copying complaints from Samsung, a company that has been in battles with Apple for design patents.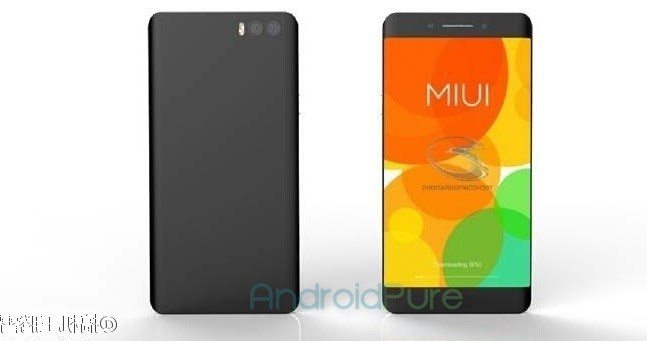 Also, the leaked renders confirm the Mi Note 2 will come with dual rear cameras, which is now a thing with the latest flagships from different manufacturers. As expected, the rear camera comes with dual LED flash.
The renders do not show a fingerprint sensor on the rear. Probably, it is located on the home button, as is the case with the Mi 5. The images show two connectivity ports, a 3.5mm audio jack at the top and a USB Type-C port at the bottom.
That is as far as the leaks confirm. Stay tuned for more information on the Xiaomi Mi Note 2.
Source: Android Pure