Just a few hours back we reported that Xiaomi had sent out invites for its September 27 event that will see the launch of the Xiaomi Mi 5s.
While the Mi 5s may very well be the main attraction of the event, rumors have it that Xiaomi is planning to use the stage to introduce another flagship – the Xiaomi Mi Note 2. As you probably remember, the first-generation Xiaomi Mi Note marked its debut in January 2015. It was followed by the Xiaomi Mi Note Pro only four months later.
While not much info is available yet with about the next-generation Mi Note Pro, a screenshot leaked earlier today sheds light into some of the possibilities.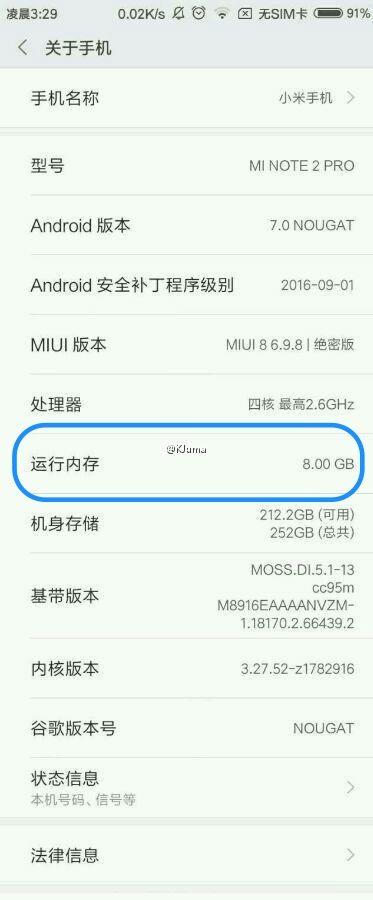 The screenshot in question was leaked by a tipster in China on his Weibo page and it shows the "About Phone" page of the Xiaomi Mi Note 2 Pro. The image clearly shows that the device will host 8GB of RAM. Other key specs include a quad-core 2.6 GHz CPU, which is probably part of the Snapdragon 821 chipset that (allegedly) will be powering the phone.
On the software front, the leaked screenshot shows the device running on Android 7.0 with MIUI 8 on top.
However, considering that Xiaomi separated the release of the Mi Note and Mi Note Pro by four months, it is likely that the Mi Note 2 Pro will not be unveiled for a few months at least.
Also, for all we know, this screenshot could be fake. And keeping that in mind, maybe we all should take this story with a grain of salt.