Xiaomi is heavily pegged to unleash its next flagship, the Mi Note 2. One of its major features is the dual-edge curved screen like the one present on Galaxy S7 Edge and Galaxy Note 7. The rumor mill has revealed leaked images of the Xiaomi Mi Note 2.
The Xiaomi Mi Note 2 will be released to replace the Mi Note smartphone that came out at the start of 2015. As mentioned above, the USP of the Mi Note 2 will be that it will be arriving with a dual-edge curved smartphone.
The leaked photos suggest that the smartphone will arrive with a dual-edge curved screen. The phone seems to be running a MIUI ROM. There are other rumors that indicate that the Xiaomi Mi Note 2 will be also available in a flat screen variant.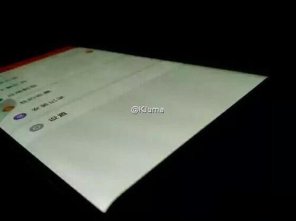 As of this writing, there is no confirmation on whether the photos really belong to the upcoming Mi Note 2 or it is from other curved smartphones from Vivo or Samsung running  the MIUI theme, Giz China reported.
The Xiaomi Mi Note 2 is rumored to house a 5.7-inch OLED display. It is speculated to be one of the first smartphones to be powered by Snapdragon 821 chipset. The SoC will be coupled with 6 GB of RAM. Like other Xiaomi phones, it will be available in multiple storage variants, but the highest native storage variant of the smartphone is speculated as 128 GB.
The Xiaomi Mi Note 2 release date is not known yet, but rumors indicate that it will release in September or October. Xiaomi is known for selling smartphones with cheaper price tag. Hence, the Mi Note 2 is likely to come out with an affordable pricing.
The Mi Note 2 is likely to rival with the Galaxy Note 7 that is selling for Rs. 59,900 on Amazon. Can the alleged Xiaomi Mi Note 2 with its cheaper price can disturb the sales of Galaxy Note 7? Do let us know your thoughts by adding comments below.