The full display has become a trend in smartphone design, but it comes with its own set of disadvantages, one of them being the huge power drain. Different manufacturers have come up with different solutions to this problem. While Mi MIX has employed a 4000mAh big battery, Samsung S8 answers it with a 3000mAh battery. The newly released DOOGEE MIX, however, claims to carry a 3380mAh battery with an extraordinary low battery consumption.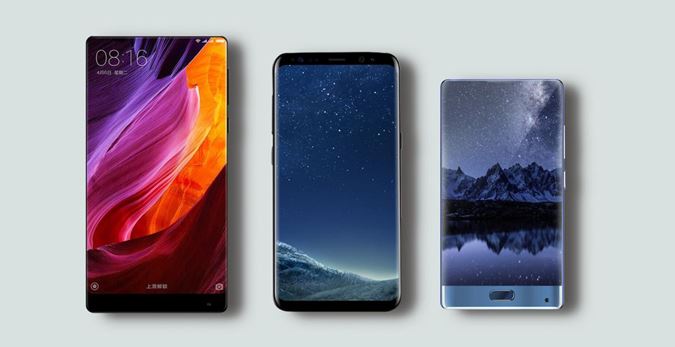 Battery war in full display smartphones
As the display screen gets bigger, the power begins to drain faster. Mi MIX is able to put a 4000mAh big battery in the 6.4" big screen, which Samsung – 5.7-inches – and DOOGEE – 5.5-inches – cannot since they sport a smaller body. That's why they have chosen an AMOLED screen. The active matrix backplane in AMOLED screen can save 30% when it comes to battery consumption. There are rumors that Mi MIX 2 will switch to this technology, but it's probably too late now.
The materials used in smartphones affect how hot the smartphone body feels. One of the influential factors is body cooling. Mi MIX claims that it uses ceramics in body, which means it gets overheated quite easily while using. DOOGEE MIX uses a plating vacuum deposition technology to build a stainless steel frame, which performs better in body cooling than polycarbonate plastic or ceramics. It keeps a stable temperature while using or charging.
IR thermometer can be used to used to tell how the material affects body temperature, as shown in the pics below –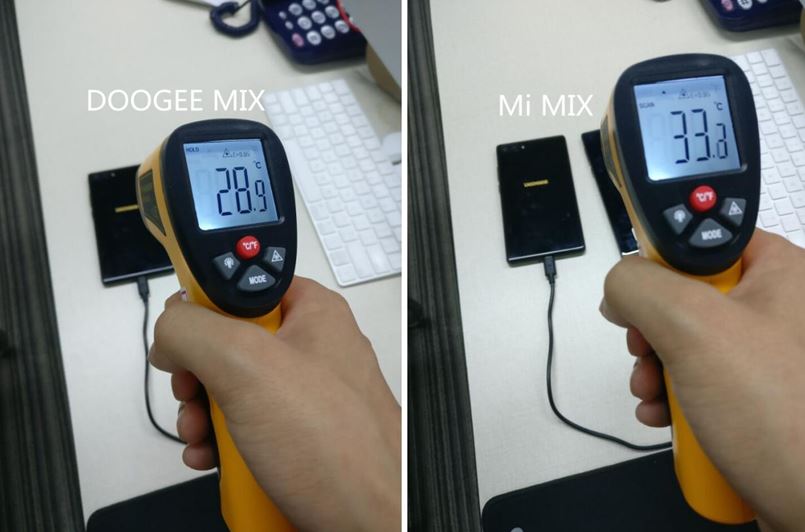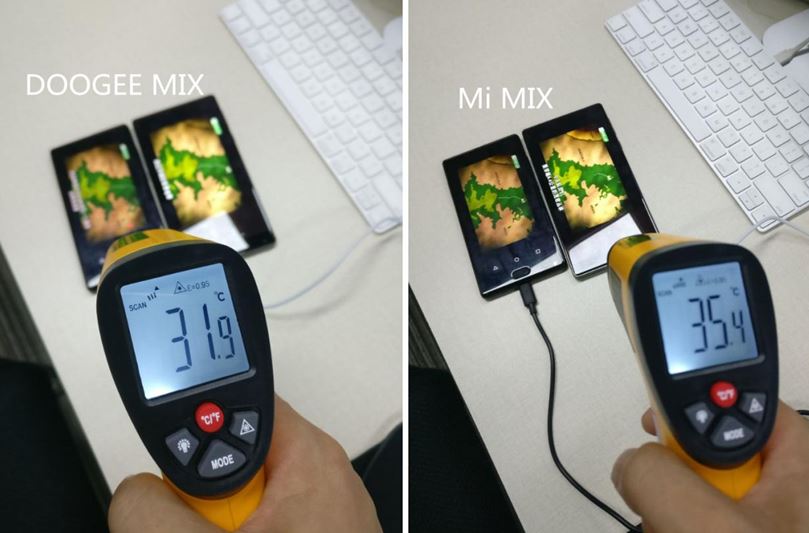 Also, the processor performance is decisive when it comes to battery life. All the three phones come with premium SoCs, while DOOGEE has made the best balance between efficiency and power consumption. The Helio P25 purportedly used in DOOGEE MIX is the latest processor launched by Mediatek, boasting low power consumption and high efficiency.