Xiaomi's new Mi 6 is undisputedly among the most anticipated smartphone flagships of the year. The handset is expected to be released in early April — presumably, sometime around April 11 —  although there is no official confirmation regarding that.
As the release date inches in, we have started getting more leaked images of the handset — or rather, its inner components. One such new leak has revealed the Mi 6's SIM card slot from up close. The picture, first posted on Chinese microblogging platform Weibo, shows what's being claimed as the SIM and memory card slots of the new handset.
Another key information shared by the leaksters is that the Mi 6 will have an IP67 waterproof and dustproof build — although, we don't think it is that big a surprise considering we are looking at a flagship that is supposed to lock horns with the likes of Samsung Galaxy S8.
Xiaomi Mi 6 may not have a 3.5 mm headphone jack
Meanwhile, you have probably already heard the rumors about Xiaomi ditching the 3.5 mm headphone jack the same way Apple did with the iPhone last year. While MobiPicker can not independently verify those claims as of yet, there is an increasing number of reports in the Chinese media that further validate those claims. The leaksters who revealed the Mi 6 SIM card slot have reportedly also been tipped off by a Xiaomi insider that there will be no 3.5 mm headphone jack on the new flagship.
Worth noting, recently, a screenshot of Xiaomi's official website showing what was referred to as the "Mi Bluetooth headset X" made its way into Chinese social media. Priced at 699 Yuan (~$101), the new Bluetooth headsets fueled the speculations about Xiaoami's plans to follow Cupertino's lead to go wireless.
Having said that, we would like to point out that these are still unconfirmed reports — however plausible. So, we urge readers to take this new info with a pinch of salt.
Xiaomi Mi 6 specs, price
According to the leaked specs spreadsheet for the Mi 6, the new Xiaomi flagship will carry a 5.15-inch Full HD display (1080 x 1920), Qualcomm Snapdragon 835 quad-core CPU clocked at 2.45GHz, Adreno 540 GPU, 4GB/6GB of LPDDR4 RAM, 32GB/64GB/128GB storage (based on the variant), 3200mAh non-removable battery, 19MP rear camera, and 8MP front camera.
As for the higher-end Xiaomi Mi 6 Plus, the key specs include a bigger 5.7-inch full HD display, 6GB of RAM, 64GB/128GB storage capacity, 4500mAh battery, 12MP DUAL camera on the rear panel, and 8MP front camera.
While the Xiaomi Mi 6 will be powered by Android 6.0 Marshmallow with MIUI 8.0 on top, its bigger and more powerful sibling will get MIUI 8.0 based Android 7.0 Nougat.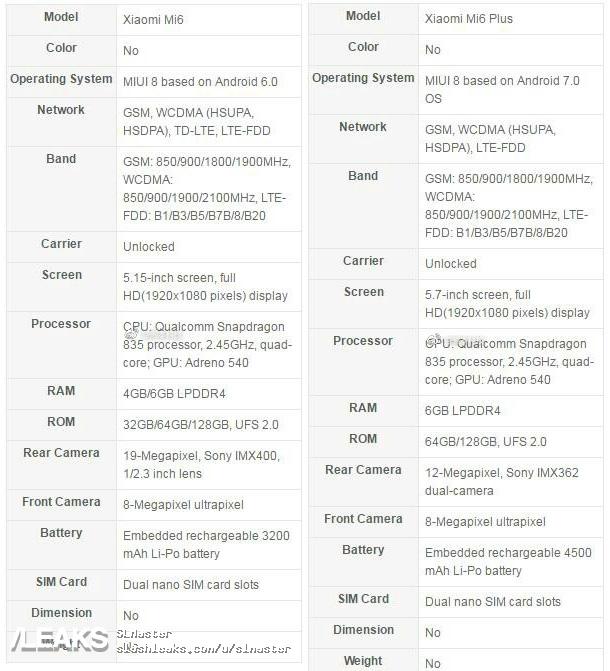 The price of the base variant of Xiaomi Mi 6 is expected to be somewhere around 1999 Yuan (~$290) whereas the base variant of Mi 6 Plus will probably set you back 2599 Yuan (~370).
[
Source
]