Xiaomi Mi 5 is one of the most-awaited smartphones this year, but there's no official word yet on the launch date of the device. A few days ago, a patent trolled had filed a law suit against the company, but no new developments were seen apart from that. Even the Xiaomi CEO was asked about the release date of the Mi 5 at the Redmi Note 3 launch, but the CEO just said that the Mi 5 will be worth waiting for. Thankfully, we now have some significant news under our belt, as a new image of the phone has leaked out.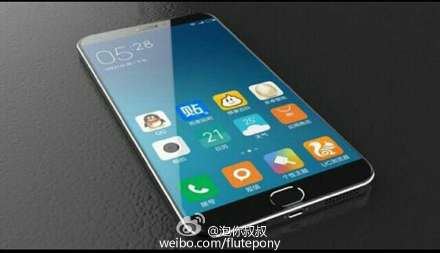 The above image was found on Weibo, China's Twitter. The device is seen sporting an almost bezel-less display, and we can also notice the stereo speaker grilles located at the bottom of the phone. Between the grilles sits the USB port, probably a Type-C USB port. The physical home button is in an eclipse shape, and it might also be the fingerprint sensor simultaneously. The image also shows us that the phone is running Xiaomi's MIUI.
So far, the image looks authentic. The phone looks thin and stylish as a flagship should be, but as it does not come from an official source, we would still not believe it completely. The phone in the image looks identical to the previously leaked images, but a 100% confirmation is still awaited from Xiaomi.