Xiaomi had introduced its latest flagship, the Mi 4, more than a year ago. The company did not sit idle and released the Mi 4i and Mi 4c soon after. However, its high time now that the company releases its next flagship. And looking at the news received today, we think the Xiaomi Mi 5 might hit the market soon.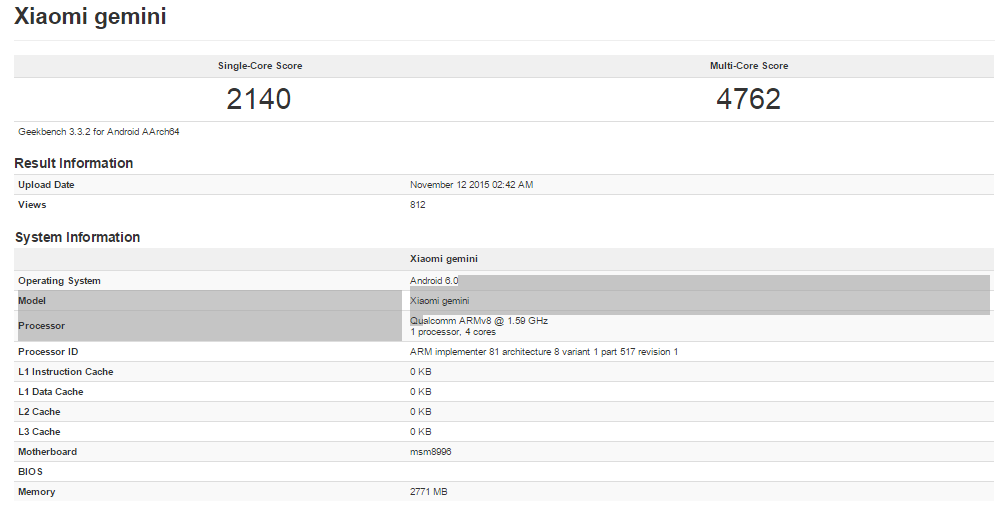 A new Xiaomi smartphone has passed through Geekbench and has revealed its hardware to the public. Code-named as Xiaomi Gemini, the phone carries flagship-class specs like the recently launched 64-bit Snapdragon 820 chipset (MSM8996). The test results did not reveal the GPU of the phone, but we're sure that it's going to be the Adreno 530 GPU under the hood to deliver more realistic graphics and gaming performance boost. The 3GB RAM of the Xiaomi Gemini and its Android 6.0 Marshmallow OS point towards the idea that it might be the Xiaomi Mi 5 in disguise.
Even though the Xiaomi Gemini passed the test as a serious performer, it does not beat its competitors by any means. But this might just be an early prototype and the actual phone (hopefully the Mi 5) might come with more RAM or faster performance. The waiting game is on!