Xiaomi's flagship phone, Mi5, has lately been one of the most discussed phones. With its coveted Snapdragon 820 chipset, many smartphone fanatics have been eagerly waiting to get their hands on the device. However, it seems that they may not be able to do this any time soon.
While it was previously rumored to be scheduled for release in November, however, it is now being said that the chip is not expected to reach the manufacturers until the end of this year, which means that the Mi5 will not see daylight until March 2016, at least. This inevitably means that the expectations of many will be met with disappointment. To fill the gap and the possible criticism from anxious users, however, Xiaomi is releasing a variant of the Mi 4, dubbed the Xiaomi Mi 4c. While we already knew the key specifications of the upcoming handset, thanks to a recent photo leak showing the retail box of Mi 4c, we now have a complete spec list of the device.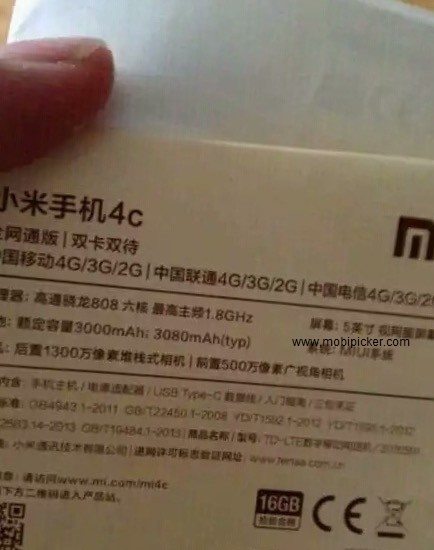 Apart from the processor, it was expected that the phone will maintain the same features as the Mi 4i. However, according to the details on the retail box, the Xiaomi Mi 4c will feature a USB Type-C port, which is nothing less than a surprise. Other features include a 5-inch Full HD (1080 x 1920 pixels) display with 441ppi density, a 1.8GHz hexa-core Snapdragon 808 processor, 2GB of RAM, 16GB of internal storage, a 3,000mAh battery, a 5MP front shooter, and a 16MP primary camera. The device measures 138.1 x 69.6 x 7.8 mm and weighs 130g, and the primary operating software will be Android 5.1.1 Lollipop with MIUI 7 on top.
Despite the powerful features, the Xiaomi Mi 4c is expected to carry a price tag of just CNY 1,299, which is not very different from that of Mi 4i. It is not clear when the device will hit the market shelves; a few rumors suggest that it will be unveil in first of week of September, while others say it will be announced on September 24th.
Regardless of the release date, however, we believe that Xiaomi's decision to launch the phone is a smart tactic, and considering the great specs coupled with an affordable price, there is no reason the company's fans would not be happy with the release!