Xiaomi has become a major player in the international smartphone industry and has given us hits after hits with the Xiaomi Mi 4, Redmi Note/Note 2, Xiaomi Mi Note, etc. The company has shining sales reports, thanks to the extremely aggressive pricing it applies to its products, threatening the success of even the iPhone and Galaxy flagships. And given the fact that Xiaomi has its roots very deep in China, it is no surprise that it is the number one brand there.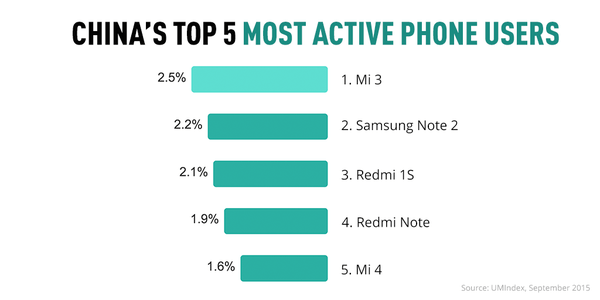 Yes, you heard it right. Xiaomi Mi 4 and other Xiaomi smartphones are the most-used phones in China, according to a latest statistics revealed by Xiaomi on Twitter. In the list of the "Top 5 Most Active Phone Users in China", the Xiaomi Mi 3 tops the chart at 2.5%, thus beating the Samsung Note 2, which stands at the second position with 2.2%. The next three phones in the list are from Xiaomi too, namely the Redmi 1S, Redmi Note, and the Xiaomi Mi 4 getting 2.1%, 1.9%, and 1.6% share respectively.
These figures tell us how successful Xiaomi is in its home country China and how difficult it is for the bigger brands to beat this company in its own turf. With upcoming releases like the Xiaomi Mi 5 and Xiaomi Mi Note 2 under its sleeves, these figures are just going to get better for the company.