Currently, the most common mode of cashless payment is card payment. However, payment cards have proved times more than enough that they are not the safest means of payment. The alternative to payment cards is mobile payment. There are card payment systems such as Apple Pay, and Android Pay, owned by Apple and Google respectively. Some time back Samsung introduced its own mobile payment system called Samsung Pay. Now, Xiaomi has joined the bandwagon. Yesterday, CEO Lei Jun officially announced Mi Pay.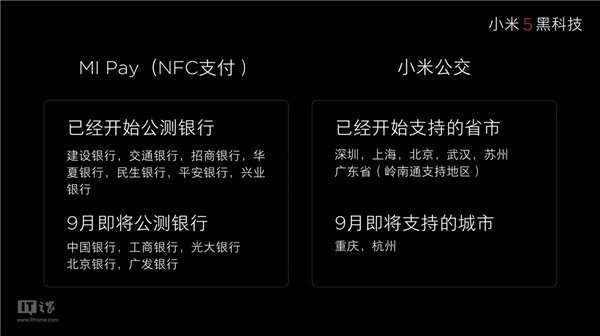 Like all other mobile payment services, Mi Pay relies on Near Field Communication (NFC). NFC is a mode of wireless communication in smartphones. NFC-based mobile payment services completely eradicate the need to carry cards. To use the mobile payment system, your phone is scanned by a compatible reader at the point of sale. The amount is deducted from your debit or credit cards.
Currently, the only NFC-enabled Xiaomi smartphone is the Mi 5. With the announcement of Mi-Pay, we should expect upcoming Xiaomi phones to be NFC-enabled. We bet the upcoming Xiaomi Mi Note 2 will feature NFC.
Mi Pay will soon be live in China, where we expect the company to roll out the service to Xiaomi Mi 5 users soon. Yesterday's announcement did not shed light on the international coverage of Mi Pay. But we should not expect launches in many countries considering Xiaomi's smartphones are yet to land on some international markets.
Xiaomi is partnering with several Chinese banks to provide Mi Pay to a wide range of customers. Banks supporting Mi Pay, according to Gizmo China, include; China Construction Bank, Industrial Bank, China Merchants Bank, Ping An Bank, Minsheng Bank, and Huaxia Bank. Other banks will join the list soon.
Mi Pay already has competitors who are well established such as Apple Pay and Android Pay. Xiaomi has quite a following in China, therefore, Mi Pay may well thrive amid the stiff competition.
Do you prefer card payments or have you embraced mobile payments? Drop your opinion in the comments box.