This week's latest News about Xbox One includes Microsoft's talks about Project Scorpio and confirms the partnership with Middle Earth: Shadow of War developers. Microsoft further shed the light on Multiple PS4 Exclusive titles including Horizon Zero Dawn.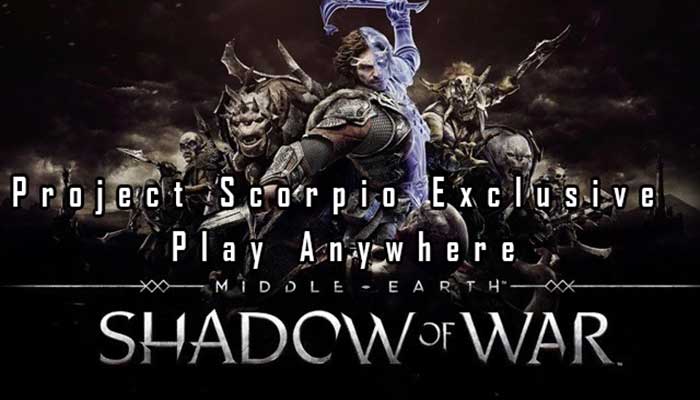 Most of the Xbox One enthusiasts would have noticed that these days Middle Earth: Shadow of War is being advertised with Xbox One logo on it. Microsoft has confirmed a partnership endeavor with Middle Earth: Shadow of War already and it's now part of the Xbox Play Anywhere titles. It'll be available on Xbox One and Windows 10 platforms from August 22, 2017.
Middle Earth: Shadow of War Gameplay by Xbox Official YouTube Channel
Xbox Official recently released a gameplay video on YouTube for this upcoming title. This video created quite a stir among the Xbox One circles and users were left with the questions about the possible partnership. Later on, Microsoft confirmed it.
Aaron Greenberg, Head of the Xbox games Marketing section confirmed the news via a Tweet in response of a fans question:
Yes we are marketing partner for this title, so look for a lot of @Xbox /Scorpio branding & #XboxPlayAnywhere

— ✖️Aaron Greenberg✖️ (@aarongreenberg) March 8, 2017
Middle Earth: Shadow of War is already tested as an Xbox Scorpio title, so there is no doubt that the game is coming to the console and it'll be classified as a Play Anywhere title as well. We know that Middle Earth: Shadow of War is aiming for the UltraHD 4K graphics and visuals, but nobody knows what other feature support it will be offering. Unfortunately, to know the full extent of that, we'll have to wait till the game launches on Scorpio.
Greenberg also talked about the successful PS4 exclusive titles launch and he commented on Horizon Zero Dawn in particular. He answered to a fan's question that stated: Can anyone answer me and say Xbox is getting awesome exclusives like PS4, I'm dying here. Greenberg replied defending Xbox One's line-up of titles via his tweet that read;
You must have missed the Gears 4, ReCore, ForzaH3, Halo Wars 2 & DeadRising 4 we just shipped recently!

— ✖️Aaron Greenberg✖️ (@aarongreenberg) March 7, 2017
The fan fired back at Aaron with arguments about Horizon Zero Dawn and Uncharted 4 stating that both of these games are of a higher quality. Greenberg replied with "Also Great games! I have both systems and plenty to play."
We know that Horizon Zero Dawn is no doubt a big hit and it has proven it's worth on PS4> It provided all the fans with a remarkably new IP to explore, unlike the repetition that the users witnessed last year.
Microsoft has confirmed that upon the launch, Scorpio will have a default list of games to play instead of the traditional Launch Line-up that the users are so used to.
Xbox's Chief Phil Spencer's comment further confirms it with the hints about a lot of new surprises at E3.
In a session, Spencer told IGN that I think that Scorpio has to prove itself as a powerful console through a large array of content. For people who think that there's some massive AAA game sitting in my back pocket that I haven't announced yet that I will at E3 and ship it this Fall, it could happen.
Spencer also said that –
 "I am very confident in the quality of the games that we're launching that I've seen. When people see Scorpio, they're going to see a demonstrable difference between that and the games they are playing now on any console. And I know content has to show that."
Spencer ended with comments about Scorpio's launch, and the platforms that are going to support the games as well as the authenticity and inventiveness of the content that's coming your way.