Xbox Games With Gold have been revealed for the month of November. November's Games with Gold lineup for Xbox One includes: Super Dungeon Bros and Murdered: Soul Suspect. For Xbox 360 owners (and through Xbox One backward compatibility), November kicks off with Monkey Island: SE, followed by Far Cry 3: Blood Dragon.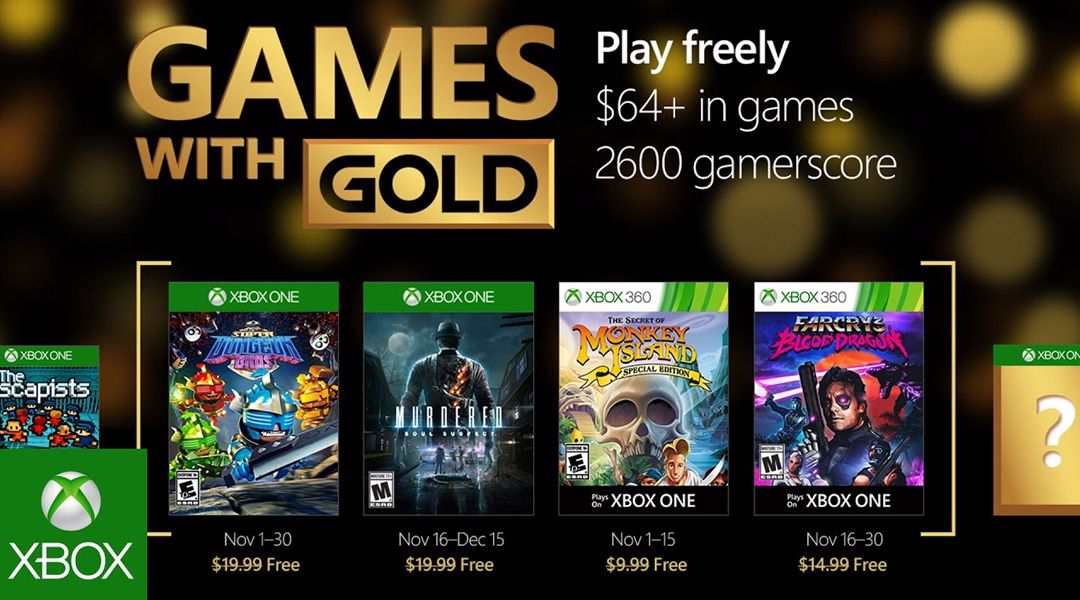 Xbox Games With Gold For November 2016
FarCry 3 Blood Dragon particularly caught our eye in the line-up. We don't know who at Ubisoft is responsible for this dumb and hilarious game. This is the strangest and most fascinating title in our recent memory. We love it despite its inconsistencies. Is it a game parody? An 80s throwback? Or just another FarCry game? Well, it's a little bit of all that and more.
Murdered Soul Suspect's first red herring comes five minutes in. As a detective, you are promised exciting ghost-like skills to solve mysteries. You must right every wrong and figure out who murdered you. You will get unbridled access to the entire level thanks to your ability to walk through doors and walls.
Remaking a game from the ground up can be extremely difficult to get right, and Monkey Island was one of the earliest games in this latest wave of remakes. Monkey Island: SE manages to get most of it right but with a few stumbles. Nevertheless, it's a hilarious throwback to the golden era of point-and-click adventure games.
Super Dungeon Bros is a cross-platform four-player co-op brawler with procedurally generated dungeons and characters named after rock stars. Collect loot and stack yourself into human pyramids in this awesome game.
First announced during E3 2013, the Games with Gold program offers free Xbox 360 games to users who purchase Gold-level memberships for Xbox Live. The program was extended to the new Xbox One console one year later.
Let us know your thoughts on the Xbox Games With Gold For November 2016.