Red Dead Redemption was recently released on Xbox One Backward Compatibility. If you love Western Action themes and have a lot of time to spare, then now is the best time to do it. There are very strong indicators that Xbox Games With Gold Membership might include Red Dead Redemption in November. With RDR 2 announced and RDR 1 already on the Xbox One, it only makes sense to release this game on Xbox Games With Gold Membership for November.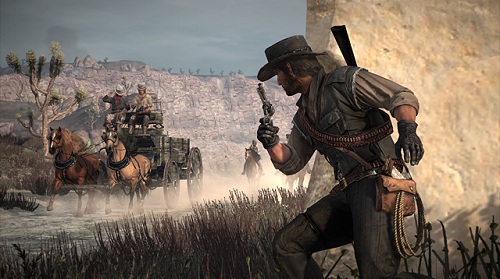 Xbox Games With Gold Membership might include Red Dead Redemption
Red Dead Redemption is AAA design gone horribly correct. Even somethings like mounting a horse and going up the dirt path in the middle of a town feels right. There's tons of activity to do like backroom poker and more. The game has a rather large map with tons of stuff to do. You can hang around near a bunch of people who are playing games or you can grab a random bounty.
Hunt or be hunted is the law of the land. You can catch criminals and be on the good side of the law or you can go around shooting innocent people and get a really large bounty on your head. The open world has that particular Rockstar feel to it. It's large and well-paced with realistic NPC behavior. The NPC behavior is what sets the game apart from other open world games. You can stand next to a person and they'll start staring at you with disgust or admiration.
The game world of RDR is free. Unlike the city world of GTA games, you don't have to worry about navigating through tight spaces. There's no constant threat of law enforcement looming over your head. Because the game is set quite back in time, all you have to do is pick a direction and just go.
Let us know your thoughts about our Xbox Games With Gold Membership prediction for November. Do you think Red Dead Redemption will be part of gold this month? Let us know in the comments.