This month holds some terrific games for owners of the Xbox One or Xbox 360. As usual, there's four titles in the Xbox Games with Gold program, two for the Xbox One and two for the 360. The best part is that thanks to Backward Compatibility, the Xbox 360 games are also playable on Xbox One consoles. All four games will be available absolutely free. And there's a couple I can't recommend enough. Thanks to the source, Major Nelson.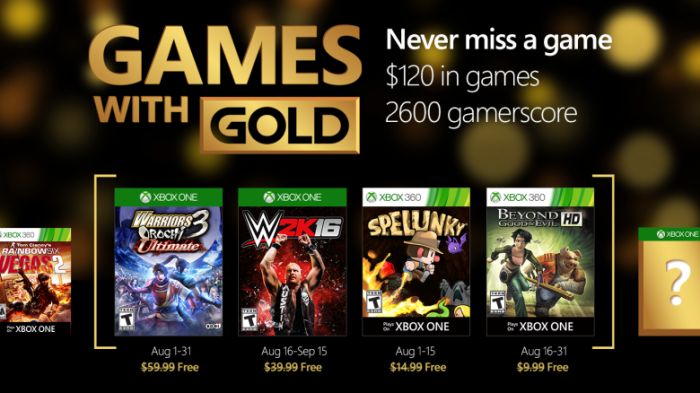 Xbox 360 owners get Spelunky in the first half of the month, from August 1st to 15th. This highly celebrated game centres around a spelunker exporing caves, collecting treasure, saving damsels in distress, fighting enemies and more. Every level is procedurally generated, to boot.
Xbox 360 owners also get the excellent HD edition of Beyond Good and Evil. It's a fairly old game, but it's made of solid gold. We'll perhaps never get a proper clarification on whether or not to expect a sequel of it from publisher Ubisoft, but until then, we can always spread the love. That seems to be exactly what Microsoft is doing. Beyond Good and Evil HD will be available from August 16th to 31st.
Xbox One owners get Warriors Orochi 3 Ultimate, which will be available throughout the month of August. It's a hack and slash game, and features over 120 playable characters that you can mix and match in a party system. And of course, there's WWE 2K16, with Stone Cold Steve Austin right there on the cover of it. WWE 2K16 will be available from August 16th to September 15th.
As stressed above, Xbox One owners can also play the Xbox 360 games thanks to Backward Compatibility. So if you have never played Spelunky or Beyond Good and Evil before, this month is a terrific time to start. Let us know which Xbox Games with Gold offering you're most excited for this month in the comments below.