WWE 2K17 – the professional wrestling video game developed by Yuke's and Visual Concepts and published by 2K Sports for PlayStation 3, PlayStation 4, Xbox 360 and Xbox One – is the successor to WWE 2K16 and the eighteenth game in WWE game series and the fourth under WWE 2K banner. The journey for WWE 2K17 fans has been quite eventful so far – from tips on how to unlock the all-powerful Goldberg to discussions on downloading and unlocking Broken Matt Hardy. The game continues to receive patches that bring improved gameplay, bug fixes and more. WWE 2K 17 recently received Patch 1.06 for PS4 and Xbox One.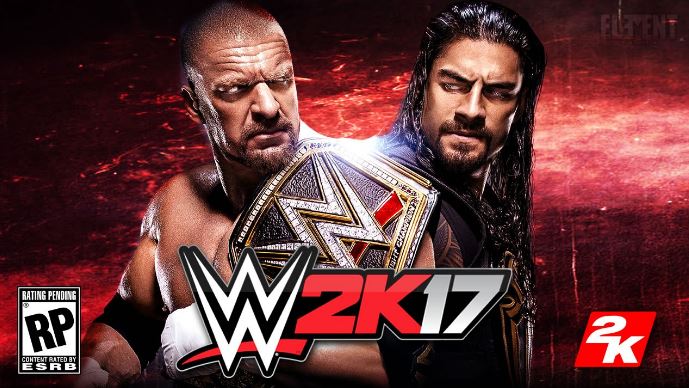 WWE 2K17 Patch 1.06 is now live on PS4 and Xbox One
Patch 1.06 brings several fixes for improved Gameplay. It fixes a stability issue when performing a Dirty Pin while the referee is down in a match while also fixing the issue where a Superstar's body could float unnaturally when reversing certain moves.  Patch 1.06 also fixes an issue with a Superstar not being able to grapple a stunned opponent when both are near the top of a ladder. The patch also brings improved online stability for 6-man matches featuring all Custom Superstars in WWE Live. As for WWE Universe, WWE 2K 17 Patch 1.06 addresses an issue with Superstar UI positioning during Falls Count Anywhere and Extreme Rules matches.
Patch 1.06 also fixes an issue with Eva Marie's entrance when she is a title holder and an alternate attire is used. The patch adds support for WWE 2K17 Hall of Fame showcase DLC ahead of release.
Here's is the complete notes for Patch 1.06 –
GAMEPLAY

Fixed a stability issue when performing a Dirty Pin while the referee is down in a match
Fixed issues with various corner comeback moves not being able to be performed
Fixed an issue in which Superstars couldn't reposition an opponent back into the ring when dragging a standing opponent outside the ring
Addressed a warping issue that occurred when performing apron grapples from outside the ring
Fixed an issue with Superstars getting stuck when grappling a female Custom Superstar performing an apron taunt
Addressed issues with certain moves not connecting properly when performed
Fixed an issue where a Superstar's body could float unnaturally when reversing certain moves
Tuned damage values of various moves that were previously dealing too much or too little damage, including reversals that were not dealing damage as intended
Addressed stamina consumption issues for several moves
Addressed issues with an opponent not being able to interrupt or reverse certain moves as intended
Addressed a warping issue that could occur when performing certain moves near the rope
Fixed an issue with a Superstar not being able to grapple a stunned opponent when both are near the top of a ladder
Fixed an issue with the Major Reversal icon briefly flashing onscreen at an inappropriate time
Addressed warping issues that could occur with multiple moves when performed near a ladder
Fixed an issue with Finisher icons being incorrectly awarded to the attacking Superstar after a "Spear 7" signature move is reversed
Fixed an issue with the "Curb Stomp 2" move causing a Superstar to run indefinitely against the ropes
Addressed an issue with Superstars getting stuck performing the "Boom Drop" in tag team matches

ONLINE

Improved online stability for 6-Man matches featuring all Custom Superstars in WWE Live
Fixed a hang issue that could occur when quickly selecting Custom Superstars in WWE Live
Fixed a disconnection issue that could occur when a friend attempted to join a session while the host was on a loading screen

WWE UNIVERSE

The "Weeks Held" statistic now properly tracks cumulative weeks across a Superstar's title reigns rather than continuous weeks in the longest title reign
Addressed an issue with Superstar UI positioning during Falls Count Anywhere and Extreme Rules matches
Fixed a stability issue that could occur when destroying multiple environmental objects and proceeding to the next match after winning in WWE Universe

VISUAL PRESENTATION

Addressed a finger clipping issue with the "John Cena Champion" entrance motion
Fixed an issue with Eva Marie's entrance when she is a title holder and an alternate attire is used

WWE CREATIONS – SUPERSTAR

Addressed an issue when applying headgear parts to Kane (Corporate)
"Abilities" will no longer be grayed out when adjusting a Superstar's weight in WWE Creations
Fixed several warping and clipping issues that occurred when various clothing parts were equipped
Fixed several issues with the color of clothing parts changing when choosing Lettering logo options
Fixed an issue with body art (torso) designs not applying around the hips of female Superstars
Fixed multiple issues with hair dye not applying as intended to certain WWE Superstars and hair styles

WWE CREATIONS – ENTRANCE

Fixed an issue with the opponent's music playing incorrectly during sections of an Advanced Creations entrance intended to have no music generated
Fixed a display issue with the motorcycle in Undertaker 00's entrance motion when using a female Superstar
Fixed an camera issues for certain entrance motions when assigned to a female Superstar

WWE CREATIONS – VIDEO

Addressed stability issues when previewing select cutscenes

WWE CREATIONS – ARENA

Addressed an issue with applying logos to turnbuckle pads
Fixed an issue when applying stage patterns to the WCW Bash at the Beach 1994 arena

WWE CREATIONS – MOVE-SET

Improved preview animations for various moves in Edit Move-set

AUDIO

Fixed an issue with post-match music failing to play after winning a match with an alternate attire Superstar
Addressed issue with Zack Ryder and crowd not chanting "Woo woo woo" during his victory scene
Fixed an issue with delayed audio in Shawn Michaels' 97's victory scene

DOWNLOADABLE CONTENT

Added support for the "WWE 2K17 Hall of Fame Showcase" downloadable content ahead of release.
Revised several move animations to appear more natural and adjusted syncing issues for moves from the WWE 2K17 Legends Pack, WWE 2K17 New Moves Pack, and WWE 2K17 Future Stars Pack
WWE 2K17 Future Stars Pack – Addressed an issue with Superstars getting stuck when performing the Hyperdrive move
WWE 2K17 Future Stars Pack – Eliminated a beeping sound that played during the match-up screen for matches featuring The Club
WWE 2K17 Future Stars Pack – Fixed an issue with the Tye Breaker move failing to award Signature Touch points
WWE 2K17 Future Stars Pack – Users can now modify the colors of Mojo Rawley's face tape in WWE Creations
WWE 2K17 Future Stars Pack – Fixed an issue in which hair dye incorrectly applied to Luke Gallows's face
WWE 2K17 Future Stars Pack – Fixed an issue with the referee getting stuck after performing a pin combo with the Magic Killer and Hype Ryder moves