Those who pre-ordered the WWE 2K17 got to unlock the legendary character Goldberg. Bill Golberg will soon join the likes of Sting,  Arnold Schwarzenegger and the Ultimate Warrior as WWE Hall of Famers. With the hopes of getting exclusive access to Goldberg, many fans pre-ordered the game. Pre-orders were the only way to get Goldberg, until now. In what came as a shocker and disappointment to all those who had pre-ordered the game, 2K Games made an official announcement on their Twitter page and told that the "exclusive" pre-order DLC will now be offered for purchase for the rest of players.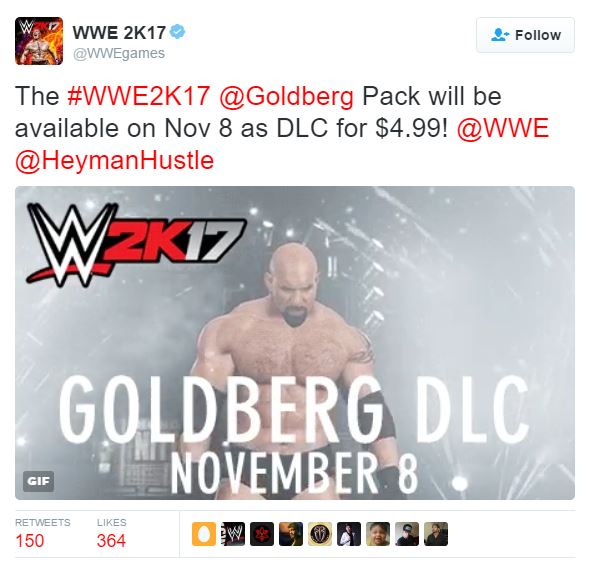 The tweet makes it clear that all players will get the Goldberg DLC for $4.99. This hasn't gone too well with Goldberg fans, particularly those who pre-ordered the game. Some players tweeted that they felt 2K Games had cheated them by first announcing that the Goldberg DLC will be "exclusive" to pre-orders and now making it available for $4.99. One of the players had this to say – "So much for pre-order exclusivity. Sell him eventually but its been what? A month?".
Although it's unclear as to what prompted 2K Games to take this decision, it looks like the company wants to make the most of the upcoming Goldberg vs Lesnar that's scheduled for Survivor Series 2016. The game even provides players with the option to simulate Goldberg vs Lesnar match even before the official match takes place this year! Of course, you need to have unlocked Goldberg character for this to happen.
Fans didn't quite expect 2K Games to defeat the whole purpose of pre-order "exclusivity" by releasing the paid DLC in just about a month. Moreover, players who didn't pre-order the game are also miffed about the price. They feel $4.99 is too high for just one character. It looks like both parties aren't happy – those who pre-ordered the game and those who didn't – for different reasons!
And as expected, 2K Games defended its decision of releasing the paid Goldberg DLC so soon. "Pre-orderers get it for free while others have to pay and wait a month. Seems like a good point" it said. Did you pre-order WWE 2K17? If yes, what do you think about 2K Games decision to release paid Goldberg DLC? Feel free to post in the comments section.