The Wondershare Filmora Video Editor is frequently discussed video editing software. If you are a casual video editor or a novice in this field, you can explore this option. Regardless of the skill levels, it helps in generating great quality videos. More or less, you get most of the key features that you will need.
Compared to the Apple iMovie, this is a more accessible offering. An all-in-one package, it helps you create great videos. You can use photos, home videos and amateur films for creating these videos. The convenient user interface and features also add to the excitement.
This powerful editing suite can be operated on Windows as well as Mac. This means its accessibility is much higher. A limited ecosystem is one of the iMovie's basic problems. The Wondershare Filmora has no such issue. Given the popularity of home videos, it alters your video editing experience. It is a combination of simple design and complex editing tools. This is what makes it one of the top choices for any video editing exercise.
Key Features of Wondershare Filmora
Most video editing software pack a whole range of features. The Wondershare Filmora Video Editor is no exception. Its versatility can give professional offerings like iMovie a run for their money.
Ease Of Use: Convenience is one of the greatest advantages of this software. Reviews state that hardcore Apple iMovie users also found this format simple. There are several types of titles, background music, transition options and overlay features. As a result, even beginners can experiment with significant success. The different features, no doubt, make the video a lot more striking. There are free themes and add-on effect to suit the holiday mood as well.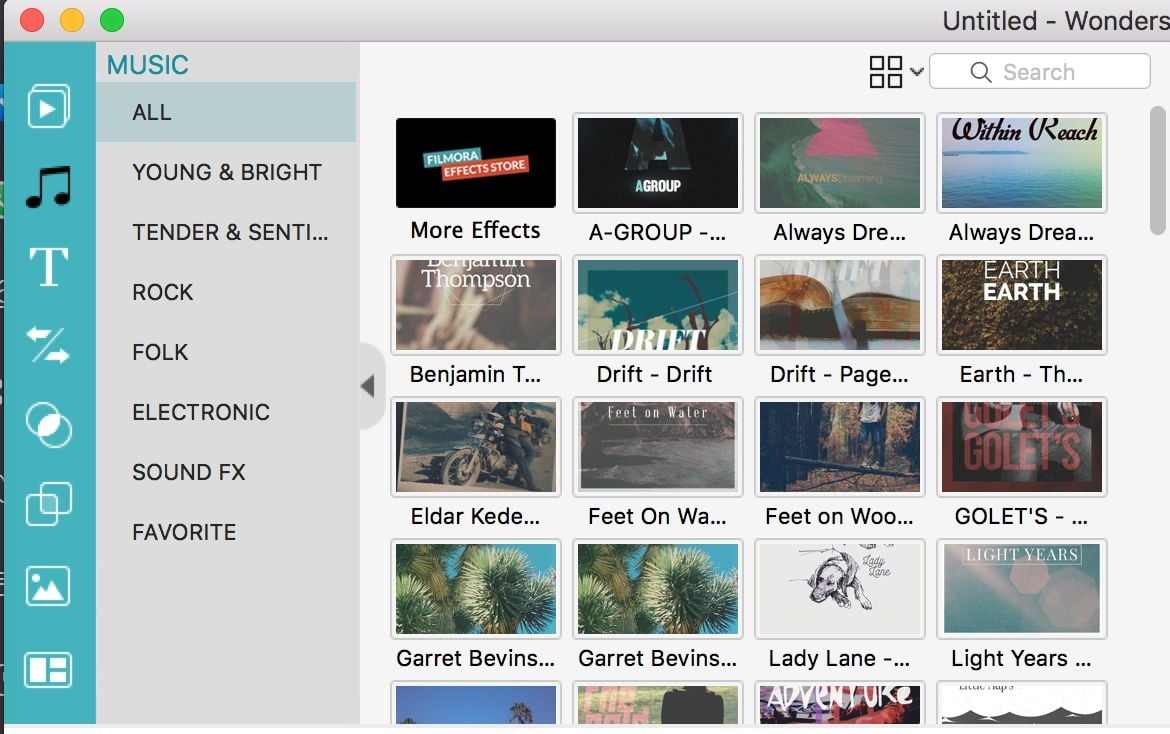 Interface: A convenient user interface is another key feature to look at. The Wondershare Filmora Video Editor scores very well in this segment. Its interface is pleasing but at the same time not ideal for touch screen usage. Moreover, the Windows and the Mac versions are quite similar in attributes. So, users don't lose out much by choosing one over another. It has the option of black and light gray borders. You can choose a color based on your preference. Overall, it is a comfortable work experience.
Supports Multiple Formats: This is an important aspect when you are comparing video editing software. This one supports most used video formats globally along with the conventional ones. So you can use MOV and MP4 formats quite conveniently. They also support standard audio and image formats that are popular worldwide. This makes sure that it can be used across the world. Moreover, it supports GIF files and 4K resolution. As a result, you can also sync-in information from social networking sites. For example, if you want to incorporate the Facebook image into your video, you can do so. Based on your need, you can export the final video into HD or DVD forms as well. This again enhances the versatility of this software.
Different Types of Modes: The Wondershare Filmora Video Editor caters to interests of a large number of users. From amateur to professionals, everyone will find it convenient and easy to operate. Right when you are starting, it prompts you to choose between Easy Mode and Full Feature mode. As the name indicates, easy mode is for beginners and home videos. For more professional and top quality options, you can refer to the Full-feature mode. It has a full range of features that you associate with a professional set-up.
Editing Features
The most important aspect is the editing feature. The Wondershare Filmora Video Editor has two options.
Basic: This has all the standard video editing features. This includes the likes of color correction, noise removal, and frame by frame preview. This will enable you to correct minor problems and deliver quality content. You can also pan and zoom the frame as per your need.
Advanced: This is where this software displays some cool features. From multiple-video layers to complex audio mixing, it is a powerful package. You can also try out a whole lot of cool effects. You can incorporate effects like picture in picture for a more professional output. Tilt-shift, video stabilization, 3D Text are some of the other interesting options. On an average, you have 80+ effects and 50+ transitions in this package.
Pros & Cons
The Wondershare Filmora Video Editor is a jack of all trades. But there are some demerits too.
Pros: The biggest advantage is that it is versatile. Almost anyone can master it and use it as well, even for those never edited earlier. Moreover, you can adapt it to your existing system without any glitch. You do not have to invest in additional elements to enhance efficiency.
Cons: This is not very well suited for high-end professional stuff. At the most, it helps you churn great quality home videos and amateur elements. However, if you are looking for something more advanced, this is not the right choice for you. But it can be slow in terms of operational efficiency.
Wondershare Filmora Video Editor Pricing
Pricing wise, its value is intrinsically linked to your level of usage. It also follows the subscription module like Adobe Premiere. You have a one-month free trial option too. This allows you to use all the available features, but the exported video is watermarked. Subscriptions for the full version start $39 a year onwards. In case you want lifetime access, you can get a license to use to on a single computer for $59. Though if you compare, it is slightly more expensive than peers on face value, the level of usage is crucial. If you have very high usage, this product offers decent value. Here's the pricing page of Filmora video editor.
Conclusion
Therefore, the Wondershare Filmora Video Editor is a flexible and convenient software. Whether you are a beginner with no experience or a pro, you will find value in this product. The free trial version gives you adequate time and exposure to check it on your own. Overall, it represents sustainable value.