Unless you landed up on this part of the web by way of a misdirected Google search, odds are high you recently had to go through the awful experience of losing your invaluable data accidentally or because of a technical glitch. Or perhaps you are working on a contingency plan to ensure that any such event can be competently handled if and when arises. In either case, the key is to find the best data recovery software that not only can recover your lost or corrupt data, but does so without taking an eternity – an important aspect missing in most data recovery software out there.
Granted, there is a plethora of data recovery software today, including a good number free ones. Unfortunately, though, with the exception of only a few, most of those products fare rather poorly in terms of both speed and reliability. So quite naturally when I began testing the Wondershare Data Recovery Software for this review, skepticism hovered around in my mind despite the fact that the other Wondershare software (Wondershare PDFelement) we had reviewed recently actually turned out to be quite good.
As you visit the home page of Wondershare Data Recovery, the first thing you will notice is the company's claim about the program boasting over 5,000,000 users. Impressive indeed, you will probably think just like I did. But before you proceed to hit on the 'Download' button, be informed that while you can try the program for free, you will have to pay for gaining unrestricted access to the full program.
Supported devices and file types
Wondershare Data Recovery supports desktops, laptops (both Windows and Mac), external hard drives, flash drives, memory cards, digital camera camcorder, and removable drives.
Supported file types include:
| | |
| --- | --- |
| Documents | DOC/DOCX, XLS/XLSX, PPT/PPTX, PDF, CWK, HTML/HTM, INDD, EPS, etc. |
| Image | JPG, TIFF/TIF, PNG, BMP, GIF, PSD, CRW, CR2, NEF, ORF, RAF, SR2, MRW, DCR , WMF, DNG, ERF, RAW, etc. |
| Video | AVI, MOV, MP4, M4V, 3GP, 3G2, WMV, ASF, FLV, SWF, MPG, RM/RMVB, etc. |
| Audio | AIF/AIFF, M4A, MP3, WAV, WMA, MID/MIDI, OGG, AAC, etc. |
| Email | PST, DBX, EMLX, etc. |
| Archive | ZIP, RAR, SIT, etc. |
Once you install and activate Wondershare Data Recovery, the following Wizard will appear to help you out with your data recovery.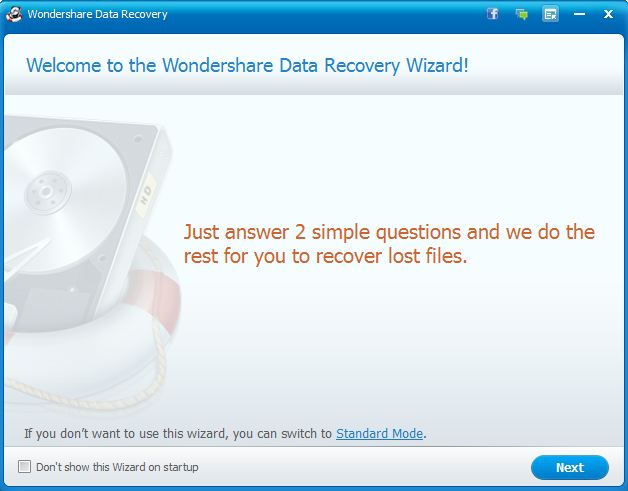 The Wizard is particularly helpful for quick recovery and inexperienced users. But if you want to view all the options, just switch to the Standard Mode by clicking on the link toward the bottom of the window.
The Standard Mode has the main functions of the program right on the home screen, thus making the user interface (UI) simple and easy to navigate through.
Recovery modules
As you can see in the image below, the three recovery modules are:
Lost File Recovery

– For the recovery of deleted files, as well as data lost due to the formatting of a partition or removable media such as USB drives.
Partition Recovery

: This feature can be used to find and recover files from deleted, lost, or damaged HDD partitions.
Raw File Recovery

:

This is your last resort in case the previous two options fail to recover your lost data. Raw File Recovery may take longer to finish, and doesn't display to recovered file's name and path.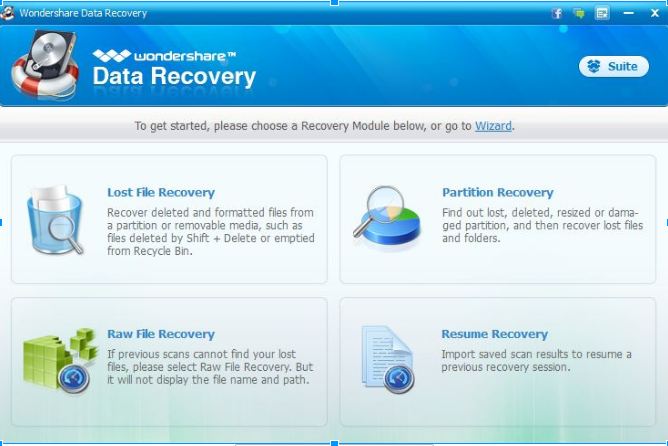 The fourth option on the home screen is "Resume Recovery" that enables you to resume a previous recovery session if you have the scan results saved.
The recovery process
The recovery process in all three modules are pretty simple – all you have to do is follow the clear and precise on-screen instructions.
In "Lost File Recovery", you have to choose the original directory of the lost/corrupt file manually like shown in the image below: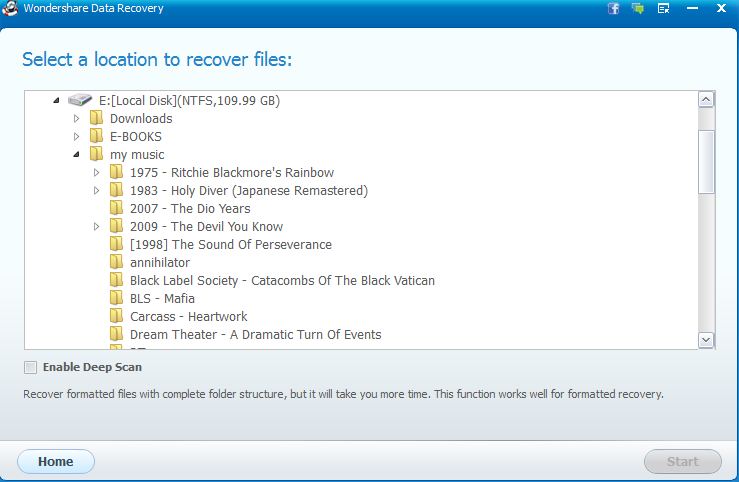 Once you select the directory where you expect to retrieve your lost data from, you will be prompted to specify the type(s) of the data you want to retrieve. It can be one or more of the following: archives, documents, graphics, internet and web, and miscellaneous.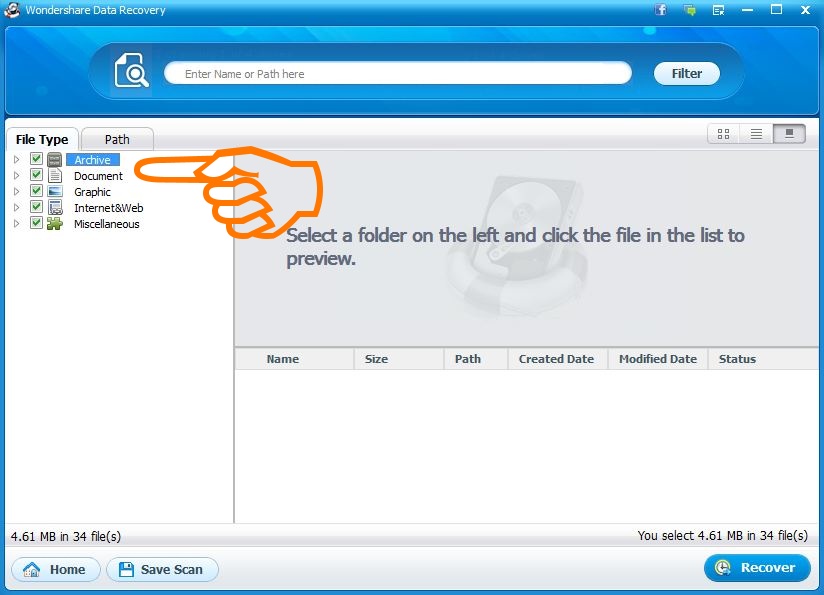 Select the type of the file and then hit the "Recover" button on the bottom-right to begin the recovery process. Be advised though, the ordinary recover mode may not be able to detect all your lost files. That's why it is recommended that you enable the Deep Scan option. It will take much longer than a regular scan, but will also deliver a far higher success rate.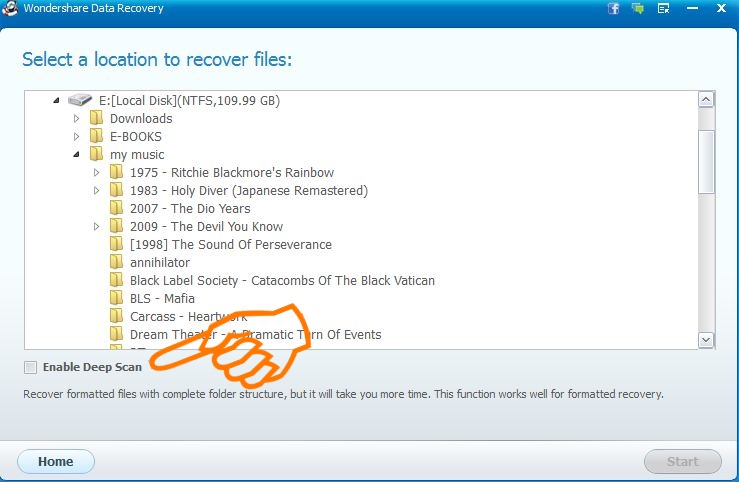 The procedure is similar for both Partition Recovery and Raw File Recovery options.
Performance
The main issue with most data recovery software is the time factor. Depending on the size of your hard drive, a deep scan in most of those software can go for several hours. But that's one problem you won't be facing in Wondershare Data Recovery.
We have compared the program's performance with other similar software – free and paid. In most cases, when the other software reached somewhere around 20% –  26%, Wondershare had already gone well beyond 50%.
By the way, if you still find that the time taken by deep scan is too much, you can begin the process by doing a quick scan which will scan your drive within the metaphoric blink of an eye. In case it is unable to recover your lost file, only then you can move along to the lengthier but more reliable option, i.e. deep scan.
When it comes to the number of files recovered, the program is capable of finding and retrieving deleted files even after a long time. In fact, it even fetches files (image caches, to be more specific) from your browser's history days after you last accessed them.
Based on its comparison with other software Wondershare Data recovery had recovered over 6,000 lost files compared to the 2500 – 3700 recovered by the other programs.
The quality of the recovered files is pretty good too. While it competently handles mildly corrupt files, one drawback we noticed is that the program met with near absolute failure while recovering severely corrupt data (the files could be retrieved and saved, but in an unreadable state). Although, I guess that's the case with pretty much all pro-grade data recovery software out there.
Pros
Simple, intuitive, and user-friendly interface

Relatively much quicker data recovery (even when in the 'deep scan' mode)

Capable of recovering files long after their deletion

Recovery sessions can be saved and resumed later without any loss of data

The overall quality of the recovered files is generally good

Works across most commonly used devices and OS platforms

Supports a large number of file types.

Competitive price

Preview version available for trying the software before purchase
Cons
Sometimes consumes too much system resources which end up affecting the speed and efficiency of other active programs.

Inconsistent when it comes to recovering severely corrupt files.



The conclusion
Based on our experience and the general vibe from other users, Wondershare Data Recovery software seems to be one of the best products out there for recovering lost and corrupt data. It is not free if you want access to all the features, but we believe the money you will be spending is worth the quality. You can check out more about the Wondershare Data Recovery Software on its official website.