We have recently seen a lot of PS4 titles getting support for the upcoming PS4 Pro. However, one of the most popular titles from last year, The Witcher 3: Wild Hunt won't get a PS4 Pro support patch.
The Witcher 3: Wild Hunt Won't Get PS4 Pro Support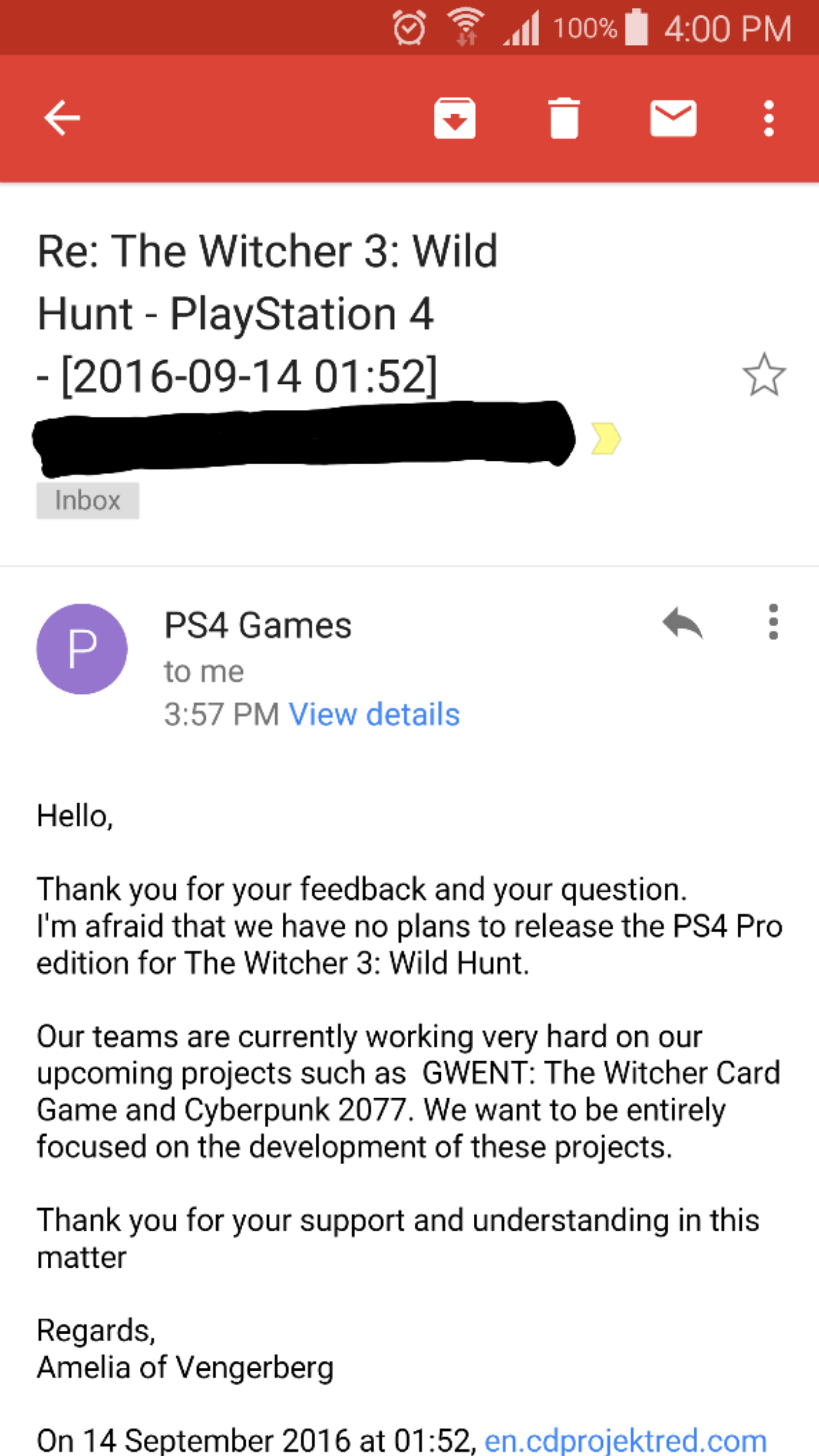 Recently, a Reddit user goving1263 sent an email to CD Projekt Red to ask if The Witcher 3: Wild Hunt will be getting an update to support the features of PS4 Pro or not, to which the developers responded by saying it won't. According to the studio, they are currently focused on the development of GWENT: The Witcher 3 Card Game along with Cyberpunk 2077. Both of these are upcoming projects from CD Projekt Red and are currently in development. So they don't want to work on anything other than these two projects at the moment. Here's what CD Projekt Red had to say regarding this.
Thank you for your feedback and question. I'm afraid that we have no plans to release the PS4 Pro edition for The Witcher 3:Wild Hunt.

Our team is currently working very hard on GWENT: The Witcher Card Game and Cyberpunk 2077. We want to be entirely focused on the development of these projects.
This confirms that CD Projekt Red is not interested in updating the game to support PS4 Pro's features. If we look at it in a way, this is a good thing that they are taking their time to work on Cyberpunk 2077 rather than on an already released game. The Witcher 3: Wild Hunt already looks great on the standard PS4. It will without any doubt, look even more amazing if you play it on a PS4 Pro paired with a 4K or UHD TV.
The Witcher 3: Wild Hunt was released on 19 May, 2015 for the PC, PS4 and Xbox One. It is the most successful game for CD Projekt Red until now and has shipped over 10 million copies world-wide. The game also managed to beat The Last of Us by winning more Game of the Year Awards.
The game also received two expansion packs some time after its release, Hearts of Stone and Blood and Wine. Both expansion packs are filled with brand new stuff which kind of expand the universe of The Witcher 3: Wild Hunt. Both expansion packs also received positive reviews from critics. On August 30, 2016, CD Projekt Red released The Witcher 3: Game of the Year Edition which includes the game along with the two expansion packs.
Let us know what you think about this news in the comments below.