The Witcher 3: Wild Hunt – Blood and Wine will be releasing on May 30th, according to its official Steam page, which was accidentally published a little earlier than scheduled. The page has since been taken down, but screenshots of the page have naturally been immortalised on the Internet. It was previously known that the expansion would be released before E3 2016, which takes place in mid-June this year, so this falls in line with what we previously knew.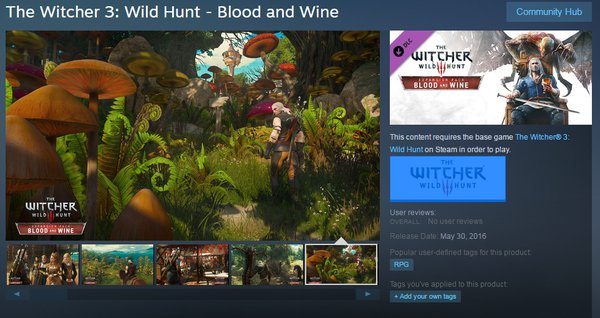 The Witcher 3: Wild Hunt – Blood and Wine out on Steam May 30 https://t.co/cyxsehDKdD pic.twitter.com/cRxDTW4ZGb

— Wario64 (@Wario64) May 8, 2016
Wow, they took the page down already. Well, here's my screencap then. pic.twitter.com/2jg0GqzpYl

— Wario64 (@Wario64) May 8, 2016
The Witcher 3: Wild Hunt – Blood and Wine is the second and final expansion for The Witcher 3: Wild Hunt, and it takes Geralt of Rivia to the land of Toussaint, inspired by real-world France, where he must investigate a beast terrorising the kingdom, and a conspiracy lurking in the shadows.
According to developers CD Projekt RED, there will be "a lot of new creatures" in the expansion, along with lots of new characters and quests to interact with. The expansion is advertised as featuring over 20 hours of gameplay, which is considerably more than many full games lately. Needless to say, Blood and Wine requires the base game of The Witcher 3: Wild Hunt to work. The page also lists the expansion's system requirements, although those look completely identical to the requirements of the base game. This section may possibly be still under work, as the listed hard drive space is also identical to that of the base game.
What do you think of this release date for Blood and Wine? Let us know in the comments below.