CD Projekt RED recently held a panel at PAX East, in which they talked more about Gwent, the notoriously addicting card mini-game from The Witcher 3. The developer has revealed more details about the game as it will be seen in the upcoming expansion of the game, titled Blood and Wine.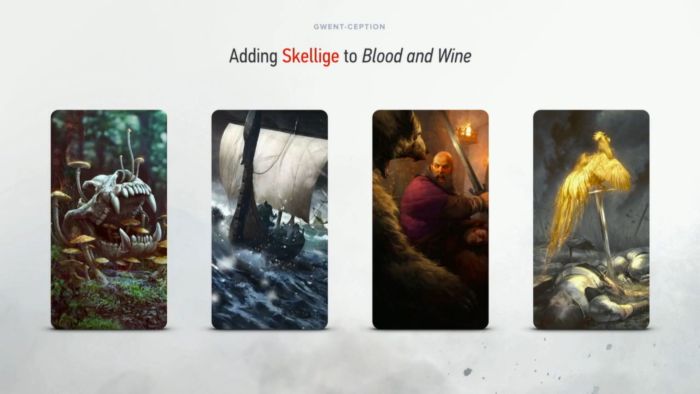 As Geralt journeys into Toussaint, he's going to find a new set of Gwent cards to play with: the Skellige faction. The first four cards for the deck have been revealed, and can be seen above. The Skellige faction has some interesting rules, such as the Mushroom pictured above, which can be used to transform the Berserker card into Bears. Next up is Drakkar, Madman Lugos (a special character) and the Golden Cockerel.
It was also announced that the collector's edition of The Witcher 3: Blood and Wine will also include the physical decks for Nilfgaard and The Northern Realms, so you can play Gwent in real life (although presumably without the burning animations).
Finally, and perhaps most importantly, the panellists asked the audience to cheer if they want a standalone, mobile version of Gwent. Obviously, the audience did cheer, the panellists recorded the reaction and promised to show it to their bosses in Warsaw. A part of me is disappointed that CD Projekt RED isn't already working on a standalone version of Gwent, but at least now things can move forward on that.
Are you excited to play with the Skellige cards? Let us know in the comments below.