There have been quite a few rumors regarding the return of Bank of America official app to Windows store, and today we have a confirmation on the release date for the same.
The guys at Windows Central received an image of internal Bank of America website revealing the 28th March as the slated date for Windows 10 and Windows 10 Mobile. Other best part is that it will be a UWP(Universal Windows Platform) app, meaning it will work on PCs, laptops, tablets and phones running the Windows 10 OS.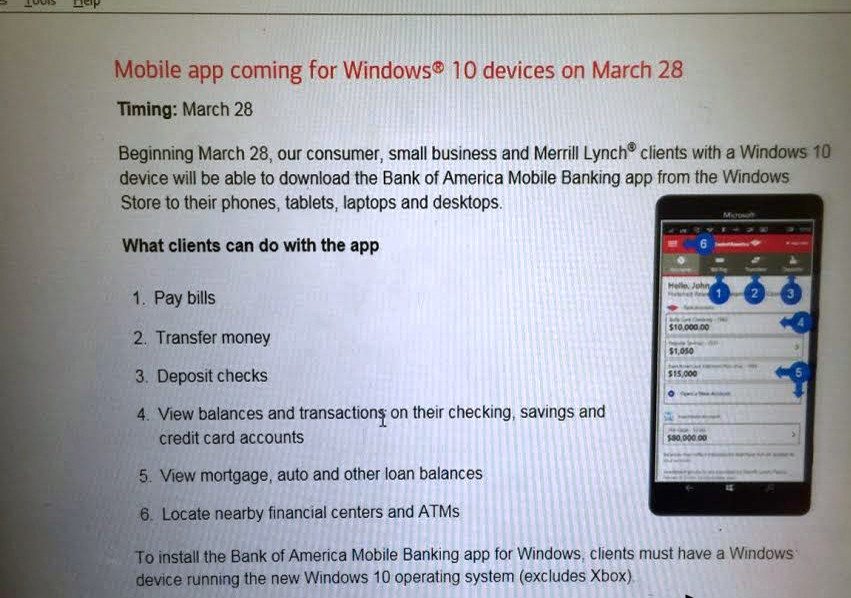 Following is a list of features expected in the debut release of Bank of America app for Windows 10-
Pay Bills
Deposit Cheques
Transfer Money
View Balance and Transactions on Savings and Credit Card Accounts
View Mortgage, auto and other loans
Locate nearby ATMs and financial centers
It's good to see Bank of America following the likes of American Express as being some of the first US banks to embrace the Windows 10 platform.
Earlier, Bank of America has withdrawn its support from Windows Phone 8.1 platform causing a bit of havoc for the platform supporters. But, it's great that the banking institute is coming back with added features like cheque deposit.
We shall have more info on the app come Microsoft Build conference, as the slated 28th March release date is just days after it.