Microsoft decided to make a break regarding the company's mobile market strategy during 2016. They've been quiet about upcoming models, with only Surface Phone getting mentioned on the web, but the device shouldn't be released before 2017. With the recent reports suggesting the Lumia brand to be discontinued by the end of the year, it seems Windows 10 Mobile will stay at 14 percent with Windows Phone 8.1 being the most popular iteration, making 78 percent of all Windows Mobile market.
But, getting Windows 10 Mobile on more devices is impossible since all supported devices already got upgraded. This tells us WM 10 won't see any growth, except if users decide to switch to a new Windows smartphone. And that's unlikely to happen since users realized Microsoft practically exited the mobile market, and if switching, they'll probably pick Android or iOS.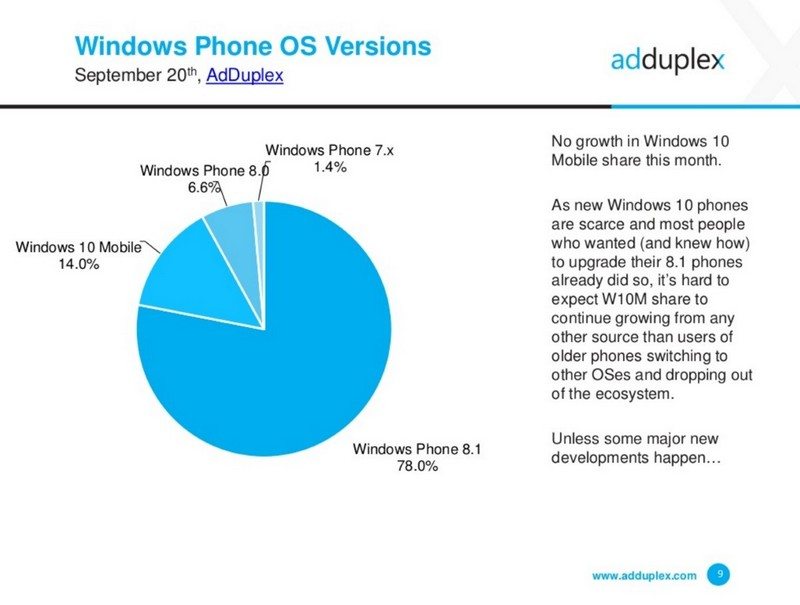 According to AdDuplex Data, after Windows Phone 8.1 and Windows 10 Mobile, the third most popular OS version in Windows Mobile ecosystem is Windows Phone 8, holding 6.6 percent, followed by Windows Phone 7.X with 1.4 percent.
As AdDuplex explained, "As new Windows 10 phones are scarce and most people who wanted (and knew how) to upgrade their 8.1 phones already did so, it's hard to expect Windows 10 Mobile share to continue growing from any other source than users of older phones switching to other OSes and dropping out of the ecosystem."
So, for the moment, it looks like Microsoft is aware of the low popularity of its mobile ecosystem, and it will be interesting to see if software giant finds a way to make users buy Windows smartphones again. At the moment, more and more users switch to Android and iOS, and the trend will most likely continue in 2017.