Microsoft has started rolling out cumulative updates KB3156421 and KB3156387 as Windows 10 Build 10586.318 for users running the version 10240 released in July and version 1511 also known as November update. Since it's a cumulative update, don't expect any new features. However, the update improves on user experience, bug fixes and more.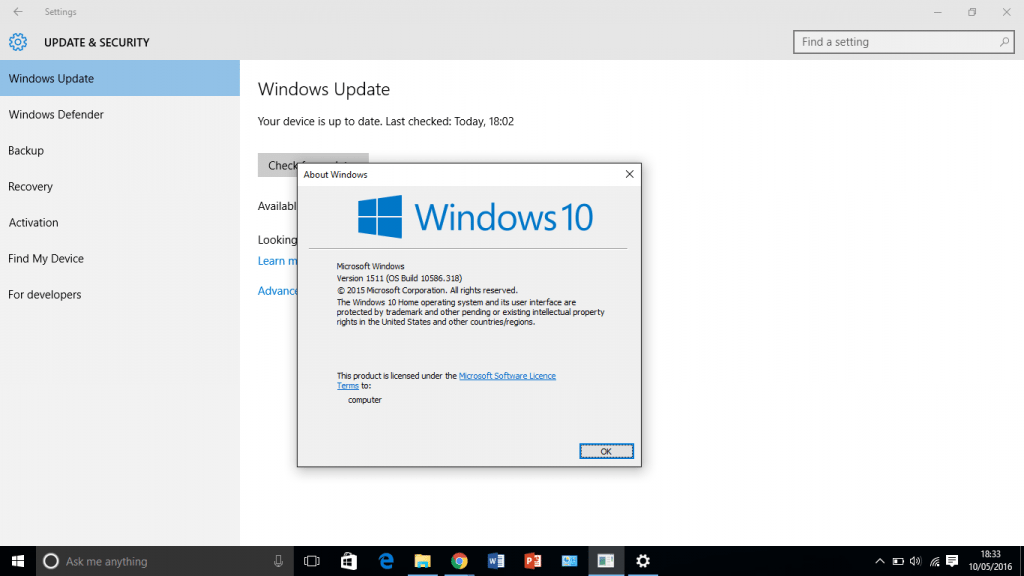 The KB3156421 update is aimed at 10586 systems and includes quality improvements and security fixes, hence enhancing the overall reliability of several features, including Cortana, Bluetooth, USB connections, Internet Explorer 11 Microsoft Edge.
It also addresses several known bugs like memory leak associated with pdf forms along with patched kernel mode drivers, and several other Windows components and apps, such as IE11, Microsoft Edge browser, Windows Shell, and Windows Journal.
Next up, the KB3156387 update targets 10240 devices and brings plenty of fixes, including for the aforementioned memory leak experienced when working with PDF documents.
The updates are rendered via Windows Update and bring your computer fully up-to-date. Being a cumulative update, it includes all the previously released fixes, so getting this will update your system to the latest release.
Following is the changelog from Microsoft:
Improved reliability in a number of areas including Cortana, Bluetooth, Shell, Internet Explorer 11, Microsoft Edge, Miracast, and USB.

Fixed memory leak that occurs when opening a portable document format (PDF) form multiple times.

Fixed issues with text alignment for right to left languages in Internet Explorer 11 and Microsoft Edge.

Fixed issue that affected Bluetooth function when a PC resumes from sleep.

Fixed issue where user accounts weren't locked out after a number of failed sign in attempts.

Fixed issue with revised daylight saving time.

Fixed issue that sometimes corrupts CompactFlash cards inserted into a card reader.

Fixed issue that caused recorded video to be lost when answering an incoming call on some phones.

Fixed issue that could result in unexpected battery drain while the phone screen is off.

Fixed additional security issues with kernel mode drivers, remote procedure calls, the Microsoft Graphics Component, Internet Explorer 11, Microsoft Edge, Windows Shell, Windows Journal, Virtual Secure Mode, Schannel, and Jscript.