The holiday season is upon us and it packs some exciting stuff in the form of online streaming services. Netflix, Amazon Prime, and HBO Now have some great entertainment lined up for the month of December.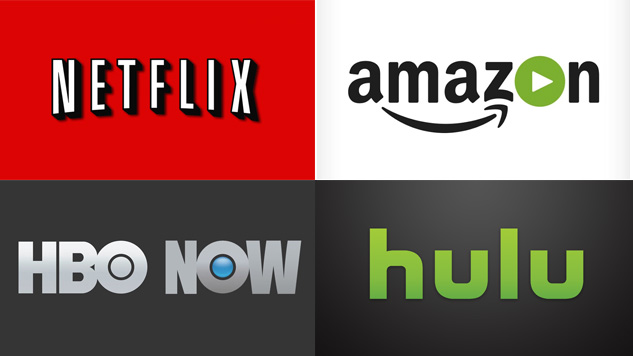 Starting off, Netflix will be debuting the second season of Fuller House on 9th December. The first season has ruled million hearts and the wait for next one was irresistible.  This news shall make everyone happy after the below-par performance of Gilmore Girls.
Another show, White Rabbit Project, by the Mythbusters team, will debut the same day. And as far as movies are concerned, Netflix will add both Captain America: Civil War and The Angry Birds Movie this month.
Amazon Prime watchers should get ready for the first season of Syfy's The Expanse, while TV watchers gather the seats for Season 2. December will also see the debut of the second season of The Man in the High Castle. Amazon will continue its strong relation with filmmaker Woody Allen with the introduction of Café Society on December 22nd.
Coming to HBO Now users, Midnight Special, Keanu, Self/Less, or Hail, Caesar! will hold the December tight. HBO Now will be losing MI-5, the movie by end of this month so it's better you take a note if interested.
Following is a complete list of What's in store for December
NEW TO NETFLIX
December 1st
Always
Angels in the Snow
Beverly Hills Cop
Beyond Bollywood
Black Snake Moan
Chill with Bob Ross: Collection
Compulsion
D2: The Mighty Ducks
David Blaine: Street Magic
Dreamland
For the Love of Spock
Girlfriends' Guide to Divorce, season 2
Glory Daze: The Life and Time of Michael Alig
Harry and the Hendersons
Hitler: A Career
Holiday Engagement
Honey, I Shrunk the Kids
House of Wax (2006)
Hannibal
Merli, season 1
Merry Kissmas
National Lampoon's Animal House
Picture Perfect
Rainbow Time
Rodeo & Juliet
Swept Under
Switchback
The Angry Birds Movie
The Crucible
The Little Rascals
The Legend of Bagger Vance
The Rock
The Spirit of Christmas
Toys
Uncle Nick
Waking Life
Way of the Dragon
We're Back! A Dinosaur's Story
White Girl
Wildflower
Zero Point
December 2nd–14th
Fauda, season 1
Hip Hop Evolution, season 1
Pacific Heat, season 1
Lost & Found Music Studios, season 2
Mad
The Good Neighbor
Blue Jay
Homeland (Iraq Year Zero), season 1
Reggie Watts: Spatial
The Devil Dolls
The Model
The Cuba Libre Story, season 1
Captive, season 1
Cirque du Soleil Junior – Luna Petunia, season 1
Club de Cuervos, season 1
Fuller House, season 2
Four Seasons in Havana, season 1
Medici: Masters of Florence, season 1
Spectral
White Rabbit Project, season 1
Lucky Number Slevin
Phantom of the Theater
Breaking a Monster
Ricardo O'Farrill: Christmas Special
Colony, season 1
Killswitch
I Am Not a Serial Killer
Nobel, season 1
Versailles, season 1
December 16th–23rd
Barry
Call Me Francis, season 1
Crazyhead, season 1
No Second Chance, season 1
Rats
The Adventures of Puss in Boots, season 4
Miss Stevens
Disorder
Gabriel Iglesias: Sorry For What I Said When I Was Hungry
My Little Pony: Friendship Is Magic, season 6
Ten Percent, season 1
The Break, season 1
Travelers, season 1
Trollhunters, season 1
December 25th–31st
Marvel's Captain America: Civil War
When Hari Got Married
Ajin, season 2
Chasing Cameron, season 1
Comedy Bang! Bang!, season 5
The Hollywood Shorties
The Eighties, season 1
Big in Bollywood
BBYE NETFLIX
December 1st
50 First Dates
American Beauty
Black Ops, series 2
Camp Takota
Carmen Jones
Cats & Dogs
Curious George: Swings Into Spring
Don't Be a Menace to South Central While Drinking Your Juice in the Hood
Elizabeth: The Golden Age
Event Horizon
Frequencies
McConkey
Medora
Monkey BusinessMyth Hunters, series 1
Myth Hunters, series 2
Neil Young: Heart of Gold
Paycheck
Pirates Who Don't Do Anything: A VeggieTales Movie
River of No Return
Sling Blade
Thor: Hammer of the Gods
The Great War Diary, season 1
The In-Laws
The Out-of-Towners
Top Gun
Valley of the Dolls
World Trade Center
December 2nd–15th
Legends of the Knight
The Red Baron
The Best of Me
Holes
The Da Vinci Code
High Profits, season 1
World War II in Colour
December 16th–31st
Beyond the Hills
Dark Skies
Just Friends
Spy Kids
Hercules: The Legendary Journeys, seasons 1–6
NEW TO AMAZON PRIME VIDEO
December 1st
6 Souls
Blood Diamond
Caddyshack
Choices of the Heart
Cobra
Color Me Perfect
Corregidor
Custer's Last Stand
The Day of the Wolves
Devil's Cargo
Devil's Playground
Diamond Trail
Dixie Jamboree
Down to the Sea
Elizabeth: The Golden Age
Ferocious Pal
The Fighter
Fire Alarm
Fisherman's Wharf
Flaming Lead
Flying Blind (What Version)
Forbidden Jungle
Getting Up and Going Home
Green Eyes
Half Shot at Sunrise
Hearts of Humanity
High Powered
Identity Unknown
If You Believe
In Old Santa Fe
Invisible Germany
The Irish Gringo
Journey to Freedom
Kept Husbands
King of the Sierras
Lars and the Real GirlLaw of the 45's
Law of the JungleLost in the Stratosphere
Love is Strange
Love Island
Mad Youth
Man with Two Lives
Navigating the Heart
Paperman
Passion's Way
Peck's Bad Boy
Phantom Rancher
Range of Motion
Range War
Renegade Trail
Riddle Ranch
Rob Roy
Simba: King of the Beasts
Six Shootin' Sheriff
Skyway
Take My Advice
The Care and Handling of Roses
They Call It Murder
Tough Kid
When a Man's a Man
Wrangler's Roost
December 2nd–10th
Lost in Oz, season 1
The Lobster
Therapy for a Vampire
Mozart in the Jungle, season 3
Daddy's Home
December 14th–17th
The Expanse, season 1
The Main in the High Castle, season 2
Anomalisa
December 22nd-31st
Café Society
Mr. Church
Wild Kratts
Whiskey Tango Foxtrot
Gangs of New York
The Innocents
Zoolander 2
13 Hours: The Secret Soldiers of Benghazi
NEW TO HBO NOW
December 1st
Any Given Sunday
Assassins
Cop Land
The Family Man
Gentleman Broncos
The Green Mile
High Anxiety
License to Wed
Luces brillantes (aka Shine a Light)
Mr. Baseball
My Big Fat Greek Wedding
My Blue Heaven
P.S. I Love You
Redemption
A Serious Man
Singles
The Sisterhood of the Traveling Pants 2
They Live
Wildcats
December 2nd–14th
Baires
Keanu
Pete Holmes: Faces and Sounds
The Trans List
Vice Special Report: A House Divided
Self/Less
Vacaciones en familia (aka Family Holidays)
My Big Fat Greek Wedding 2
HBO First Look: Hidden Figures
Guerras ajenas (aka Wars of Others)
December 17th–31st
Midnight Special
Risky Drinking
Puerto Ricans in Paris
Hail, Caesar!
Every Brilliant Thing
Criminal
BBYE HBO NOW
December 31st
Bad Santa
Black Sea
The Bourne Ultimatum
The Boy Next Door
Catacombs
Deep Blue Sea
Dog Day Afternoon
Dumb and Dumber
Eight Legged Freaks
The Fantastic Four
Ghost
High Fidelity
Joy Ride
Jupiter Ascending
Lost in Space
The Man from U.N.C.L.E.
MI-5
Mistress in America
Naked Lunch
National Treasure
Next Friday
Not Another Teen Movie
Ocean's Thirteen
Pan
Poltergeist (1982)
Reindeer Games
Say Anything…
Scarface
Scent of a Woman
Snakes on a Plane