Hello techno-geeks, and welcome to yet another exciting edition of our bi-weekly special MobiPicks! As the title obviously suggests, this edition is a continuation of What is the Future of Smartphones – Part 1. And in this Part 2, we bring you some more exciting and futuristic technologies that are slowly paving their way to the smartphone industry.
But before we move ahead with today's topic, we have a very important announcement to make.
Winner of the "MobiPicks Sunday Special" Giveaway Contest
In the previous MobiPicks edition on Sunday, we had asked a question to our readers and had promised to offer an Amazon Gift Card worth $10 to the best answer in the comments.
The question was –
What do you personally prefer to have in a mobile game, a complex story and characters, or stunning visuals and effects?
And without any further suspense, the winner is – Mr. Oliver Durbak! His answer was –
Story is the first, but if I want to be honest, I can't go back to an older stage of graphics neither. So I would say 70 for story 30 for graphics. Ok, I vote for story, because we have to choose.
Congratulations, Oliver. The prize will reach you soon! Meanwhile, we have decided to keep up the MobiPicks spirit by offering another $10 Amazon Gift Card to our dearest readers. So read through this exciting article and answer the question asked at the end, in the comments below. The best answer will win the prize!
Futuristic Smartphone Technologies
Coming back to the topic of the day, we have some more great technologies to discuss with you, technologies which would appear too advanced to be true, but are actually a thing of the near future.
So let's not waste any more time and begin out list now!
Virtual Reality
Did you know that the human eye can hardly make out 2K (QHD) resolution of the small smartphone displays? Then why exactly have the smartphone manufacturers started introducing 4K displays in their upcoming flagships? Well, the reason behind it is virtual reality.
VR (Virtual Reality) headsets will soon flood the gaming console and PC gaming markets, but the concept hasn't been introduced in the smartphone segment yet. However, the big-wigs of the smartphone industry are already busy preparing new VR headsets that will directly work with the 4K displays of smartphones, and are expected to arrive in 2016.
You can imagine how cool the VR headsets would be, in which you would be able to fit in your smartphones with 4K displays and wear the headset over your eyes to get immersed in your own private, amazing, non-pixellated virtual world.
Charge Your Phone in Just a Minute!
A lot of new high-end smartphones introduced this year come with the Quick Charge technology, which enables them to charge the battery up to 50-80% in just 30 minutes. However, innovation never stops and everyone would love to reduce the charging time to as less as possible.
Well, the good news is that StoreDot, a tech company from Israel, has demonstrated something similar at the MWC 2015. They showcased a customised Galaxy S5 with a nano-tech battery, and the phone was completely charged in just one minute! The only catch with the StoreDot battery is that it lasts only for the two-third time of a regular Li-ion battery.
However, the timing will improve soon, as the battery-charger combo from StoreDot is capable of charging some phones in about half a minute! Major manufacturers like Samsung have already started investing in this technology and the product will be introduced in the market sooner than later.
Flexible, Transparent, and Indestructible Phones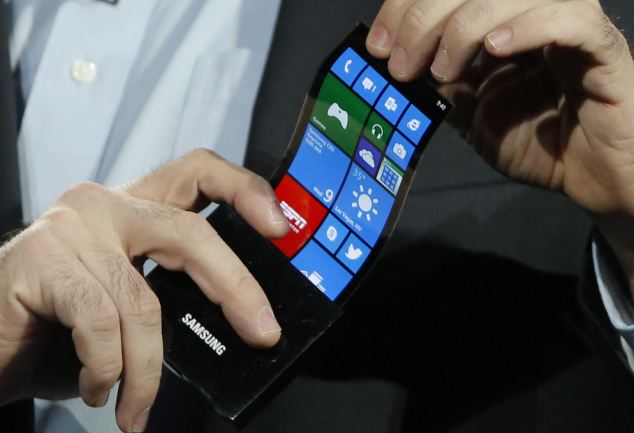 A wonderful material called graphene was produced first in 2004 and has caught the attention of smartphone makers recently. Graphene is flexible, transparent, has 200 times the strength of steel, and is an excellent conductor of electricity and heat. All this makes it really favourable for the smartphone industry.
If the graphene technology is used to produce smartphones, then the manufacturers will be able to create flexible, wafer-thin, virtually indestructible, and very transparent smartphone displays. The good news is that LG, Samsung, and other major manufacturers have already started adapting the technology slowly, and the future isn't far away when there will be no smartphone bodies or bezels; just a flexible, foldable sheet of screen.
Watch Graphene in action:
Giveaway Contest!
Finally, we have reached the end of this MobiPicks edition, and here is a chance for you to win a $10 Amazon Gift Card! Just answer the question in the comments section below and the best answer takes the prize home!
Which futuristic (but realistic) technology would you like to have in your smartphone?
Drop in your answers fast! The winner will be announced on the coming Sunday in the next edition of MobiPicks. Ciao! 😉