Within just a few days after the shocking release of 'The Walking Dead' season 7 premiere episode, the actors turned to Twitter to take things lightly. It is a certain thing, though, after such an intense shocker from 'The Walking Dead'. Fans were left upset as the villain Negan brutally tortured and murdered Abraham and Glen in the worst ways possible.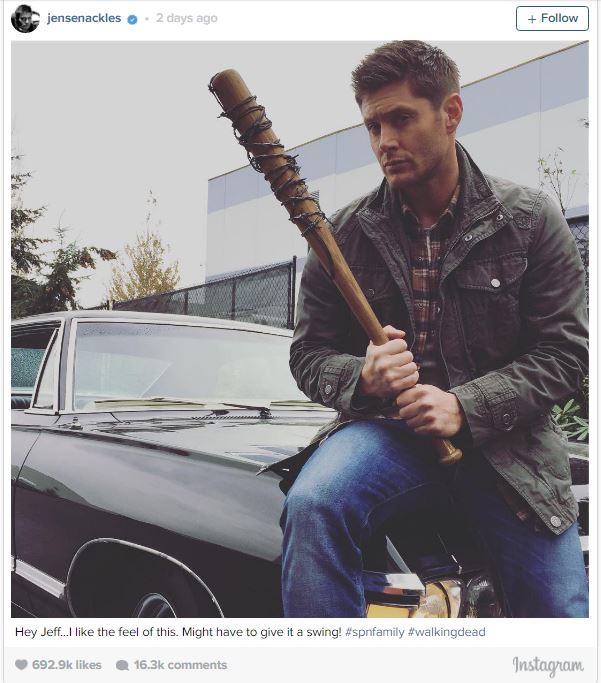 The bone-chilling performance from Jeffrey Dean Morgan as the villain Negan on 'The Walking Dead' season 7 grabbed a lot of attention and reactions from viewers and fans around the globe. The internet was flooded with Memes and trolls about the show. Above all, "The Supernatural's" very own Jensen Ackles found time to have some fun with Morgan on Twitter. Surprisingly, "Supernatural" fans came to back them up.
He rolled an almost crossover of The Walking Dead and Supernatural on Twitter a few hours ago. It all started when Jensen Ackles Dean incarnated miss Daddy Winchester and decided to send a photographic reminder of something that "John" forgot.
Obviously, the fandom of the two series went crazy because for 12 years, before living the insanely obnoxious Negan in The Walking Dead, Jeffrey Dean Morgan lived John Winchester, a thirsty creatures hunter for revenge and wandering around the turns in an iconic Impala black. You know how it is! They are the family business, after all. But apparently, not the fact of being dead in the series for so long been able to quell the wave of memes that have flooded the internet since the premiere of the seventh season of The Walking Dead on Sunday.
Jensen continued even interacting with Jeffrey, this time marking it in another tweet and a new photo attached.
Lucille, Negan's final weapon has received a great response from fans, during the first episode of "The Walking Dead" season 7.
The tweet surely did get realistic when Ackles pulled over his former "Supernatural" on-screen father and co-star Morgan.
Hey Dad, you left something in the impala. #spnfamily #walkingdead https://t.co/AAxIfXFtsA

– Jensen Ackles (@JensenAckles) October 27, 2016

@JensenAckles J. You weren't supposed to find that. Gonna need her back son. I mean… I already gave you my car. And? I don't know? Sorta, died for you. – Jeffrey Dean Morgan (@JDMorgan) October 27, 2016

Yep, ur right. Copy that. I'll wrap it in this red scarf I found and overnight it to you.

Morgan's and Ackles' hilarious jokes on Twitter were a huge hit among fans and made veryone excited about it. Morgan took time to share memorable events from the "Supernatural" season 2 episodes in his quick responses.
"Hey, @JDMorgan, found it in the trunk … can I test it? Do not miss the episode tonight. It's too much! #Supernatural #walkingdead "
After that, we can only expect more moments like this to appear on the Internet, as we know that Supernatural actors remain with a great relationship. It will be soon! The Walking Dead, the most watched drama in the history of cable television, airs Sundays on AMC International, 23h, and FOX Action (premium package channel FOX +) and FOX Brazil, at 23:30. Check out all the news about the seventh season.
Meantime, "The Walking Dead" season 8 will start with episode 100. It is reported that the zombie apocalypse blockbuster is likely to have 16 episodes and will be aired in late 2017.
Stay tuned for more on Walking Dead and in our social networks on Twitter and Walking Dead on Facebook to stay on top of everything that goes on The Walking Dead universe.