The Voice Season 12 May 9 episode was the double elimination night for the Top 10 contestants. While two contestants were seen getting eliminated, one of them was saved by the Instant Save voting method.
Team Adam, Team Blake, Team Gwen and Team Alicia will now compete for the semifinals of The Voice Season 12, with their contestants. But before all this the show kicked off with the performance of coach Blake Shelton singing his single "Every Time I Hear That Song" from his new album.
Later, Carson Daly announced (in no particular order) which contestants are safe! The contestants who managed to reach the safe slot first are Aliyah Moulden (Team Blake), Chris Blue (Team Alicia Keys), Lauren Duski (Team Blake), Hunter Plake (Team Gwen Stefani), Jesse Larson (Team Adam Levine), TSoul (Team Blake) and Brennley Brown (Team Gwen). Hence, the artists who were sent to the bottom three were, Mark Isaiah, Lilli Passero and Vanessa Ferguson.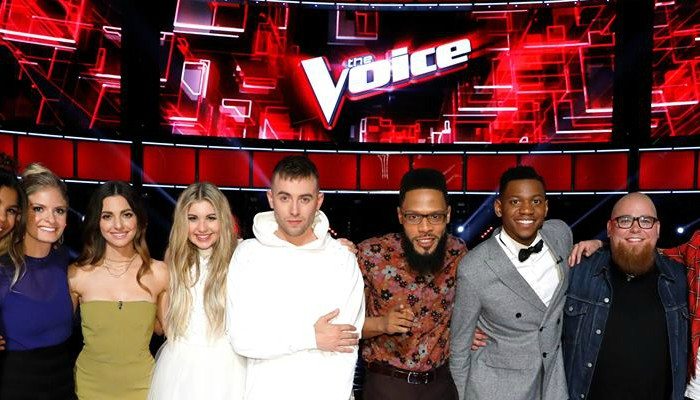 Performance Of Bottom Three
After the results were announced, Team Adam's contestant Lilli Passero sang "Stormy Weather" by Etta James. Then, Mark Isaiah took the stage and sang Justin Biber's song 'Sorry'. The third, bottom three contestant Vanessa Ferguson, sang "For Once In My Life" by Stevie Wonder to win the audience's votes.  All three were seen singing their best during this round.
With the Instant Save votes in, contestant Vanessa Ferguson was saved while contestant Mark Isaiah and Lilli Passero 's journey in The Voice Season 12 was over.
Top 8 Contestants As Per Team Are Given Below
Team Adam- Jesse Larson
Team Alicia- Chris Blue and Vanessa Ferguson
Team Gwen- Brennley Brown, Hunter Plake
Team Blake- Lauren Duski, Aliyah Moulden and TSoul
The last week elimination round took place on May 2 between Stephanie Rice and Mark Isaiah. Out of which Rice was eliminated and Isaiah was saved by Instant Save voting.
After tonight's double elimination fans are excited to see which contestants will manage to reach the finals of The Voice Season 12. That will be held on May 23. This reality singing show airs every Monday and Tuesday at 8/9c on NBC.