The Voice Season 12 May 15 episode has witnessed the Top 8 artists performing their best singing. Tomorrow unveils which contestants have managed to reach the final Top 4 slot in the ongoing season. Read to know more.
Top 8 Contestants Perform
The Top 8 contestants from four teams performed their best to win the maximum votes from the audience.  Results of their efforts in this semifinal will be revealed tomorrow. Tonight witnessed some amazing duet performances by the contestants. For Instance, Vanessa Ferguson and Chris Blue sung "If I Ain't Got You", Jesse Larson and Tsoul sang "I Wish" while Aliyah Moulden and Hunter Plake also gave a duet performance that received cheers from the crowd.
Among the single performances, Lauren Duski and Tsoul received a loud applause from the audience. Duski sang, "Ghost In The House" while Tsoul sang "Ain't No Way" tonight.
Never going to get over @AliyahMoulden and @hunterplake singing @JamesBayMusic. #AliyahHunterDuet pic.twitter.com/vyz1LfigN6

— The Voice (@NBCTheVoice) May 16, 2017
You don't want to miss @Chrisbluelive and @VanFergOfficial singing one of @aliciakeys' biggest hits. #ChrisVanessaDuet pic.twitter.com/GB6E4ehiBj

— The Voice (@NBCTheVoice) May 16, 2017
"Ain't No Way" we'd let you miss @TSoulMusic singing some @ArethaFranklin. #VoiceTop8 pic.twitter.com/83lYwwuLf8

— The Voice (@NBCTheVoice) May 16, 2017
Current Standings Of The Voice Season 12
These are the current positions of the respective teams in this season:
Team Adam- Jesse Larson
Team Alicia- Chris Blue and Vanessa Ferguson
Team Gwen- Brennley Brown, Hunter Plake
Team Blake- Lauren Duski, Aliyah Moulden, and TSoul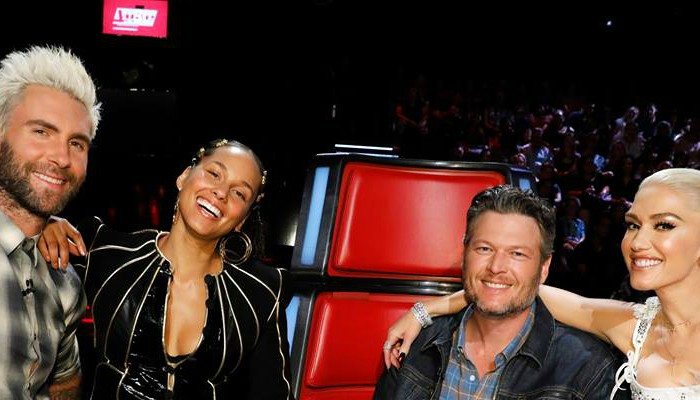 The Voice Season 12 Top 8 Contestants Elimination Details
The next episode on Tuesday, May 16, 2017, will reveal the final four contestants of Season 12. Fans can tune into watch the show at 8/9c on NBC network. Meanwhile, the finale of this reality singing show will be held on May 23 on NBC.
Based on tonight's performances, the audience will vote for their favorite contestant. Therefore out of eight, only top three will reach the finals and two contestants with the least amount of votes will be immediately eliminated. Along with this, the remaining three contestants will battle it out in the Instant Save. Out of which, only one artist will be saved and reach the finals of The Voice Season 12.