Google released its new Voice Access service for Android just some days back, and a minor update for it has already come out today. For all those who don't know, it's an accessibility service that is meant for but not limited to users who find it difficult to use the touch screen properly due to injury, tremor, paralysis, etc. Voice Access lets you use your Android device by voice, making it easier to go through the functions and control them.
What is Voice Access and How Does It Work
As we said, you can control your Android phone with your voice using Voice Access. The service lets you give voice commands to your device in three different categories. You can give commands to your device for basic navigation like go back, go to menu, go home, etc. You can interact with on-screen options by saying scroll up, click next, etc. You can even dictate text and edit it by saying things like "type hello" or "replace home with office".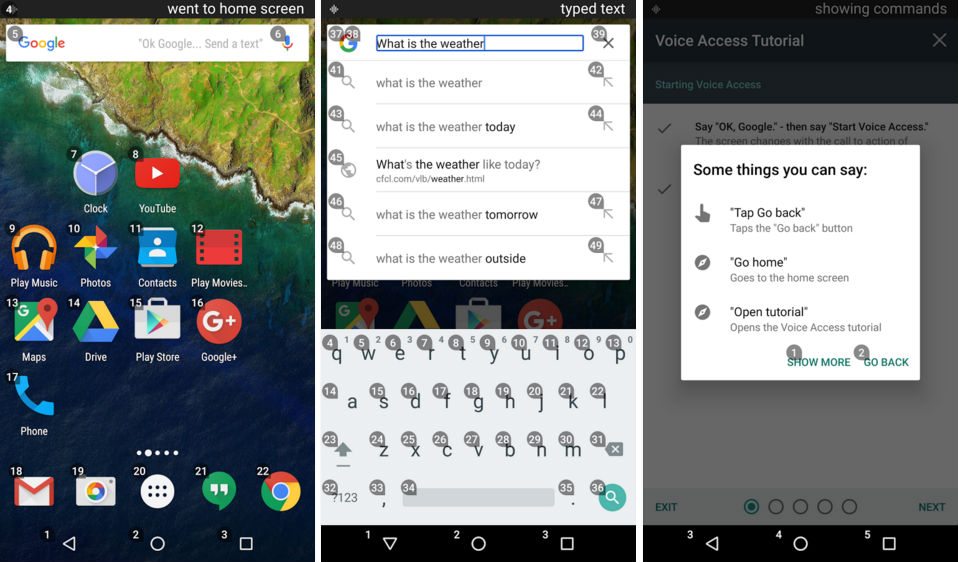 How to Download and Install Voice Access APK on Android
Latest Voice Access 1.0.1 (beta) APK has been released today and works on all Android 5.0 devices. It weighs just 5.34 MB and can be downloaded for free by following the easy steps given below.
Go to the APK Mirror website and download Voice Access APK latest version.
After it has been downloaded, open the APK file in your Android device by going to the file manager.
Now follow the on-screen instructions to install Voice Access on your Android device.
How to Enable and Use Voice Access
To enable Voice Access, go to Settings and tap on "Accessibility".
Now choose "Voice Access" and toggle on the switch.
A tutorial will come up to teach you how to use Voice Access.
The tutorial teaches you the basic and most common voice commands like starting voice access, scrolling, clicking, editing text, etc.
You can access the complete list of available voice commands by going to Voice Access Settings and choosing "Show all commands."
Remember that you need to enable "Ok Google" from any screen in order to use Voice Access completely hands-free. You can then say "Ok Google" followed by "Start Voice Access", and Voice Access will then start listening to your commands. To stop it from listening, just say "stop Voice Access".
If you do not enable "Ok Google" from any screen, you will have to activate Voice Access by tapping on a blue button that will appear on the screen. You can hold and drag the button to reposition it anywhere on the screen.
You can disable Voice Access completely by going to Settings > Accessibility > Voice Access and toggling off the switch.
Voice Access, even though in its beta stages, works perfectly and is an awesome service to try. If you haven't used it yet, you should definitely give it a go. Let us know your experiences in the comments below.