To celebrate the 10th anniversary of Indian Premier League, Vivo has launched a special edition of Vivo V5 Plus in the country. The new smartphone is all black with a gold 10 year IPL stamp and gold-accented Vivo logo on the back. Just to remind our users, Vivo is the official sponsor of IPL in India.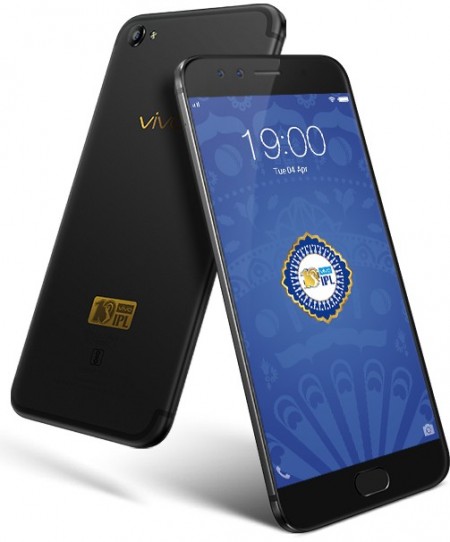 The special edition IPL Vivo V5 Plus will go on sale on April 10 at offline stores as well as Flipkart. As far as the pricing is concerned, Vivo will share the details on the same day.
IPL Vivo V5 Plus Specifications
Apart from the branding and different color, rest of the specs of IPL Vivo V5 Plus are identical to the regular sibling. The special edition too, sports a 5.5-Inch Full HD 1080p display powered by Qualcomm Snapdragon 625 14nm chip with 4 gigs of RAM. The highlighting factor about the Vivo V5 Plus is dual selfie cameras of 20MP/8MP combo on the front. Whereas on the rear end, you have the modest 16 MP shooter.
Overall, the black color variant does shine apart from regular Vivo offering. But, only time will tell, if the special edition can garner the traction the regular variant hoped for.
Following is a teaser video released by the company on the launch day:
Do let us know if you like the new variant more than the regular one, or is it just too iPhonish for your taste in the comments section below.