What happens when you pit the flagship offering from OnePlus and Google against each other and compare how they fare in the charging test? Well, it's interesting to see how two premium devices – one priced at an affordable price and the other slightly expensive – perform when it comes to one of the most important features of a smartphone – battery charging.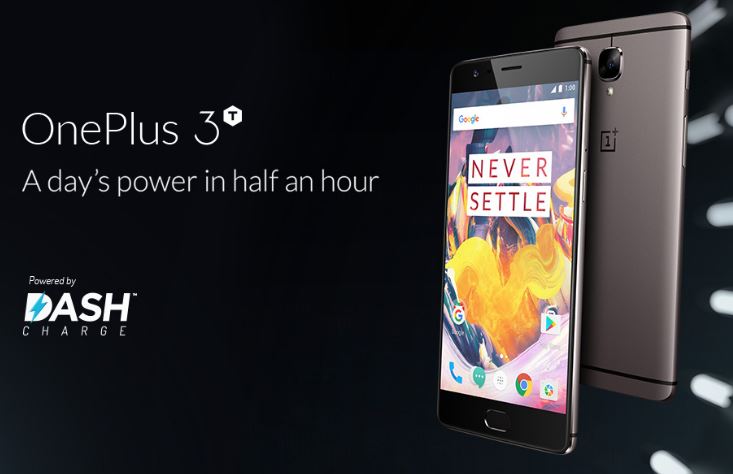 OnePlus 3T vs Google Pixel XL battery charging technologies
Fueled by a 3400mAh battery, OnePlus 3T comes with Dash Charge, OnePlus's exclusive technology that sets a new benchmark for fast charging solutions. The company claims that a quick 30-minute charge swiftly replenishes OnePlus 3T's battery to give enough power for the day. Even when you are busy streaming videos, playing graphic-intensive games or navigating GPS, Dash Charge technology continues to power your OnePlus 3T.
Google Pixel XL, on the other hand, boasts of fast charging. According to Google, just 15 minutes of charge can give your Pixel XL 7 hours of battery life. The 3450mAh battery on Google Pixel XL can be charged with USB-C.
OnePlus 3T vs Google Pixel XL battery charging technologies
A YouTube video by OnePlus folks pits the two premium flagship phones against each other and compares their charging capabilities. Shared by OnePlus, the video is titled – "OnePlus 3T – Power up your commute with Dash Charge" with the description – "Can Dash Charge deliver a day's power in half an hour during our commute? The Dash Car Charger races against the Google Pixel's Fast Charging technology on our way to work!"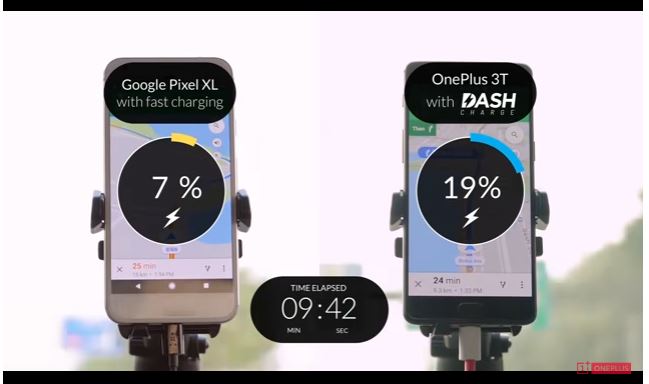 For the charging test, Google Pixel XL was connected to USB-C Belkin 27W car charger while the OnePlus 3T was connected to OnePlus Dash car charger. With Maps on, both the batteries were charged for 30 minutes. Google Pixel XL charged to a meager 19% while OnePlus 3T managed to charge to a whopping 57% percent! OnePlus 3T Dash Charge beats Google Pixel XL's fast charging technology hands down!
OnePlus 3T's Dash Charge edge over Google Pixel XL's fast charge
Although OnePlus was quick to point out that actual charging time may vary depending on several factors such as settings, usage while charging and other parameters, it looks like Dash Charge does have an edge over Google Pixel XL's fast charge technology. Dash Charge, according to OnePlus, produces a large electric current rather than increasing pressure, leading to stable and consistent charging speeds. Dash Charge carries more current than other fast charging solutions and at lower temperatures. "Normally, heat generated through charging is dissipated in the phone itself causing performance issues during active charging and throttling CPU and GPU speeds. By shifting the power management system and heat dispersion elements to our Dash Power Adapter, very little heat ever reaches your OnePlus 3T", OnePlus explains.
Watch the video that shows OnePlus 3T Dash Charge vs Google Pixel XL fast charge technology –