Verizon has just announced the news that its LG G Vista will soon be getting updated to the Android 5.1.1 Lollipop.
The reason this is an unexpected change is that the LG G Vista is a mid-range phablet that was launched just last year. At the time of its launch, it came with Android 4.4 KitKat and it was believed that the handset would not be getting any major software update ever. However, Verizon's announcement of the upcoming update for LG G Vista has taken us by surprise, while indeed making the LG G Vista users happy. A fun fact to note here is that the LG phablet is making a large jump in terms of software update, where it will be upgrading to Android 5.1.1 Lollipop from Android 4.4 KitKat, thus completely skipping Android 5.0.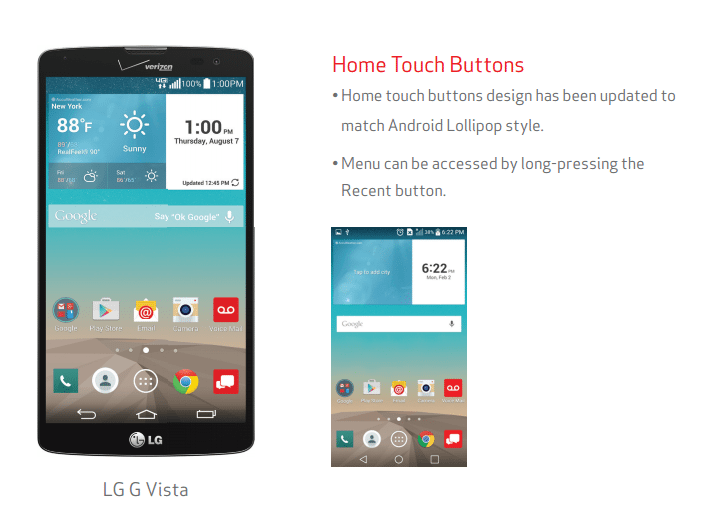 Verizon has put up the official update on their website now and it will be rolled out shortly. VS88023A is the new software version and it will bring a lot of changes. The Android buttons rendered by the software get a new design while the lock screen gets the notifications. Also, Smart Lock is there in order to auto-unlock your phone using trusted devices. Moreover, Android Lollipop has a controversial Interruptions feature, which will now be a part of the G Vista, and the Material Design is expected to be seen everywhere. There is also the Screen Pinning feature that enables you to lock the display for any particular app.
Besides, the Settings now include a Search option that allows avoiding bad Wi-Fi connections. There are many other security patches that are unnamed at the moment.
Needless to say, the LG G Vista is a great option for anyone looking for an advanced Android experience while keeping the expenditure at a minimum.