Like all the other phone carriers, Verizon also has been really slow in releasing updates for their phones. But there is a silver lining for the users of Xperia Z3v and the Z2 Tablet, as Verizon has released Android Lollipop 5.1.1 for these two devices. Both these devices were released with Android Kitkat 4.4 about a year back, and the Z2 tablet had received the update for Lollipop 5.0.2 a few months back. This might be the most significant update that these two devices have been expecting.
But is it worth the wait? Take a look at all the new features that the update has brought in.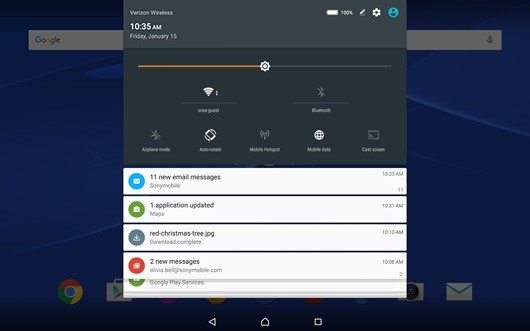 According to Verizon, the new update extends the Android experience beyond smartphones and tablets. It allows users to access apps and services on wearables, smart TVs and cars. Improved runtime, more complicated animations and 3-D views and 64-bit ABI support have been included in the new update. More security patches have been incorporated for increased safety and security.
For the Xperia Z3V, a new HD Voice feature has been included which promises high quality call audio, simultaneous use of voice and data and video calling. Check out the Verizon website for a full list of all the changes that are coming into effect with the new update. The exact size of the update is not known, but it is recommended to have around 1 GB of free space and a fully charged phone. The Lollipop update has arrived after a lot of waiting. Now, all fingers are pointed at the Marshmallow update. Maybe, it will come in one year!