When Vampire Diaries finale was declared, with its telecast termination after season 8, fans from all around the corner sobbed in pain. Since Nina Dobrev decided to call it quits in season 7, the ratings of the show dramatically went down and forced the creative team to shut the series further crushing the vampire saga. But cards are in favor of the fans it seems as the talks of a formulation of the famous book The Vampire Chronicles are in talks which are written by Ann Rice. The author has approached Netflix and HBO for the story and is at an initial stage.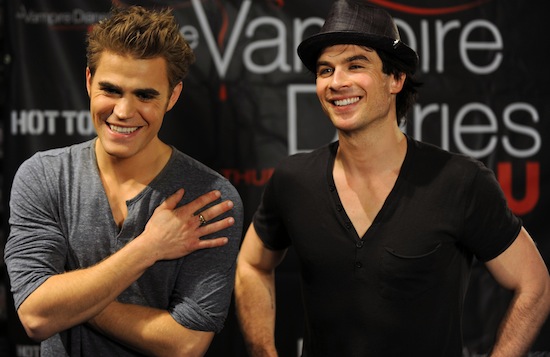 Speaking about the casting of the show, popular vampire hotties, Paul Wesley and Ian Somerhalder have been considered for the roles of Louis and Lestat. Paul Wesley and Ian Somerhalder have been the "only" names in the vampire literature as they both have an incredible fan following. The two have achieved more than just reputation and fanbase.   
History of Vampire Chronicles
Vampire Chronicles is not an old name in Hollywood, already two movies have been made, one was "Interview with the Vampire: The Vampire Chronicles" which was released in 1994 and had Tom Cruise and Brad Pitt as its star cast. The other was released in 2002, titles as "Queen of the Damned" which was, unfortunately, a flop. After the flat flop of the movie in 2002, the rights of the series was bought by Universal in the year 2004.
Well, considering that Vampire Diaries will now be long gone, the wait and pray for the Vampire Chronicles have become more strong. Since there is no official release from the channel or the author, all we can do is wait. Stay tuned with us.