It's highly unlikely that we will be seeing a Meizu smartphone released without featuring a Samsung chipset. Looking at the company's history, we'd have to say that there could very well be a smartphone announced in the near future running that chipset. According to an AnTuTu specifications sheet, the smartphone will indeed feature an Exynos 8890, along with taking some features from a Galaxy Note 7 as well.
This will include a QHD display, and for those that don't know, this resolution measures in at 1440p. Chinese manufacturers avoid higher costs be placing display tech of inferior quality such as IPS LCD panels rather than AMOLED ones, but if you're going to be using a chipset as powerful as this, then you might as well go all out with an AMOLED display.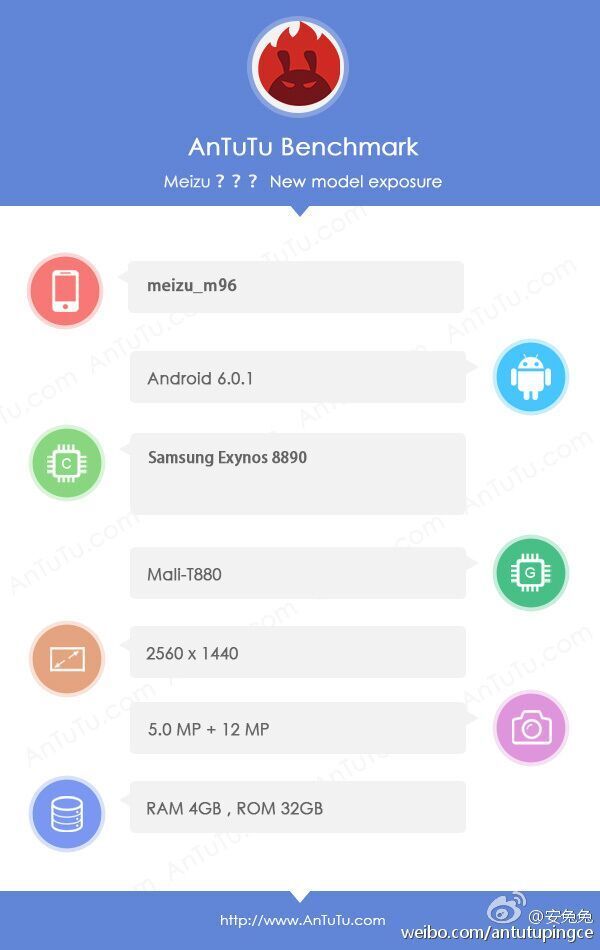 Meizu PRO 6 came with a Force Touch display, becoming possibly only the third smartphone in the world to possess such a display, right after iPhone 6s and iPhone 6s Plus. It's highly possible that the upcoming smartphone, whose name we don't know right could also come with the same display, and there are dedicated apps present that will gladly take advantage of this feature.
There is 32GB of onboard storage along with 4GB of RAM. Such less amounts of internal memory can only mean that it will feature a microSD card slot, otherwise there's not really any point spending this much on a flagship smartphone right? Just like its predecessor, we are hoping to see a USB-C port present on this as well, but at the same time, we don't want Meizu taking away crucial features such as the removal of the 3.5mm headphone jack. At this current time, details are quite scarce, but at least we have some evidence that a Meizu smartphone sporting an Exynos 8890 chipset could be released in the near future.