A recent leak on AnTuTu benchmark database (via Weibo) has shown specifications of the to be released Samsung Galaxy A9. It is the latest in line for the Samsung A series.
There are some interesting factors in this phone when you compare it with its predecessor, the Galaxy A8. The screen size is a bit small at 5.5 inches compared to the A8 which has a 5.7-inch display, but both devices have a 1080p resolution. The new gadget is definitely better in terms of chipset, featuring the Snapdragon 620 which is famous for its next gen CPU cores and graphics as well.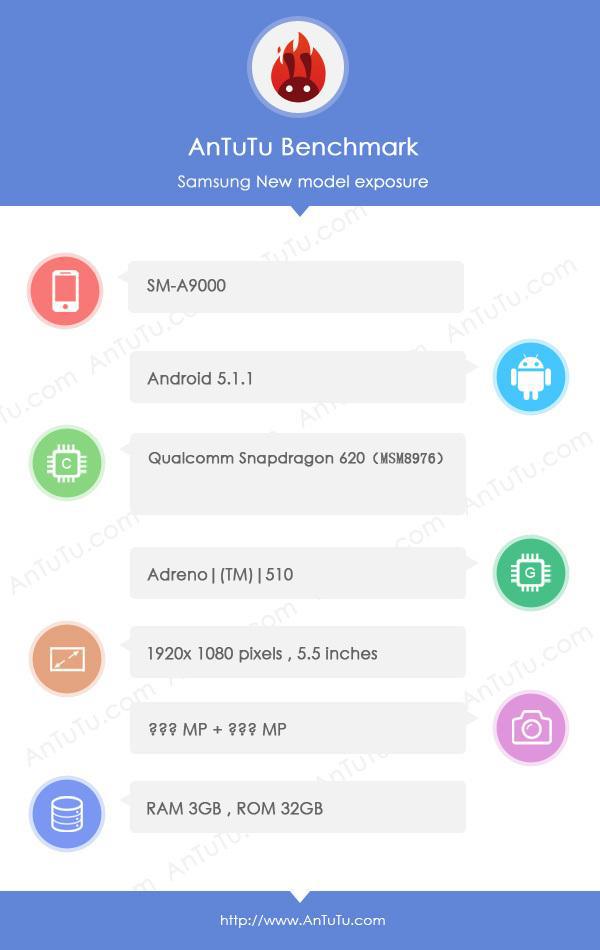 The eight cortex-72 cores in A9 should be much faster than the A53's used in current mid-range octa-cores. The presence of Adreno 520, will give additional optimization for 1080p gaming. The RAM is substantial at 3GB.
The in-built storage capacity is 32GB. There is no specific evidence about the camera resolution though we can expect that to be classy as well. Code-named SM-A9000, it ran Android's Lollipop 5.1.1, during a test-run on the pre-production version.
The A-series has been famous for its mid-range phones and has received good feedback from people all over the world. Though the A9 doesn't seem mid-range, its surely going to attract a lot of phone geeks.