UMi further strengthened its presence in the mid-range smartphone section earlier this week by launching the new UMi Diamond. While the company is optimistic that the new handset will repeat the success of its older and popular cousin the UMi Plus, there has been some curiosity popping out as to why the company chose that particular moniker (Diamond).
Responsive as ever, UMi quickly took note of those questions and came up with an explanation (although we don't think that not answering them would qualify as bad PR).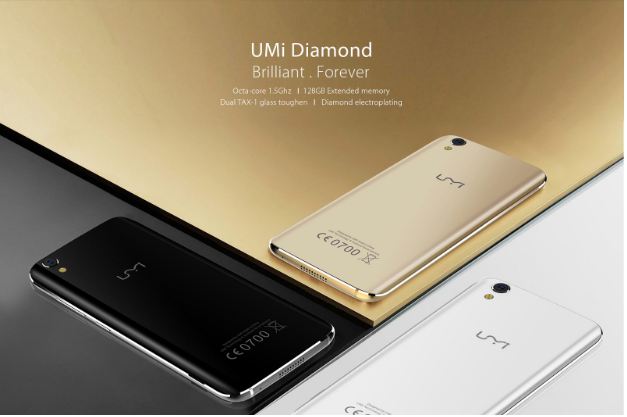 Apparently, the company chose the name UMi Diamond as diamond is one of the hardest natural material known to man. It is essentially crafted by nature using immense pressure and once formed, diamond is easily able to withstand even the roughest of treatment from other natural elements.
The display is usually the most vulnerable part of a smartphone as it covers a large surface area compared to the rest of the device and is made of comparatively weaker material. But UMi claims the Diamond's display is strong enough to handle the worst of hits and bumps without suffering  any physical damage. Thanks to its patented Dual-glass T2X-1 technology, the device is able to withstand a fall of up to 1.5-meter successfully 80% of the times. That may not seem much to some, but few other handsets in its league can actually claim those figures.
Other key UMi Diamond specs include MediaTek 6753 octa-core processor clocked at 1.5 GHz, 3GB RAM, 16GB native storage (expandable to 128GB), 8MP primary camera, 2MP front camera for selfies and video calling, Android 6.0 Marshmallow, and 2,650 mAh battery.
UMi Diamond will be available for pre-order from Oct 20, 2016, at the discounted price of $99.99. Check out here to find more about UMi Diamond pre-sale offers.